The knock on Jason Hammel when the right-hander arrived in Kansas City was he habitually struggled in the second half of the season.
He came by that reputation honestly. Hammel scuffled after a trade to Oakland in 2014. He limped to the finish line with an injury in 2015. The results were a little better down the stretch in 2016, but he was ultimately left off Chicago's playoff roster on their run to a World Series title.
In Hammel's first summer in Kansas City, he didn't wait for the second half to struggle. His April and May were abysmal. Through his first 10 starts, Hammel owned a 6.18 ERA. Hitters were teeing off of him to the tune of .306/.375/.459. Would you like a little bit of context for that slash line? Think Prince Fielder in his 2015 season in Texas. He was an All-Star and finished 13th in the MVP vote that year.
Hammel steadied the ship and salvaged his season with a bounce back June where had four consecutive quality starts and finished the month with a 2.51 ERA. He credited the improvement to a mechanical tweak where he squared his shoulders, opening his delivery a little more. That tweak allowed him to get a little more downward action. It also probably helped that he leaned on his slider a little more than in the season's first two months.
After the bounce back June, Hammel settled into a bit of a groove of mediocrity before the wheels completely fell off in September.
When the dust settled on Hammel's 2017, he finished with 5.29 ERA, the worst of his career since he became a full-time starter. (A full run higher than his PECOTA projection heading into the year.) With a 4.86 DRA you could make the argument that he ran into a little bit of bad luck along the way. A little bit. His 68.4 percent strand rate was his lowest since his exile from the nightmare of Colorado. It was a couple percentage points below his career rate.
Early in his career, Hammel focused on keeping the ball on the ground. Part of that would be the necessity of pitching in the thin air of Colorado. He added a sinker after his move to Baltimore in 2012, and saw his ground ball rate spike to over 50 percent. Since then, he's backed off the pitch (he threw it around 23 percent of the time in 2017) and the ground ball rate has boomeranged. Last summer, he induced a grounder 38 percent of the time, the lowest rate of his career.
It follows that since he's allowing fly balls at an increased rate, his home run rate has seen a similar uptick over the last several seasons. That held last year as Hammel finished with a 1.3 HR/9. It was a little lower than what he saw in his final season on the North Side, but it was still well above his career rate of 1.14 HR/9. Of course, we're also dealing with the baseballs that left the year at a record pace last year. That's the danger these days for a pitcher who struggles to keep the ball on the ground.
Along with the slider and the two-seamer, Hammel features a four-seam fastball and a couple other off speed pitches he will flash from time to time. Neither the curve or change are especially strong offerings.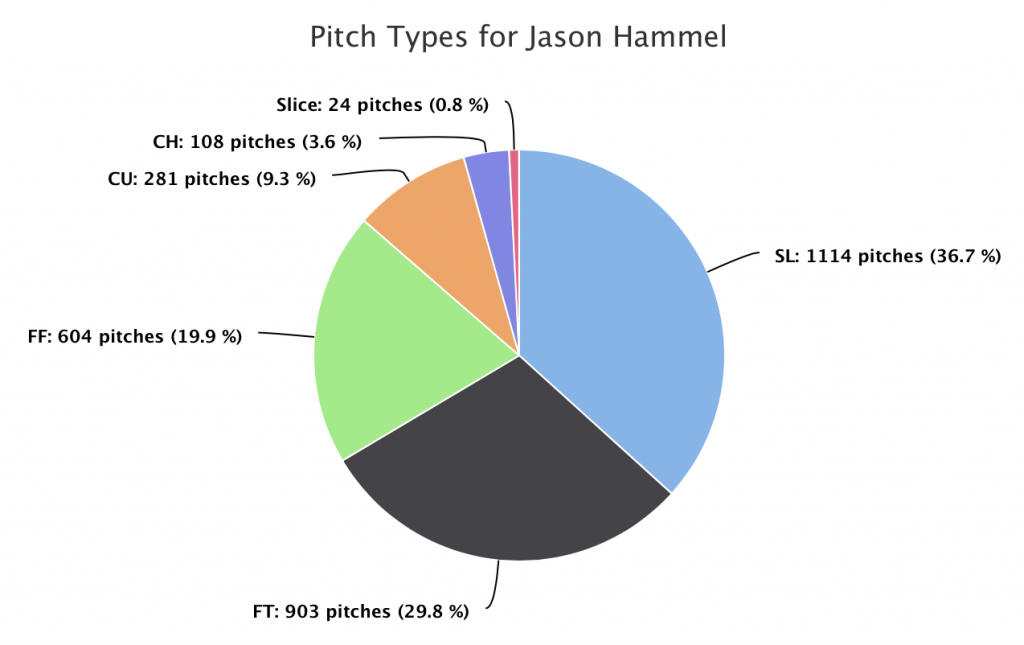 As touched on earlier, the slider is Hammel's bread and butter pitch. The velocity is league average, but the spin rate is higher than the league average slider, giving Hammel's offering a little more bite. It's the offering hitters will see most frequently when they step in with a two strike deficit. He shows it to hitters on both sides of the plate. He'll pound it down and in to left-handed batters and drop it low and away against righties. Last year, he limited opposing hitters to a .243 BA on his slider and a .403 SLG. It was by far his most reliable pitch.
The issue was…everything else in his arsenal.
While the slider was dipping out of the zone, he was consistently setting up shop in the dead center of the dish. That's not the best real estate for a starting pitcher to set up shop.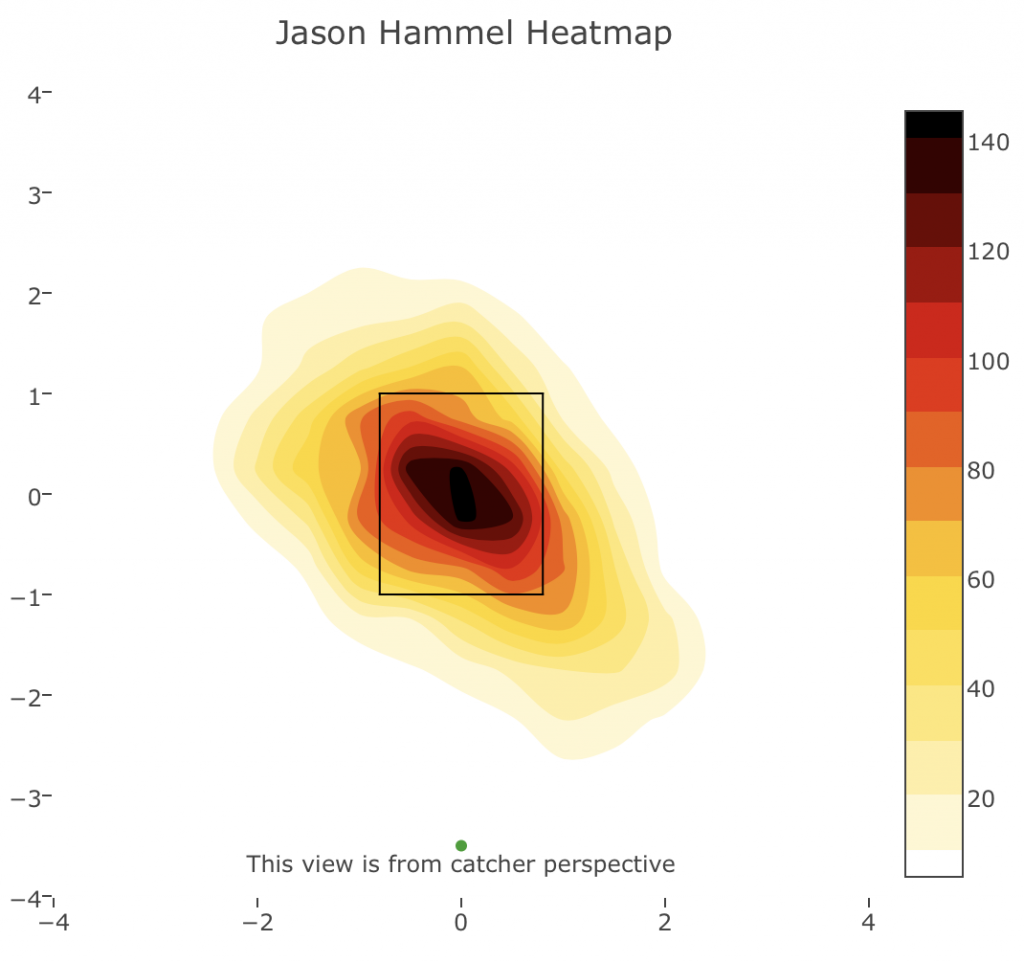 It seemed that Hammel's best starts were characterized by a solid performance for a few innings before the wheels came flying off. Whether it was a time through the order penalty, or Hammel hitting the wall at various points in his starts, it just felt that he was unpredictable on an inning by inning basis. It's not easy to manage a starting pitcher where the collapse can come suddenly and at any point in an outing. It was like watching the Wallendas every fifth night. The high wire act not withstanding, Hammel didn't help his cause by his deliberate work on the mound. His pace as measured by PITCHf/x was 26.8 seconds between pitches on average, making him the fourth slowest working starting pitcher in the big leagues. Let's just be kind and say his starts didn't exactly fall in the "must watch" category.
Entering his age 35 season, we are experiencing the decline phase of Hammel's career. There's been a gradual dip in his fastball velocity since its peak six season's ago. A little off here and a little off there, and he's down a full 2 mph since his heater's heyday. His strikeout rate has tumbled since his career best 9.1 SO/9 in 2015. Certainly, it would be asking too much for him to maintain a rate that elevated so late in his career, but last year he was nearly two whiffs per nine off the pace.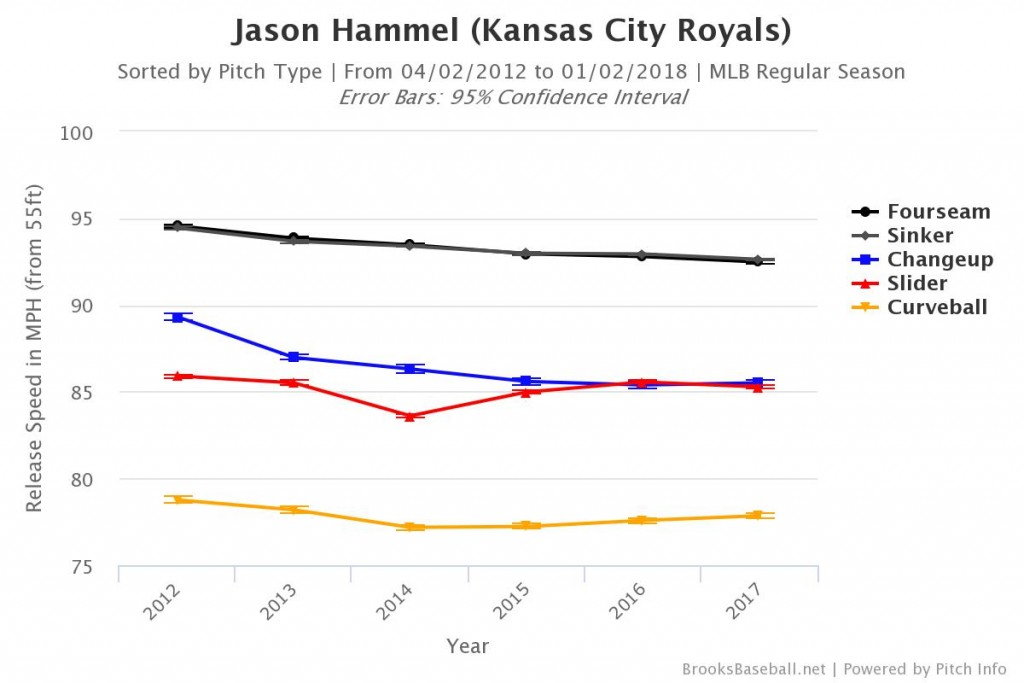 This isn't to say Hammel doesn't bring value. Hammel has given anywhere from 166 to 180 innings in each of the last four summers. In three of the last four seasons, he's topped 1.6 WARP. There's something to be said about that kind of dependability in today's game. At the right price.
Hammel signed a two-year deal (with a mutual option for the third, naturally) that was backloaded. He earned $5 million last year, but that will bump to $9 million this coming year. Given his recent track record, it's pushing the limit of the value we can expect Hammel to provide. On a team looking to trim payroll, it doesn't make sense to invest that much cash into a back of the rotation arm. His spot would be better utilized for a cavalcade of younger arms to audition for a future role in the organization. For the right team, the value is there. Just don't expect a sexy return if Dayton Moore can identify the correct trade partner.
Barring a trade, the Royals will open the season with Hammel again at the back of the rotation. Fortunately, the decline to this point has been gradual and it hasn't seen his value diminish by much. The question going forward is how much longer can Hammel ride this graceful decline before he reaches the edge.