Drew Butera is something of a Royals folk hero.
As far as I can tell, there are three reasons for this. They are, in order of importance:
Hair flips
Mop-up relief pitching
Backup catching
Let's begin.
Hair Flips
Scouting is an inexact science, but there is no disputing Butera is blessed with 80 grade hair. There are, however, varying degrees of a successful hair flip.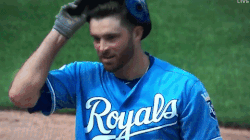 This gif teases us. The hair escapes from it's helmet prison, joyously experiencing it's freedom. However, Butera's form is off on this day. He keeps the helmet elevated, so only those on the first base side of the stadium can experience the glory of the hair flip. This effectively cheats those seated behind the plate and on the third base side of the field. Also, the batting gloves…really? Can he not take a moment to transfer the gloves to his non-helmet removing hand? It's difficult to overshadow the glory of the hair, but in this case the gloves are an unwelcome distraction.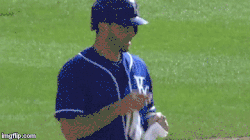 Butera keeps the gloves on his hand and lowers his helmet in the above gif. This gives everyone the opportunity to revel in the glory of the flip. Except something is amiss here. There isn't enough bounce in his locks! Why is this the case? It can't be the shampoo or conditioner. It's difficult to imagine that he would skip the routine maintenance and care of his most important asset. It appears as though he has a fresh cut. Perhaps a little too much was taken off the top. His barber should be on probation.
Relief Pitching
Shoeni Ohtani is all the rage this winter, but the Royals have a two way player of their own on the roster. (No, I just didn't compare Butera to Ohtani. Although maybe I should.) Sadly, Butera did not make it to the mound last summer. Not for lack of opportunity. With a thin starting rotation and a bullpen that never seemed to hit its stride, Butera could have made at least an appearance in each month. Ned Yost is probably saving him for a more crucial sort of blowout. Or something.
In Butera's longest outing of 2016, he flashed a fastball in the lower 90s, a change and some sort of knuckleball.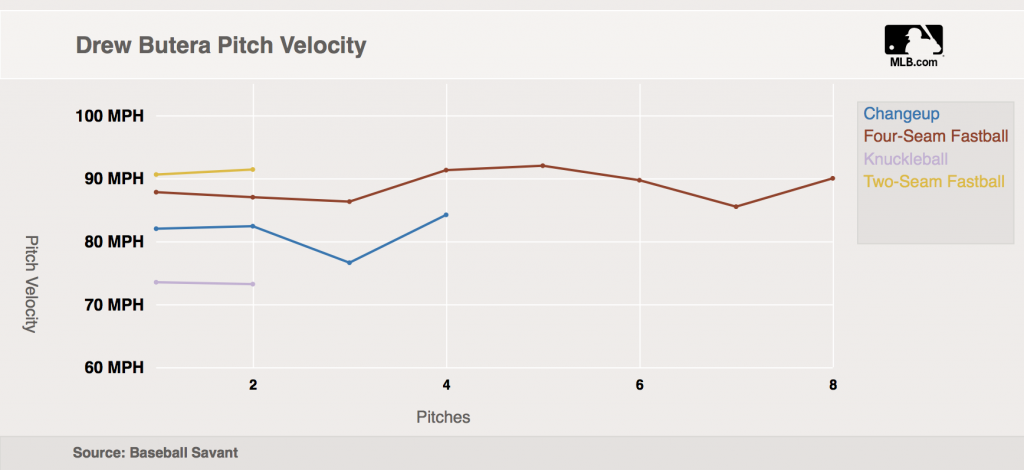 His two-seamer (seen here in a strikeout of Houston's Marwin Gonzalez) has some wicked kind of fade.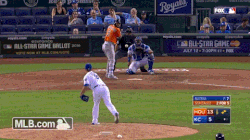 Something tells me there will be a few more chances again for Butera in 2018. It's like a seasonal bucket list: Butera must pitch.
Backup Catching
Really? Salvador Perez needs a backup?
Hold on. With the Royals seeking to (finally) reduce the workload of Perez, Butera saw his most action behind the plate since his 2014 season with the Dodgers. It's kind a shame he couldn't capitalize on the increase in playing time. After hitting .285/.328/.480 with a .268 TAv in 133 plate appearances in 2016, he dipped to .227/.284/.319 and a .223 TAv in 177 plate appearances.
With the bat, Butera has decent enough knowledge of the strike zone and generally offers at good pitches. With an above league average contact rate of north of 80 percent, he doesn't see many pitches per plate appearance (he had a 4.07 P/PA last year). His line drive rate of 24.6 percent and his hard contact rate of 20.5 percent were both career highs. And his .286 BABIP was above his career average of .247.
(This seems like the perfect moment to celebrate Butera's role in Royals history. With one out in the top of the eighth inning of the fourth game of the ALDS against Houston in 2015, Butera came to the plate with runners on second and third and one out. The Royals had already tied the game on the Kendrys Morales chopper up the middle and Butera worked Luke Gregerson for a 10 pitch walk to load the bases. The next batter, Alex Gordon, grounded out to second, but it allowed the go ahead run to score. It was the epitome of the "Keep The Line Moving" mantra.)
Defensively, the metrics weren't kind to Butera with his increase in innings caught. He graded as a worse pitch framer than Salvador Perez, who routinely ranks in the bottom quarter among regular backstops. He caught nine out of 36 would be basestealers, good for a 25 percent success rate which was the same rate for the second consecutive season and slightly below league average. The one metric where Butera did shine was in blocking runs. He was worth 1.7 blocking runs last summer, which was the fifth best result among catchers with over 3,000 framing chances. (For reference, Perez was worth 1.3 blocking runs, which ranked seventh.)
Butera signed a two-year extension after the 2016 season. He earned $1.5 million last year and is slated to make $2.3 million in 2018. That's a bit aggressive for a team like the Royals, especially now they are looking to trim the payroll, but we know the organization values guys who fit into the clubhouse and Butera certainly seems to be happy with his role and his place within the team.
And with the Royals (maybe) committed to giving Perez more rest, there will continue to be opportunity for Butera to make an impact behind the plate. And with a pitching staff that hasn't seen improvement (so far) from last season's group, there could be chances for him on the mound. Let's hope. The Royals' modest version of the two-way player could be worth the investment.