Ian Kennedy was rolling.
Through his first five starts and 31 innings of 2017, Kennedy owned a 2.30 ERA and had limited the opposition to .159/.256/.262. A year after surrendering 1.5 HR/9, he was keeping the ball in the yard (0.9 HR/9) while striking out 28 against 14 walks. His average Game Score was a robust 63.
The Royals weren't winning, but it was through no fault of Kennedy. He was outperforming the projections and the wildest dreams of the front office with his opening to the season. His start was so exceptional, and even though it was it was just a single month of games, one couldn't help but think regression was right around the corner.
It was an injury that derailed his hot start and accelerated his fall.
In a appearance against the White Sox on May 4, Kennedy tweaked his right hamstring delivering a pitch to Avacail Garcia. He left that start (it was his worst outing of the season with five runs allowed and two home runs in four innings of work) and hit the 10 day DL with a Grade 1 strain. Kennedy and the Royals were optimistic he would quickly rejoin the rotation.
He basically missed two starts, but upon his return, he was nowhere near the pitcher he had been over the first month of the season. He was hit with frequency and verve. Over his next five starts he posted a 9.43 ERA as hitters teed off to the tune of .265/.365/.566. After dispatching hitters as though he were facing a lineup of Danny Espinosas during the first month of the season, Kennedy was now basically staring down nine Cody Bellingers each time he toed the slab.
In fairness, Kennedy probably came back from his injury a little too quickly. He later told the Kansas City Star he felt his hamstring bark when he tried to throw his change. He adjusted by leaning more on his curve at the expense of his change a little more than he had in the past.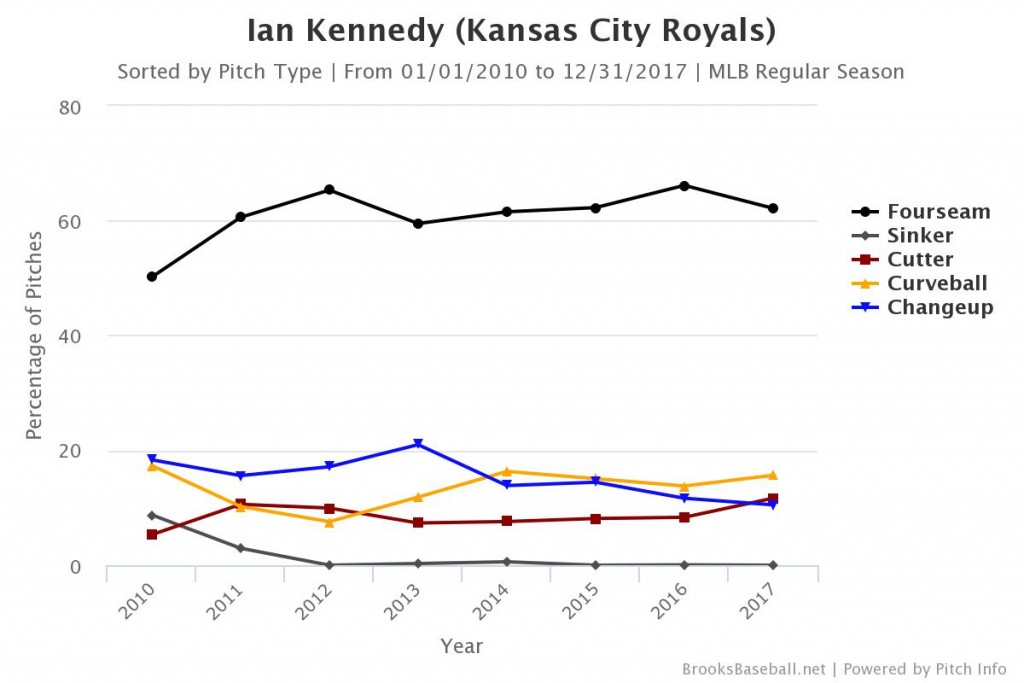 Bad strategy. Kennedy's curve isn't a particularly good pitch. The curve is useful for Kennedy, a fly ball pitcher, because he spots it low in the zone and can get a higher share of grounders. For his career, over 57 percent of balls put in play against his curve stay on the ground compared to an overall ground ball rate of 37 percent. However, he doesn't miss bats off the curve with a just under 9 percent whiff rate, the lowest of all his offerings, save his four seam fastball. (It's neck and neck on which pitch gets the lowest rate of swing and miss. According to Brooks Baseball, his four seam has a whiff rate of 8.81 percent versus an 8.85 percent whiff rate for his curve.)
Last year, opponents hit .289 off his curve, making it his most hittable pitch. When Kennedy threw the curve, he still kept the ball on the ground (and by extension, in the yard, which is a good thing) but hitters tended to ignore the pitch. Only 37 percent of Kennedy's curves were offered at by opposing hitters. The approach seems be to ignore the curve and look for the fastball, because that's where the hitters can do some serious damage. Last year against the four-seamer, hitters pounded 22 of the 32 home runs Kennedy allowed, good for a .270 ISO.
There are plenty of reasons to be concerned about Kennedy going forward. His strikeout rate has declined precipitously since it's peak of 9.3 K/9 in 2015, down to 7.7 K/9 last year. His walk rate has seen a similar blip, moving from 2.8 BB/9 two years ago to 3.6 BB/9 last summer. And then there are his home runs. He coughed up 34 last year, his third consecutive season he's allowed more than 30.
| | | | |
| --- | --- | --- | --- |
| Year | FB% | HR/FR | HR/9 |
| 2015 | 38.7% | 17.2% | 1.66 |
| 2016 | 47.3% | 12.8% | 1.52 |
| 2017 | 47.7% | 15.7% | 1.99 |
| Career | 42.2% | 11.5% | 1.25 |
You can't dismiss the trends. Each one of the rates above are well above his career averages and have been for some time. It shouldn't be surprising Kennedy's rate of hard hit balls allowed has ballooned from 35.2 percent in 2015 to 36.4 percent in his first year in Kansas City to a career worst 41.7 percent last season. Maybe some of that can be explained away by injury. Some. As in just the tiniest amount. If there had been any indication that any of the above numbers were a speed bump on the road to league average, you could feel a little better. Instead, you're left with a sinking feeling Kennedy's best days are behind him.
When the Royals signed Ian Kennedy to a five year, $70 million contract, it vibed a calculated gamble. By agreeing to an opt-out clause after the 2017 season, it seemed as though the best case scenario was for Kennedy to join the Royals core of Eric Hosmer, Lorenzo Cain and Mike Moustakas to contend for the next two years. Even a league average performance (with a postseason appearance or two) from Kennedy would likely cause him to exercise his opt-out. With a large contract off the books, along with the other free agents, the Royals would undertake another rebuild.
The rebuild is going to happen, but barring a trade, Kennedy is in Kansas City for the next three seasons. His contract is a reminder of the perils of a small market team attempting to make a big splash in free agency. Not only do the Royals owe $49 million over the next three seasons, they are hurting from forfeiting their first round draft selection when they signed Kennedy.
Sometimes, the gambles don't work.