It doesn't take a great deal of work to find a reliever in baseball these days who can throw the ball 96 MPH or harder. That doesn't make those pitchers any less enticing when they come around. And yet, even with that the case, the Royals have a guy who routinely lives in the upper-90s and who has had a season in the last three where he was actually a quality pitcher. I'm talking, of course, about Brandon Maurer, who looked very much the part of a DFA-candidate last season after being acquired by the Royals for the stretch run in late July. His 8.10 ERA was probably a little unlucky, but not enough to matter as he had a 6.48 DRA and 5.28 FIP with the Royals.
In spite of all that, he figures to at least start the season as a key member of their bullpen, especially if they end up moving Kelvin Herrera in the next few weeks. If I had a place to put a bet down, I'd put the majority of my money on Maurer in the closer's role if Herrera isn't with the team. Does it really matter if the Royals are going to be bad? Probably not. But I think it's easy to remember the days of guys like Ambiorix Burgos and Ricky Bottalico, and even on a bad team, watching blown leads can be infuriating.
Somehow, the pitcher who put up those ghastly numbers for the Royals last year managed to post a 3.00 ERA in 2015. That came with a 3.15 DRA and 3.33 FIP. He gave up less than seven hits per nine and had a perfectly respectable walk rate of 2.6 per nine. One thing that wasn't great was his strikeout rate of just 6.9 per nine innings, but he was a legitimately very good pitcher. That was a weird year for him. His ground ball rate of 47.7 percent was the highest of his career by a good amount. His soft contact percentage of 24.5 percent was also the highest of his career. So yes, the strikeouts were down, but he got a lot of weak contact on the ground. That's a good recipe for success.
So what's different?
The first thing I noticed was a big change in his pitch usage.


You can see that in 2015, Maurer threw his slider a little more than 43 percent of the time compared to about 29 percent of the time in 2017. You might look at that as the start and end of the problem. All he needs to do is throw more sliders and he'll be good again, right? Well, not so much. In 2015, his slider was a fantastic pitch. When batters swung, they missed it 35 percent of the time and they hit .167 with a .244 slugging percentage against it. In 2017, they still swung and missed a decent amount (31.3 percent), but they hit .274 with a .438 slugging percentage.
While it's easy to see the slider success in 2015 compared to 2017, I think it's fair to wonder if we'll ever see that kind of success from him again. He missed the end of that very good season with a shoulder issue. He hasn't been the same since then. I'm not sure if this is necessarily anything, but his vertical release point in feet by month in 2015 was as follows:
| | |
| --- | --- |
| April | 6.25 |
| May | 6.25 |
| June | 6.27 |
| July | 6.18 |
| August | 6.05 |
There's more of the same in 2016 and 2017 with the release points remaining around his August 2015 number, sometimes even lower. It's been a different pitch since then, with much less velocity in 2017 and less movement as well. Quite simply, it hasn't been nearly as good.
Take a look at his vertical release point on all his pitches in 2015, 2016 and 2017. Without having a chance to actually talk to Maurer at this point, I can't know, but you have to wonder if the shoulder injury has been the reason for this.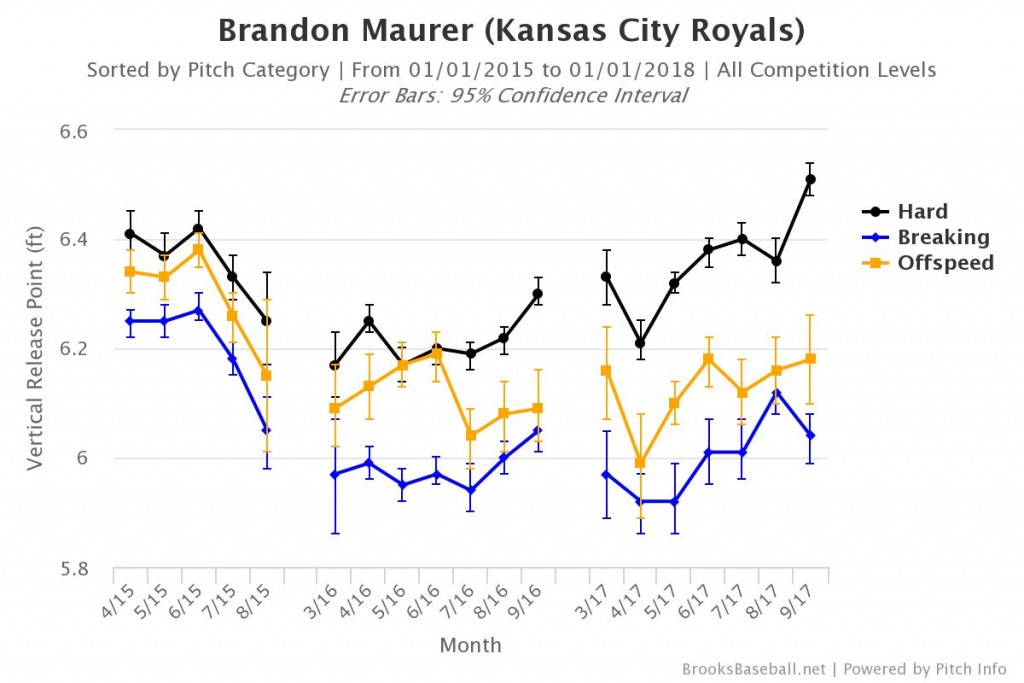 You can see that his release points on all his pitches were considerably higher during the 2015 season before they began to fall off as the season progressed and before his season ending injury. There has been some variance for sure, but the breaking ball has remained significantly lower than when he was pitching so well a couple seasons ago. Again, maybe this means nothing. But it sure seems to me like he's either still fighting through that shoulder injury or he developed some bad habits while he was and now he's struggling to get back to where he was.
This isn't necessarily horrible news for the Royals. If he's actually healthy, this could very well be a mechanical issue that can be fixed. We don't yet know what Cal Eldred's proficiencies are, but if he's been deemed worthy of being a big league pitching coach, you'd think he could impact this in a positive way.
And a good Brandon Maurer could mean a lot of great things for the Royals. If they decide to take advantage of this ridiculously slow free agent class, maybe they can add some pieces that can put them close to contention for a wild card spot. I'm not counting on it, but stranger things have happened. If Maurer is good, he helps that push. And if they're as bad as they seem destined to be in 2018 and Maurer is good, he's pretty much an ideal trade chip as a reliever who is pretty affordable and only has a year and a half left on his deal.
But if Maurer is still hurt, and don't forget that A.J. Preller is the one who traded him, this is likely a sunk cost. Shoulder injuries are terrifying, and pitchers sometimes just don't come back from them. If he can't get the vertical movement on his slider back because his shoulder doesn't allow it and his fastball continues to get beat around like it owes someone money, this just isn't going to work. Maybe this is too simplistic, but I think it all starts with the shoulder and the slider for Maurer. If one is working, the other is working. And if they're both working, he can get it done. I have my doubts that either will be working, but if he's healthy, I think there should be a glimmer of hope for the Royals that he can at least be somewhat effective.