Whoa. Jason Hammel pitched a complete game.
Part of this, it's true, is due to the singular nature of his accuracy and his pitch economy in Friday's doubleheader opener against Detroit. He was deep into the eighth before he reached 80 pitches, finishing eight innings for the first time since 2015 and his first complete game since 2012 when he was with Baltimore. Not bad for the 35-year old.
And part of the extended nature of Hammel's outing, it should be noted, goes to MLB's decision to saddle Kansas City with two doubleheaders in four days, with another on tap eight days from now. If you're scoring at home, that's 13 games in 12 days. Seems fair. No, I'm not bitter, you're bitter.
And the last part of what brought Hammel through the ninth inning against Detroit was much more obvious and it's that the bullpen that would erstwhile save his arm and the Royals chances of winning is a raging tirefire the likes of which those spoiled by the heady days of HDH will do better to avoid.
But calling those other entities into question belittles the achievement of Hammel and while he takes a lot of (deserved) crap in this space, it should be noted that he was phenomenal, and that despite using just a fastball-slider combo around 90 percent of the time.
And look, of course the Royals lost because the Royals lose all the time now and it's the world we all have to adjust to. They're 3-14 through 17 games, which not only gives them pole position for the top overall pick in the 2019 Amateur draft, they're threatening to run away with it like Secretariat at the Belmont Stakes. They've lost nine straight; without some postponed games, that number could be significantly higher. The road to 90 losses was graded and paved by February; we're just reaping those benefits now.
So with that in mind, we won't spend tons of time on questionable lineup decisions (you don't deserve to win a baseball game with Abraham Almonte hitting sixth)(or for that matter, not pinch-hitting for Ryan Goins when he can't hit lefties)(you know what, let's just forget about Ned Yost) and instead I'll try, for once, to draw some positives from Hammel, who I spent nearly as much time excoriating as Ian Kennedy last year.
In scattering five hits and two earned over nine innings, it's true Hammel struck out just four batters. He also recorded a Game Score of 78; the best by a Royal since Jason Vargas almost one year ago to the day (79 against San Francisco, one of three 78+ Game Scores over a week last April back when we were all hopeful) and Hammel's first since June 23, 2015 against the Dodgers.
Hammel really only ran into one spot of trouble, giving up back-to-back doubles to James McCann and JaCoby Jones to start the fifth, with McCann scoring on Jones' double and Jones scoring two batters later on a Dixon Machado sac fly after Jones stole third. In the sixth, he could've had some issues after Nick Castellanos' one-out double after Jeimer Candelario led off the frame with a single, but Hammel picked him off after Candelario inexplicably elected not to dive back into the bag.
Hammel's then went three-up, three-down in the seventh, eighth and ninth, with only a Miguel Cabrera walk yielding a baserunner.
We're nearing 600 words here and you'll note we haven't spent much time on the offense. There's a good reason for that: it stunk. Five times in 10 innings, the Royals put at least one runner aboard with one out or less; only once did a run come across, when Alcides Escobar scored after reaching via fielders choice, moving to third on a Cam Gallagher single and scoring on a Jon Jay single. And even that was tainted, as a better bunt by Esky would've given the Royals an extra attempt at bringing home the go-ahead run.
Kansas City's other run was a two-out solo blast by Mike Moustakas in the sixth, who is presently making 29 other teams look pretty stupid after his fifth homer.
The eighth, wherein lefty Daniel Stumpf got Moustakas and Lucas Duda easily before giving up singles to Cheslor Cuthbert and Almonte, should've gone differently. With right-handed masher Jorge Soler available to pinch-hit, the Royals stuck with Goins, who you will be stunned to know failed to come through when it mattered.
The Royals had another chance in the 10th, when Whit Merrifield led off with his third hit. A Moustakas strikeout and Duda flyout looked to bring the threat to an early end, but then Cuthbert singled again and Merrifield and Cuthbert both moved up 90 feet after Joe Jimenez uncorked a wild pitch.
Almonte, who has yet to drive in a single non-Abraham Almonte runner, worked the count to 2-2. I'll let the visual tell the rest of the story.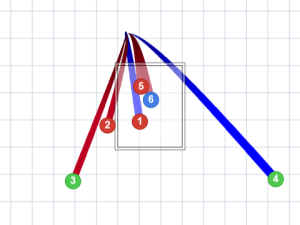 Look, I'm not a professional hitter or an amateur hitter or pretty much anything to do with athleticism. But I think if you want to be a major league baseball player, that little blue dot in the middle represents a pitch you should be able to drive.
In the 10th, Jones hit a one-out walk-off home run against Brad Keller. The good times never last.
That was Game One of a day-night doubleheader. I don't know who is pitching for the Royals tonight and it probably doesn't matter.
(I lied, it's Jakob "Please don't call me Jake" Junis and Daniel Norris. Junis has been great! Norris has been butt. Congrats in advance to Detroit for getting to .500 on the season.)