Previous Royals MLB Draft Reviews:
11th Rd Pick #332 Overall
Michael Emodi C Creighton University
6'4 225 lbs
DOB 4/18/96
Slot Value  $125,000
A big guy behind the dish and at the plate, Emodi showed off his big power this season with nine home runs despite playing half his games in one of the most difficult college parks in the country to hit home runs in. The swing by Emodi is a tad long though fast, but it still has left him vulnerable to breaking stuff that he tends to chase out of the zone. It's a swing path and frame that is built to generate power which he did this past season and should go forward shall he improve his pitch recognition skills.
On the defensive side one would think that he would have difficulties behind the dish as such a large catcher but Emodi, a quiet receiver, calls his own game which is a rarity in college and has a strong arm. His mechanics to release aren't bad and the strength in the throws are good enough to generate pop times in the 1.9 range.
Analysis – I don't like comps to former Royals, but John Buck stands out as a very apt comparable here for Emodi as a big-bodied catcher with a strong arm and long swing. Should he end up with a similar career as Buck, the Royals and he should be extremely happy.
12th Rd Pick #362 Overall
Rylan Kaufman LHP San Jacinto JUCO
6'4 190 lbs
DOB 6/23/99
Slot Value  $125,000
This is a piece that is still in the development stages of his career, it seems, working from the high 80s last year when he was drafted from high school by the Brewers until this year where he was working 91-93 mph with a feel for a changeup late in the year during their JUCO World Series run. The San Jacinto program is a cream of the crop JUCO program that has seen Daniel Stumpf and Anthony Banda come through the program recently as well as former Cy Young award winner Roger Clemens. Still just 18 years of age, the Royals would be getting a prospect here with his best days ahead as one would assume he should continue to add muscle to his tall and lean frame while refining his stuff the feel for his three-pitch arsenal.
Analysis – The type of clay that is best for molding.

13th Rd Pick #392 Overall
Jon Heasley RHP Oklahoma State University
6'3 215 lbs
DOB 1/27/97
Slot Value  $125,000
Heasley is an exciting prospect along the lines of Zach Haake who isn't achieving the results he likely should, given the stuff that comes from his hand. Pitching primarily from the low to mid 90s with his fastball and low 80s slider may improve the results for the right-hander whose other two offerings in a slower curve and changeup lag behind. It's a lively fastball which leads to control/command issues and has limited the length in which he's pitched in games this season. Despite the control issues at times, Heasley took the ball with the Oklahoma State season on the line last week and tossed a complete game, one run (0 ER) effort against South Florida that was his season gem. There is stuff to refine here but it's there to become a backend starter or more likely a reliever.
Via Perfect Game – Heasley, a draft-eligible sophomore, has earned a disparity of reviews among scouts in the area this spring. He's a live-armed, good-sized righthander with good stuff, including a mid-90s fastball and a swing-and-miss slider that potentially projects as plus, but the effort in his delivery and the inconsistencies in terms of command lead to questions about his future role. 
Analysis – A difficult sign as a draft eligible sophomore who will likely have a weekend spot at Okie State to build on draft stock.
14th Rd Pick #422 Overall
Christian Cosby RHP Chapman University
6'5 215 lbs
DOB 12/21/96
Slot Value  $125,000
After playing outfield for a couple of years and pitching sporadically for Chapman, the coaching staff and Christian decided prior to last summer to make that transition to a full-time pitcher due to his upside at the position. According to his coach, he is still learning to hone his mechanics and body, but despite that he was showing 90-94 mph in longer outings and 94-97 mph when they would use him from the bullpen. Coach Laverty said that he's working with a fastball, split-change and a slider.  He has developed that change from a low 80s more easily recognizable pitch to the better mid 80s version that he is currently working with. The slider is the pitch that he's trying to develop currently trying to transform it from the cut version that he was using early into more of a regular large breaking slider. All of the pitches come from an over the top delivery from his large frame. Still learning the nuances of the game Cosby's former outfield days help him with fielding the position while his athleticism makes for a quick move to first.
He's just a fantastic kid, the best is still ahead of him and Kansas City got themselves something here. – Coach Laverty
Via Baseball America – Cosby is in his first year as a full-time pitcher and already touches 95-96 mph with a split-changeup that flashes average. He is physically imposing at 6-foot-5, 215 pounds, with some scouts believing he could one day touch 100 mph. Cosby's control is inconsistent and he doesn't really have command yet because he is so new to pitching. His size, arm strength, and room for development make him an appealing high-upside pick for the draft's third day.
Analysis – A nice piece of clay to mold from here.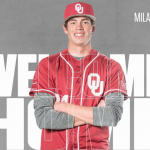 15th Rd Pick #452 Overall
Milan Walla CF Tivy High School
6'4 175 lbs
DOB 7/4/00
Slot Value  $125,000
This is a very Royals pick as a 6'5 lanky centerfielder who stole 62 bases this high school season in his attempt to break the state record of 65 thefts. An Oklahoma commitment could make him a difficult to sign considering their success of putting outfielders into the draft with Steele Walker and Kyler Murray each getting taken in the first 46 selections during this draft. A multiple tool outfield with speed and a strong arm Wall should add plenty of muscle as he gets older leaning one to believe that he could become an offensive force. The load in the swing is a larger separation from hands and body than one may want but he gets decent carry off the bat currently for someone of his age and speed skillset, not just a slap hitter in the future Walla could become a five-tool player with some tweaks in the swing. One note in the Royals favor is that Walla's brother Cohl passed on signing with the Washington Nationals after being drafted in 2009, instead choosing to attend the University of Texas where struggled after a good freshman season before being dismissed from the team and never getting a second opportunity with a professional team. Will he decide to take the path his brother didn't in order to further his baseball career?
Via Daily Times – "He's a very intriguing athlete," Russ said. "You look at him — he's 6 foot, 5 inches, and 200 pounds. This guy can run unbelievably fast for a guy his size, and he has unbelievable quickness for a guy his size. You don't see that very often. … When you grade him out on a major league scale, he checks off the size. He checks off the speed. He checks off the arm.
Via Prep Baseball Report – athletic, fast-twitch and wiry frame. His speed is a plus tool that plays in center field and on the bases.
Analysis – An outstanding prep product to develop, one of the best products the Royals chose in this draft.
16th Rd Pick #482 Overall
Kyle Hinton RHP University of Delaware
6'2 210 lbs
DOB 12/12/97
Slot Value  $125,000
Coach Sherman described Kyle as having a bulldog mentality on the mound. A highly aggressive competitor on the field and off it with his teammates Hinton performed as Delaware's Friday starter this past season. The right-hander can be wild at times with 41 walks in 90.2 innings and some wild pitches, but he was reliable start to start and showed a good two-pitch mix with his fastball in the low 90s and a biting breaking ball, helping him earn over a K per inning and four games in the double digits. A good sized frame with the athleticism to play positionally in his first couple of seasons at Delaware Hinton does everything well defensively and in controlling the running game.
Via Perfect Game – Hinton has received looks this spring from pro scouts and his transition into the weekend rotation has made it easier to be seen after spending the majority of his first two seasons working out of the bullpen. And while there's some thought that Hinton could move back to the 'pen at the next level, he's shown no qualms with an increased workload this season, amassing 20 more innings in 2018 than in his first two seasons combined. With broad shoulders and a physical 6-foot-2, 210-pound build, Hinton looks the part of a hard-throwing righthander and he's proven himself in a starting role this spring for the Blue Hens while missing a fair share of bats. His 15 starts and 90 2/3 innings through the regular season are both team bests and he's managed to strike out 94 off the strength of his heater that will work anywhere in the 88-93 mph range and a slider that shows average on the pro scouting scale. The stuff could play up for Hinton in shorter roles but there's no doubting the success he's found this year in the rotation for Delaware.
Analysis – Org starter that you may move to the pen in hopes he adds velocity and tightness to the slider thanks to his athletic frame.
17th Rd Pick #512 Overall
Noah Bryant RHP Georgia Highlands College
6'3 200 lbs
DOB 10/15/98
Slot Value  $125,000
Originally recruited as a catcher to a different school, Bryant's coaches at Georgia Highlands convinced him to attend their school and use his arm strength in a different manner. Since he was new to pitching they took it slow but the arm strength flashed for the right-hander who works in between a 3/4 and low 3/4 angle, running the fastball as high as 97 mph while regularly working in the 94 mph range with a hard late moving slider.
Via Perfect Game - Turning a lot of heads during his one inning stint on the mound was freshman righthander Noah Bryant from Georgia Highlands. Bryant proceeded to strike out the side during his performance all the while sitting 94-97 mph with his fastball. The fastball had significant arm side run to the pitch with some sink too. The arm stroke isn't pristine, but it's very fast and allows him to whip the fastball into the zone in the upper-90s. The slider is a pitch that he has been developing for most of the spring and the hard offspeed pitch sat in the 84-86 mph range and flashed some hard bite down and out of the strike zone against right-handed hitters. The numbers weren't great on the season for Bryant, however, the raw stuff is very appealing in a professional bullpen. 
Analysis – Fresh with a strong arm, perhaps a future reliever.
[iframe width="560″ height="315″ src="https://www.youtube.com/embed/X1eGWDTBUyQ" frameborder="0″ allow="autoplay; encrypted-media" allowfullscreen>
18th Rd Pick #542 Overall
R.J. Dabovich RHP Central Arizona College
6'3 190 lbs
DOB 1/11/99
Slot Value  $125,000
Despite gaining velocity, the right-hander didn't earn what most would think in terms of strikeouts, getting less than a K per inning for his Central Arizona club. According to Coach Gillich, the slider is the second-best pitch in the arsenal for Dabovich which may have led to the lower strikeout numbers, when on in that low 80s range he had little problem putting hitters away but when he didn't quite have the feeling he'd attack with the fastball on a downward plane. In addition to the fastball/slider, Gillich describes the changeup as an average pitch for the former Pueblo product. The gains on the velocity are due to an outstanding work ethic that the freshman employed working his velocity from 87-91 mph on arrival to school up to the regular 92-94 mph range it currently sits at while touching as high as 98 mph. It's that mature approach and work ethic along with a big arm that gives Dabovich big upside in Gillich's opinion.
"It feels surreal," Dabovich said. "It's been a dream my entire life to make it to that point. Now that it's happened, it's hard to believe right now. It's an amazing feeling." – The Pueblo West View
Via Perfect Game – A power-armed freshman junior college righthander, Dabovich had quite the ascension this year in terms of pretty much every quantifiable metric. He gained significant velocity and is now touching 97-98 mph after being more 90-93 mph in the fall, and his off-speed stuff has taken strides forward as well. He ended up with a 1.81 ERA across a second-on-the-team innings count, after starting the season in a bit of an unsettled role. He still has big upside, and while he's also still raw, he has intrigued teams to the point of where he may go well before his ranking may suggest.
Analysis – If you can bring him into the fold, you may have a fast moving reliever due to the increased velocity.
19th Rd Pick #572 Overall
Hunter Wolfe SS Walters State
5'11 185 lbs
DOB 7/5/96
Slot Value  $125,000
Drafted in the 12th round last year, Wolfe decided to attend Walters State in hopes of building on the bonus offer he received from the Pirates. Despite an outstanding season that saw him help lead his squad to a 56-6 record on the way to a JUCO World Series bid his draft number fell but not due to production after hitting over .400 while totaling nine home runs, stealing 40+ bases and playing a solid defensive game up the middle. One of the older prospects drafted by the Royals, they will contend with a TCU program for Wolfe services.
Via UT Baseball – Thomas on Wolfe: "Hunter is a plus defending shortstop who complements his defense with a good offensive skill set. He will be able to impact the game both offensively and defensively. He is a sure-handed defender with great range and a very strong arm. Offensively, he has gap strength with the ability to hit the ball out of the park at times and has the speed to be a frontline base stealer."
Via Baseball America – Wolfe turned down decent money from the Pirates as a 12th-round pick last year. He hit .429/.536/.679 for Walters State (Tenn.) JC this year with more walks than strikeouts and 39 steals in 43 attempts. He's a toolsy shortstop with plus speed, a plus–if sometimes scattershot–arm and his swing work relatively well. His hands may not fit at shortstop long-term, but there are enough tools to be a useful second or third baseman in pro ball.
Analysis – TCU commitment likely makes for an org utility infielder.
[iframe width="560″ height="315″ src="https://www.youtube.com/embed/eqn92cXa2OQ" frameborder="0″ allow="autoplay; encrypted-media" allowfullscreen>
20th Rd Pick #602 Overall
Josh Hendrickson LHP Barton County CC
6'5 210 lbs
DOB 9/18/97
Slot Value  $125,000
After transferring from Ranger Junior College in Texas, the tall left-hander from Australia came to Barton and pitched the program to the JUCO World Series in Grand Junction. The teams #1 starter, Hendrickson is somewhat of a late bloomer according to Coach McBride, seeing his velocity hold more stability this season in the working 87-89 mph while topping in the 91-92 mph range. In addition to the fastball, the lefty tosses a curveball in the 75-78 mph range, a swing and miss curve that helped him earn 120 strikeouts in 96.1 innings from his high 3/4 arm slot. The lefty does drop down somewhat to toss a slider in the lower 80s range. Josh came in with a plan and idea of what he wanted to get out of our program and he executed it. His work ethic, intangibles, and composure are top notch and everything a coach would want.
He was great for our program despite having a future in pro ball when we asked him to take the ball and on short rest to pitch us to the JUCO World Series he did just that and I'll always be thankful for that. – Coach McBride
As an Australian who never took the ACT, Hendrickson had to fulfill his commitment of two years of junior college baseball prior to attending a D1 program, something he did while committing to the University of San Diego. Coach McBride believes he has some extra velocity to find once in pro ball if he commits to letting it fly and develop the changeup which he used four or five times a game but as in most college pitchers he'll need to continue to work on developing it.
Analysis – Likely an org lefty but one you hope can find extra juice for a relief role.
Feature Image: Michael Emodi, Creighton Athletics