The Royals continued the college trend with their second half of the top 10 rounds, but did take their first high schooler in this section of the draft. Read on for my analysis as well as word from coaches and those who know the players best.
Previous 2018 Royals MLB Draft Review:
6th Rd Pick #182 Overall
Zach Haake RHP University of Kentucky
6'4 186 lbs
DOB 10/08/96
Slot Value  $258,000
The Royals 6th round pitcher is an enigma, but despite that, he's quite a lottery ticket as well. Like the pitchers chosen in front of him Haake is tall and lean, but unlike those pitchers he's struggled to harness his stuff to become the early round draft pick that he probably should be. The stuff tends to back up the second time facing hitters which doesn't make much sense considering the fastball velocity, downhill plane and breaking ball. Perhaps with a similar frame to the other pitchers (tall and skinny) that he will be working with, Haake might be able to draw on their talent level and bring out the best in him. Perhaps a professional nutrition and workout regimen is needed to carry that stuff further in outings to get more out of him or maybe he's just a reliever. Whatever it is the Royals have an opportunity to mold a tall, lean, right-hander with a 3/4 delivery that works 92-93 mph touching up to 96 mph with his fastball. Pairing the fastball with a late-breaking curveball that he can run into the high 70s to low 80s, it's a pitch that many classify as a plus pitch. In addition to the curveball, he tosses a variation of a slider and a change that looks average.
Via Perfect Game – There's a significant risk to Haake's profile right now, given his issues as a starting pitcher at Kentucky along with some inconsistencies as a starter at John A. Logan (junior college) last year. There are serious flashes of three plus pitches along with the command, and in a vacuum (such as the two innings today), he looks like a first rounder. However, those inconsistencies and stretches of struggling at times keep the reliever tag a likely on for him, and as such his draft stock is a bit more in limbo. 
Analysis – If the pitcher is just ready to get his career started and the Royals can sign him around slot then this is a heck of a talent to add to the organization for that price.
7th Rd Pick #212 Overall
Tyler Gray RHP Central Arkansas
6'4 186 lbs
DOB 10/08/96
Slot Value  $201,800
The first of three Central Arkansas players Royals area scout Matt Price landed, Tyler Gray has upside still to jump from his tall lean frame according to Coach Allen Gum from Central Arkansas. His fastball works in the low 90s but can jump up to the mid 90s in short burst. According to his coach, the curveball is a true 12-6 breaking ball that will jump up to 85 mph at times and is a true plus-plus pitch that's he's been able to go to prior to his college career. The pitch helped Gray earn plenty of swings and miss as evidenced in his 116 strikeouts in 97.1 innings including four double-digit strikeout starts. In addition to the two frontline pitches, Gray mixes in a fringy changeup that is more of a show-me pitch.
Tyler's a silent assassin, a high-level competitor with a competitive gene that wants to win.
– Coach Gum
Via Perfect Game – Gray had an exemplary senior year for Central Arkansas and is likely to be one of the higher-priority seniors in the area come draft day. He worked 97 2/3 innings and went 6-2 with a 3.32 ERA, racking up 116 strikeouts and limiting his walks to fewer than three per nine innings. He's more of a medium-framed, athletically-built righthander than a physical monster, but he has solid size. He works in the 89-93 mph range with his fastball, showing the ability to move it around the zone, and does a good job of challenging hitters inside with it. He also brings a solid average slider with him to the table and he's done a very good job of missing bats with the pitch. 
Analysis – Solid senior sign who may have the one pitch that can carry him to the upper levels.
8th Rd Pick #242 Overall
Jackson Lueck
6'1 170 lbs
DOB 2/19/97
Slot Value  $201,800
The Florida State program earns lots of hype for quite a few trips to the CWS in the past with clubs that generally thought to be extremely offensive in nature. While they get plenty of players drafted, they haven't had much success in getting those players onto the pros which may be a sign that the park and their philosophy works mostly for the college game. In this pick, the Royals get a switch hitter who has seen his results drop off from a tremendous freshman season in each of the last two seasons. Perhaps he was looking to muscle up too much due to the draft as his average dipped to into the .240s while he hit a career-high 15 home runs. This season pushed his stock from a possible top 150 pick to where he landed. His minor league career will be dependent on the bat which shows pop from the left side and a more average approach from the right. Athletically Lueck is average as a former catcher and a fringy arm in comparison to his likely peers already in the organization will leave him in left field.
Via Baseball America - Lueck has at least a 50 grade on his bat using the 20-to-80 scouting scale, although some holes in his swing have been exposed in his junior year as he's swung and missed at a high frequency. He finished the regular season batting .245/.364/.490 with a career-high 14 home runs, which could explain his increased strikeout numbers as bigger swings tend to lead to more empty swings. At 6-foot-1, 185 pounds, Lueck has some projection in his frame and could grow into more power. A below-average defender, Lueck profiles as a corner outfielder at the next level and will go as high as his bat can take him.
Analysis – A likely organization leftfielder.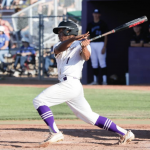 9th Rd Pick #272 Overall
Kevon Jackson CF Queen Creek HS
5'9 180 lbs
DOB 1/14/01
Slot Value  $201,800
When you draft a player you want to know they're committed to the game. The Royals don't have to worry about that in their 9th round selection. Despite being just 17 years old, the Royals first prep pick had already made that commitment in a big way over a year ago, deciding to move from his Billings, Montana home to live with his uncle in an attempt to focus on baseball. A football and baseball player in Billings, Jackson concentrated on baseball alone in his new Queen City, Arizona home while running track on the side. Yes, running track on the side with very little practice earned him a second place in the state finals, running a career-best 10.63 seconds in the 100m, just a hair behind the 1st place winner's 10.62 time. On the baseball field, his game is built around speed as one would expect but he's a muscular young man who has stung the ball some with 12 extra base hits in his 29 high school games. Getting professional reps and training while still not even 18 years old will have him considerably ahead of the development curve most will see at a much older age not to mention he's in the perfect organization for his skillset considering the speedy outfielders the Royals have turned out in the past and continue to develop in the organization.
"After that, we started talking baseball again and he asked me if that's what I wanted to do," Jackson said. "I told him that it's my passion so I ran with it." "That's always been my goal. My dad always told me to shoot big and he instilled a strong work ethic and told me it's not going to come easy," Jackson said. "There was going to be adversity so I was fine with it and I ran with it, so it's always been a goal of mine." – Billings Gazette
Analysis – The Royals do well with this type of athlete and his willingness to learn and commit is impressive. Worthy of the pick in hoping you have a Rudy Martin or a Terrance Gore type prospect.
10th Rd Pick #302 Overall
Austin Lambright LHP Univerity of Central Oklahoma
6'3 205 lbs
DOB 8/26/94
Slot Value  $138,900
After three difficult years at Abilene Christian where he struck out more than a hitter per inning while walking even more than that, the lefty decided to get a change of scenery for his final season. At Central Oklahoma, he became a more reliable pitcher, cutting his walk rate down some even though he still walked six per nine innings. The ball comes out of his hand well according to his Coach Gibson, tossing everything from a high 3/4 arm slot featuring plenty of movement on his pitches. The fastball velocity from the tall lean lefty can get into the mid 90s, touching 95 mph while working mostly in the 92 mph range. The breaking ball is more of a slurve than a true curveball or slider but his Coach said he has a good feel for the spin showing 12 to 6 movement on the pitch. As a likely reliever, he won't need his changeup much as it already lags behind.
Analysis – Senior sign org LOOGY
Featured Photo – Zach Haake via Elliott Hess/Kentucky Athletics