The 2018 MLB Draft is complete which for the Royals means step two in what I'm thinking is going to be a five step process and multiple years towards rebuilding a respectable team. Each draft year is another step with 2017 starting things off, and while Royals fans may not like to hear this, the last year towards this farm rebuild isn't likely to come until 2020. Just looking at the state of the team currently, what it will play like over the next two years and what they have already spent on the draft the Royals are likely to spend in the neighborhood of $50m on the draft from '17-'20.
This year's draft is a departure over what they have done in the past, but maybe that's not the worst thing in the world considering some of their past results. As it stands currently I see the Top 30 Royals prospects in the following way:
#1 Khalil Lee – A rather easy call here considering Lee's plate approach, multiple tools and the current belief from multiple members in the organization that he can stick in center field. Should Lee show off the power at the upper levels that he did at Low-A last year, then he's not just the Royals top prospect then he should be a Top 50 prospect in all of the game.
#2 Jackson Kowar – For the third draft in a row after examining the draft closer I like the second selection the Royals made more than the first. In Kowar, the Royals are getting a tall starter with "stuff" in his low to upper 90s pair of fastballs, a plus changeup that has the making to become a 70 pitch in the future and a breaking ball that has started to flash to average if not above. Should the Royals get him to drive off the back half more then the Royals have the making of a #2 starter who could move through the system fairly fast.
#3 MJ Melendez – The numbers may not jump off the board for some at the end of the season considering the strikeout numbers are high, but the athleticism behind the dish and the arm stand out. Coming into the '17 draft Melendez showed elite exit velocity and that has remained a constant into this season with 36 extra base hits and 12 home runs. An ability to dominate on the defensive side as well as hit the long ball makes him one of the best backstops in the minors.
#4 Seuly Matias – Despite his current drought Matias still leads the minor leagues in home runs with 26 through Thursday's games. It's that power that is the calling card for the 19-year-old who is also ranked 2nd in the South Atlantic League in strikeouts with 103 in just 68 games. The arm is an asset in the field for Matias as it is likely a 70 scouting grade with upper-90s velo. When healthy, the movement in the field is good enough to play right field at an average future level. The power is real and is right there for the most they have ever had in the organization, but the plate discipline needs to improve as pitchers are going to work on the edges at all times with him.
#5 Brady Singer – How far can competitiveness and mentality take you? For some like Max Scherzer (#11 overall) it can turn them into one of the best pitchers in the major leagues. That is the type of competitive fire that Singer pitches with and much like Scherzer, the Florida right-hander fell in the draft further than some anticipated prior to the season. The fastball works 93-96 mph with angle and sink, creating groundball contact and some swing and miss. The changeup has come forward and was looking like his best secondary pitch late in the season with downward movement. His breaking ball is a slurvy option that was his put away pitch last year but transformed more into the curvy offering this season, lacking the swing and miss. Transforming it back into a slider offering could be the difference between Singer being a bullpen option and a future starting pitcher.
#6 Nicky Lopez – In Adalberto Mondesi and Lopez the Royals have two players who are near polar opposites. For everything that Mondesi represents in ceiling and risk, Lopez counters in floor and consistency. While Mondesi can make the spectacular on the defensive side Lopez has the steady hand that coaches prefer. At the dish, Mondesi's power and speed combination is intriguing but the lack of plate discipline is directly opposite to Lopez's steady, disciplined approach at the plate.
#7 Daniel Lynch – The lefty was a latecomer in the draft pushing his stock significantly late in the season to get to where the Royals selected him in the 1st round. With four different pitches Lynch should be able to move through the low minors fairly quickly. Lots of hard contact off a pitcher with multiple weapons is a bit of concern as I would expect a pitcher with that stuff to give up far less than 11 home runs in 88 college innings this season. A quick mover with a backend profile is nice to have in a system that has longed for pitching talent.
#8 Carlos Hernandez – Prototypical size for the pitcher at 6'5 and 200+ lbs (not buying 175 milb.com) with a fastball that holds 94-95 mph regularly while jumping up to 98 mph. The right-hander shows off good plane as evidenced in his 45% groundball rate while also exhibiting body control to repeat his mechanics and attack the strikezone (7.4% BB-rate). During the season Hernandez has started to show better feel for this curveball while also exhibiting good feel for the changeup. Both of the secondary pitches need improvement still but his feel, body and dynamic fastball are great building pieces for a possible #3 or solid late inning reliever.
#9 Michael Gigliotti – A lost season for Gigs with a knee operation after running into the center field wall. Should he not miss out on a step when he's back the Royals center fielder can easily handle the position defensively while bringing an advanced approach at the plate. This was another version of Nicky Lopez but in center field prior to the injury.
#10 Dan Tillo – This lefty pairs a 90-95 mph fastball with a plus low 80s slider. At times the walks have been higher than one expects from a pitcher that repeats his mechanics fairly easy from a low 3/4 arm angle. The changeup is coming from Dan and should be used fairly regularly as he gets to the Double-A ranks and higher up. At worst Tillo projects as a lefty reliever who can get out right-handed hitters while the combination of his slider, fastball, and low angle creates enough groundball contact that if the changeup continues to come he will turn into a solid backend starter in the future.
#11 Richard Lovelady – The lefty has looked like the pitcher we saw last season the past month or so, more aggressive in his attack against hitters while using his slider effectively in and out of the zone. The fastball control is good while the command of the low to mid 90s fastball is adequate and should continue to improve. The arm angle gives him at least a LOOGY floor.
#12 Emmanuel Rivera – The Royals have a pair of Puerto Rican infielders who are stronger than the third baseman they traded for in the Herrera deal. At third, Rivera features good defensive skills, profiling at least to be average there with a chance to be a plus defender. At the plate, Rivera has an all field approach and the usual Royals ability for a high contact rate (14.7% K-rate). What he hasn't shown enough of yet is the raw power that is in his swing but there is plenty available that he needs to access at a much greater rate.
#13 Nick Pratto – It's been a difficult season at times for Pratto as his higher strikeout percentage has surprisingly carried over from the Arizona League last season. Billed as a hitter with a great feel for hitting, Pratto for much of this season has looked like a hitter without a plan, striking out at a near 30 percent clip against a sub-7% walk rate and hitting groundballs at a near 50% clip. Early in the season, he was showing off power but since June he has slugged just .276. The first baseman studies his craft plenty and I wouldn't be shocked if he finds some tweaks in the offseason to help him find success in Wilmington as he backs away from the go for broke power and converts into concentrating on using the whole field.
#14 Gabe Cancel – The Royals made a trade for a third baseman but considering what they have in River and Cancel on the list it may not have been needed. It took some time but Cancel started to turn around his season in Wilmington with a strong July. While Rivera doesn't get to his power enough Cancel has shown an ability to get there regularly. Currently playing second base, long term I wouldn't doubt that he needs to make the switch to third where he has enough of an arm for the position but the glove may limit his ability to get to no better than average. It will be the bat that carries Cancel.
#15 Kris Bubic – Lefty with a low 90s fastball, a plus changeup, and usable curveball. The fastball is 88-91 mph but with a good-sized body one hopes he could add some velocity still, but even if he doesn't the changeup is a 60 pitch and should allow him to move quickly through the minors. The curveball is another average pitch that he needs to tick up to become a mid-rotation starter but if it stays where it's at then he's likely a 4-A starter.
#16 Josh Staumont – A power reliever with backend stuff but the control that likely leaves him as a 6th inning type.
#17 Brewer Hicklen – A little old for the level but with multiple tools in plus speed and plus raw power there is a ton to like here. His football game didn't allow for as many reps during early development which may mean for a late-blooming prospect.
#18 Sebastian Rivero – A very advanced receiver with a strong arm and quick release. The swing is simple and has some pull-side power while allowing him to hit for a decent average up the chain.
#19 Arnaldo Hernandez – The 6'0 175-200 lbs right-hander has improved his stuff tremendously this season seeing his fastball bump from the high 80s, low 90s to a 93-95 mph heater that touches 97 mph. With the feel for his low to mid 80s changeup that is his best secondary offering alongside his curve that he can manipulate shape with Hernandez has three average offerings. Given the lack of height and the way his fastball fades, it's likely he's a bullpen option but the feel for the stuff and control will give him an opportunity to start.
#20 Scott Blewett – Still just a couple months older than the draftees, Blewett flashes stuff in a mid-90s fastball, hard biting downer curve and a changeup with fade. A lack of deception and movement in the fastball leaves him too hittable at times but considering age and level, there is still some time for him to develop into a backend starter option or a bullpen piece.
#21 Frank Schwindel and #22 Ryan O'Hearn – At this point, Frank has outhit his fellow 1b partner for going on two seasons. Not as good defensively as O'Hearn but the power is equal if not better while also making contact at a higher rate which should help him at the next level. I've long thought that O'Hearn's hitting style (LCF) would be detrimental to him in Kauffman Stadium when you consider that his power is more 55-60 than larger.
#23 Blake Perkins – A plus center fielder with a good hitting approach and excellent speed. Still just 21 years old gives him some time to hopefully develop enough pop off the bat to keep upper-level pitchers honest. The speed and defensive profile give the appearance of a player that fits in the K but ultimately becomes no better than a 4th outfielder.
#24 Donnie Dewees – Plus speed and an improved arm leave him as a good defensive option. The contact ability is good but the lack of pop in the bat and struggles versus lefties likely leave him as a 4th OF or 4-A guy.
#25 Meibrys Viloria – Good catch and throw guy with a good looking swing that should develop some more pop later in his career. His 12.5% walk rate this season shows his improved feel for the zone and I wouldn't be shocked if he broke out next season in NW Arkansas at 22 years old in a better hitting environment.
#26 Kyle Isbel – If he can hit for some pop, then the Royals may have drafted their Whit Merrifield replacement in Isbel who can play multiple infield and outfield spots. Grinder mentality with a smooth swing from the left side.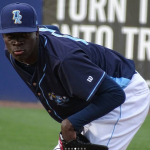 #27 Yunior Marte – A four-seam fastball that the loose armed reliever can run into the mid to upper 90s next to a hard breaking ball. In addition, his two-seam action is a hard diving pitch that can create ground balls and at times looks like his best pitch in the lower levels. In a one inning run, I don't doubt he can work 96-98 mph with a breaking ball that can generate swing and miss, his best days could come in the majors. Given the arm speed and improved control, this could be the 2nd best reliever in the system though the Royals internally may like others better.
#28 Rudy Martin – The Royals nearest version of Jarrod Dyson that they have in the organization as Martin is fast and knows it with the thief's mentality. Unfortunately, the injury bug continues to bite Martin the past two seasons. Despite that, he flashes more pop than one might consider from someone standing 5'7 and a good plate approach. Should he figure out a way to stay healthy, then passing Perkins and Dewees into that 4th outfield spot doesn't seem all that unlikely.
#29 Charlie Neuweiler – While Yefri Del Rosario may light up the gun, Neuweiler shows pitchability, control, and some stuff also. A hard biting curveball next to a low 90s fastball with movement and a feel for the changeup with some control and command. The hopes are that more fastball comes alongside the change here and the Royals end up with a mid-rotation starter. Not yet 20 years old the results look promising in a small sample to start his career.
#30 Kelvin Gutierrez – A good glove can take one decently far in this organization and that is what Gutierrez brings to the table along with a decent feel to hit at the lower levels. The swing approach appears to be more contact oriented than explosive and will need an adjustment to become a player worthy of a major league gig. Considering he's nearly 24 and has a pair of infielders on his heels that change needs to come quickly.
Featured Photo Credit: Steven Branscombe-USA TODAY Sports