The day to day grind of following an awful baseball team can be punctuated by moments of wonder. While Sunday's squandering of a 6-0 lead won't challenge a particular ninth inning collapse against the Cleveland Indians in bottom feeding Royals immortality, it does provide one of those instances where disaster feels so unexpected, yet at the same time, inevitable. 
Giving away a six run lead is usually a total team effort. That's what we witnessed on Chicago's South Side. Yet one man stood above the rest in his futility.
Salvador Perez whiffed five times on Sunday.
Five times. In this era of overpowering pitchers and free swinging hitters, it was the 10th time in 2018 a player recorded five strikeouts, achieved by nine different players. Perez joins an interesting list that includes a pair of slugging Yankees and a pitcher.
If you break it down, Perez is the sixth player this year to go 0-5 with five whiffs. If you're the type who only sees the good in things, at least Perez posted the lowest WPA (non-pitcher division) among the group, meaning his Platinum Sombrero didn't hurt his team as much as the others on this list.
Let's see how he achieved this amazing feat.
Whiff #1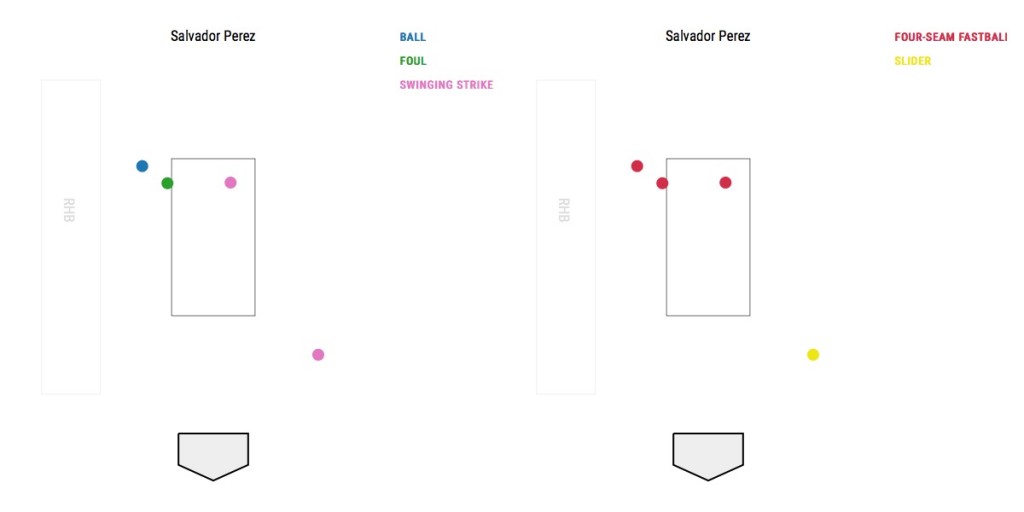 It's a little dangerous to elevate the fastball against Perez, but if you're going to go high, make sure you keep the pitch on the inner third. Here, White Sox starter Reynaldo Lopez opens with one high and tight that Perez let's go for a ball. The second pitch in the plate appearance is the risky one, right in Perez's happy zone. He's batting above .500 and slugging 1.625 on heaters up and away this year. This pitch ran 99 mph with what appeared to be some arm-side fade and was offered at and missed.
Lopez stays up for the second strike, one that Perez generally does limited damage on if he puts it in play. It ran in on his hands and Perez barely made contact to foul it off, so it was a safe pitch.  
The out pitch was textbook on how to whiff Perez. After all the hard stuff up and in, go down for slider away.
Perez has an abysmal chase rate this year, offering at pitches outside of the strike zone nearly 50 percent of the time. Yes, you read that correctly. Perez is swinging at half the pitches he sees that shouldn't be called strikes. It's easily the worst chase rate of his career and, as of this writing, it is the worst in baseball. The slider away is almost always a guaranteed swing.
Whiff #2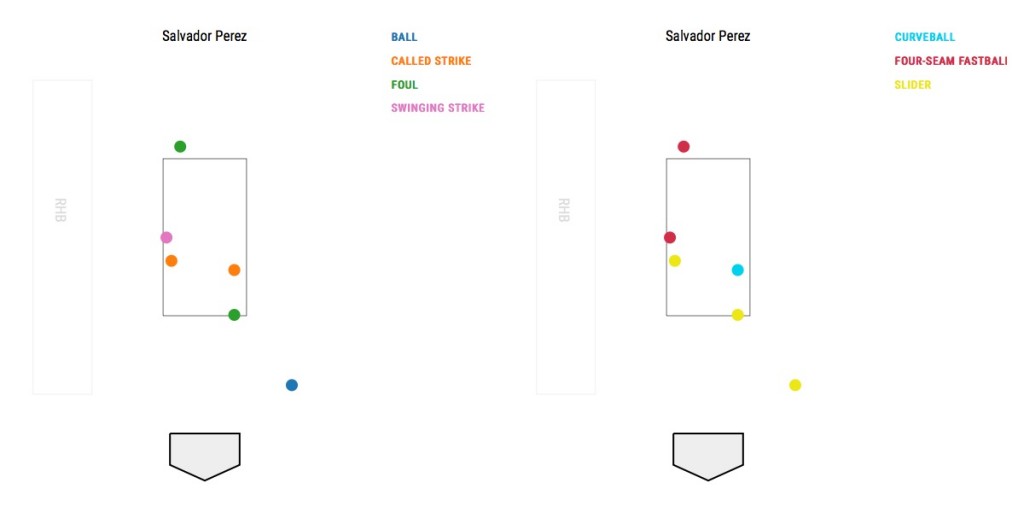 In this plate appearance, Ryan Lefebvre mentions that Lopez has been reduced to depending on his fastball for strikes because he wasn't able to control his secondary pitches. That comment was made after Lopez spun a curve on the outer half and a slider on the inner half for called strikes to jump ahead 0-2. 
Let's go easy on Perez (and Lefebvre) here for a moment. After watching six runs score on three home runs in the frame, and with Lopez indeed struggling with his command, Perez was absolutely correct to be looking fastball on either of the first two pitches. He was doubly correct to spit on the 0-1 slider as Lopez wasn't coming anywhere near the plate on that pitch. 
Here the process was correct. The result was undesirable. Sometimes that happens. 
Whiff #3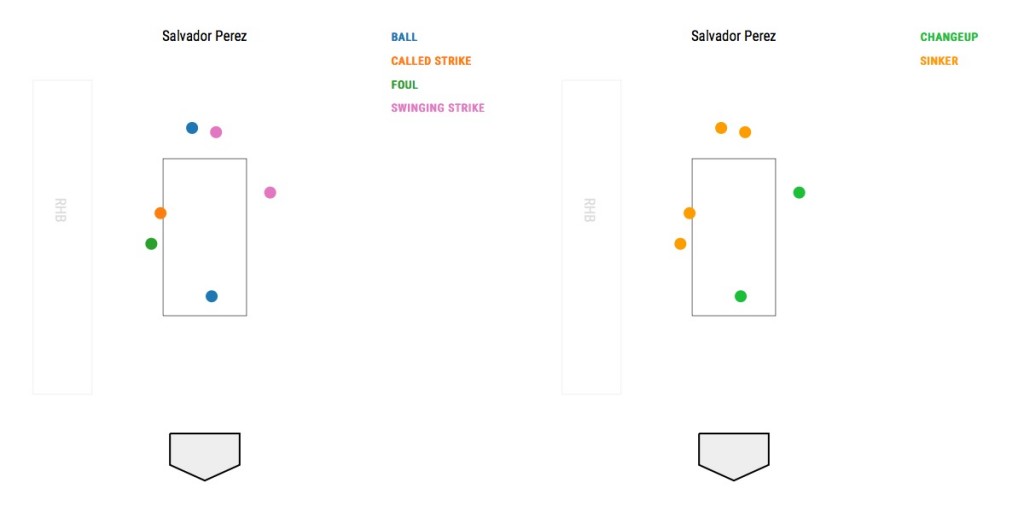 While Perez came to bat the first two times with the bases empty, he arrived at home plate for the third time and found runners on first and second. Whit Merrifield and Alex Gordon executed a double steal on the first pitch, an 84 mph changeup at the bottom of the zone that probably should have been called a strike. 
Now with a pair of runners in scoring position, Perez lets a high fastball pass to jump ahead 2-0. Hector Santiago then comes in with a fastball and gets a call on what should have been ball three. (But remember the first pitch that should have been called a strike. It all evens out somehow.) It's here that Perez completely loses the plot. He offers at a high change way off the plate to even the count and then fouls off a fastball inside. The knockout pitch is a chest high two-seamer out of the zone that Perez finds irresistible. 
Whiff #4
This one just isn't very interesting. Jenmar Gomez works in the low 90s with his sinker and twirls a couple of secondary pitches out of the bullpen, including a slider that lives in the mid-70s. Perez let's a high slider go for a ball and fouls off a high sinker to even the count. A change up inside tilts the favor back to the batter, but Perez squanders that by letting second slider pass, this one a meaty hanger in the middle of the plate, belly high. He fouls off a low sinker before whiffing on a change in the lower half of the zone.
Believe it or not, that was the first time Perez had whiffed four times in a game. Ever. Lefebvre mentioned it on the broadcast and Rex Hudler was as surprised at this info as probably everyone watching. You may even find it interesting to learn Perez has gone down on strikes three times in a game just 15 times in his career.
That's amazing considering his overall lack of plate discipline, yet it's a testament to his ability to put the bat on the ball on pitches outside of the zone. Perez has made contact on pitches outside of the strike zone when he swings 66 percent of the time in 2018. That's a rate of contact above the league average of 63 percent. It's not like he's some sort of bad ball hitting savant by any stretch. Is it notable that of his three whiff games, seven of the 16 have come in the last two seasons? Probably not especially. He had four such games in 2014 and has had four such games now this season. It happens. 
However, at this point, we are officially in unchartered territory.
Whiff #5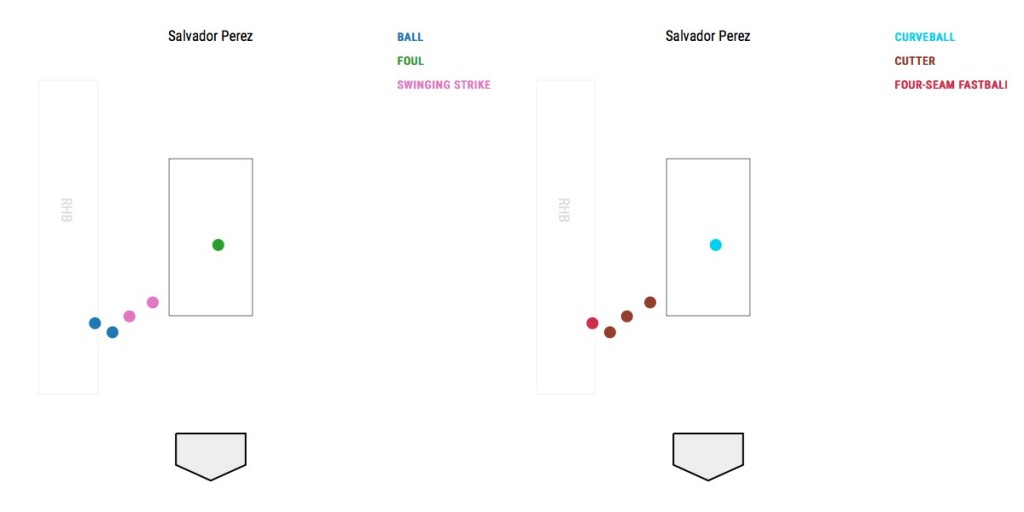 Perez, like everyone else watching this game, seems to just want this to be over. After starting Alex Gordon with a curve in the at bat prior, Jace Fry does the same with Perez who fouls it off. It would be the only pitch in the zone he would see in the entire plate appearance. Down and in for the next two balls and then not as down and in for the next two swings and misses. He wasn't even close to making contact.
That's what platinum looks like.