A great many times this season, I've sat down to try to come up with an angle about the Kansas City Royals that might be considered fun or interesting or anything other than an attempt at click-baiting my way to a semi-interesting take that even I only half-believed in.
Occasionally, I've been able to grit my teeth and do so, because I'm a professional and sometimes you just get dem clicks and move on about your business. I assume writing for a website is a business, and I say that because David and Craig are the people in charge of pushing us all in the right direction and I'm the one who notices the weird or subversive and makes a fart noise at it. We know our roles here.
But this team isn't interesting.
A few of the old-heads maintain some level of interest—Alex Gordon and Salvador Perez can, and occasionally do, show off the flashes that make them Royals Hall of Famers and provide a link to the franchise's halcyon days. More metaphorical ink has been spilled about the late-stage breakout of Whit Merrifield than any other subject, and bully for him. Alcides Escobar is interesting, but only if you need a metaphor for money actually being set on fire. People still talk about Burch Smith and Brian Flynn in terms of potential, which is just adorable.
Every single one of those players will be at least 29 years old by mid-May next year.
Jakob Junis and Rosell Herrera will be 26 before the calendar year ends. Heath Fillmyer and Ryan O'Hearn may get ample playing time over the next few seasons, but if so that really just means that the Royals are losing 100 games a year. Jorge Bonifacio offers promise, but he's been bad enough since his return from PED suspension to at least entertain the idea that his offensive ceiling is not quite what it once was.
I find Brett Phillips super-interesting and also, I find him to have holes in his swing you could drive a Hyundai through. He may not be able to hit, a bit of a problem for a professional baseball player. He'll get many opportunities to prove it, one way or another.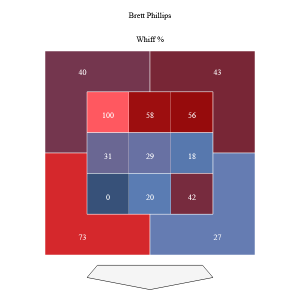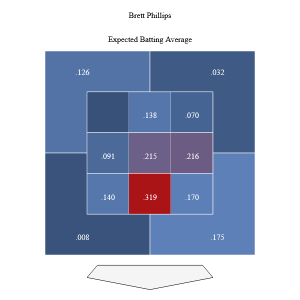 Jorge Lopez has 45.1 career innings, a diverse array of pitches, a fastball that sits in the mid-90s and a strikeout-to-walk ratio that's a couple of borderline calls away from being essentially 1:1. As upside goes, he's one of four Royals with any at all.
Brad Keller and Adalberto Mondesi have been legitimate revelations this year, Keller because he was a Rule 5 guy and therefore a theoretical quandary and 'BERTO because he finally put his considerable tools together to become more than the answer to a trivia question. They may be the only two young up-and-comers on the roster to feel confident in.
For a franchise that keeps making noise about fielding a competitive team next year (lol), having four players with upside is not what you'd consider progress. Add in Perez, Junis, Jorge Soler (who is somehow only 26 even though it seems like he broke into the league with Kerry Wood), Danny Duffy and [squints hard] hell, why not, Jorge Bonifacio and that's three starting pitchers, whatever they end up doing with Lopez and two-thirds of a starting lineup toward relevance! Throw in in Nicky Lopez, Josh Staumont and Richard Lovelady and… chances are they'll lose 95 games again next year.
In a way, I blame Merrifield for all of this. His breakout 2017 campaign at a relatively advanced age was an outlier. It's not something you can bank on other players replicating. Please don't point out how relatively unheralded players CAN become borderline All-Stars without prior warning; while true, you look like an idiot. Dingusy fail-sons CAN become the President of the United States; doesn't mean they all will.
(What? That's not a statement about our current political climate. I'm talking about John Quincy Adams.)
Even if you factor in that peak years have been slowly climbing across baseball (this study explored peak aging, and here's a BP study that looks at the fallacy of the age-27 peak), what isn't being factored into the Merrifield discussion is that he made a gigantic leap from the fringe to the top of the order. Could O'Hearn do that? Hunter Dozier? Herrera? Sure. Maybe. Wouldn't bet my life on it. Gun to my head, I'd gamble that guys on the other side of 25 should get marginally better, but a Whit-like leap is not something to expect. Junis and Lopez should see some level of improvement, even if I wouldn't count on a big jump. The late-20 year olds populating the bullpen are who they are.
And so I close with a plea: stop. Stop expecting them all to be Whit. Accept that some of these guys are just guys, destined to occupy a roster spot until the Royals harvest an always-improving farm system in 2020, 2021 and beyond. By 2021, one hopes that Brady Singer and Jackson Kowar will have shoved someone like Junis way down, or perhaps even out, of the rotation. One hopes that by then, Khalil Lee and Seuly Matias will have stolen at-bats from the Jorges, or Phillips if he never figures out big-league pitching. If O'Hearn or Dozier are still stealing at-bats from Pratto by 2021, either something horrid has happened or I'm gonna be pretty mad.
There is plenty to be excited for when it comes to the Royals future. But that doesn't mean that you have to go around pretending their present is anything other than bleak. You've got eyes; call a spade a spade and acknowledge that what you see day-in, day-out is bad and boring at best. It'll free your mind and, to quote En Vogue, the rest will follow.