It's no secret that a large part of the Royals' success over the last few seasons has been a monster bullpen. While Greg Holland, Wade Davis, and Kelvin Herrera have been the foundation of that group, the Royals have thrived by adding complementary pieces to the three-headed monster. Frequently, these pieces (Tim Collins, Luke Hochevar, Brandon Finnegan, and Ryan Madson, to name a few) are guys that other teams would have in the back of their bullpen. But in Kansas City, they are middle relievers.
Holland is still a free agent and would be on the disabled list in 2016 even if not while Madson departed as a free agent. Collins is out for the season with a redo of his Tommy John surgery. Finnegan was dealt to Cincinnati as part of the Johnny Cueto trade. So general manager Dayton Moore needed to shore up that relief group, since it is so important to the Royals' hopes of defending their title. Among the group of candidates the team brought in was one familiar name: Joakim Soria.
Of course, Soria was a dominant closer once upon a time. Specifically, from the day the Royals traded Octavio Dotel in 2007 and elevated Soria to the closer role, through 2010. In those four seasons, Soria posted a 2.01 ERA in 255 innings, with a WHIP under 1 (0.988, to be precise). He racked up 132 saves and posted a lovely 4:1 K/BB ratio (281 to 70). Not quite Davis-like dominance, but pretty darn good. He amassed 8.1 WARP in those four years, a very nice total for a reliever (for reference, Davis has totaled 5.2 in the last two seasons).
But in 2011, Soria struggled. The strikeouts dropped off and opponents made better contact against him than they ever had. His FIP jumped from 2.50 in 2012 to 3.53 in 2011, and his ERA followed suit, from 1.78 to 4.03. So it wasn't a big surprise when we learned in March of 2012 that Soria needed Tommy John surgery. In a decision that mirrored what the Royals would do with Holland after his TJ surgery, the team declined Soria's 2013 option and he became a free agent. Still, he ended his time with the Royals in third place on the team's all-time saves list with 160.
Soria returned to a major-league mound in July 2013, with his new team, the Texas Rangers. He wasn't the closer, but he still had a decent season, with 21 scoreless appearances in his 26 games. Soria appeared to be fully recovered in 2014, turning in a solid four months for the Rangers. He had 17 saves and a 2.70 ERA (but a 1.06 FIP) in 35 games before the Rangers dealt him to Detroit just before the trade deadline.
Something bad happened to Soria in Detroit. In his second appearance for the Tigers, he entered a game against the White Sox with two men on and a 3-2 deficit. Four batters later, Chicago was ahead 9-2. Soria actually pitched pretty well after that, allowing runs in just two of his next 11 appearances. But in game one of the ALDS, he allowed four runs in just 1/3 of an inning as Baltimore blew the game open. The next day, he took the loss in game two when he allowed a three-run double to Delmon Young, turning Detroit's 6-4 lead into a 7-6 loss.
Soria's results were reasonably good in 2015, but he did allow eight home runs in the 41 innings he pitched for Detroit, more than he had ever allowed in a full season, let alone just four months of one. His FIP was a rather miserable 4.84, by far the worst of his career for a decent stretch (his short stint in Detroit the year before yielded a 5.25!).
And those issues disappeared when he was dealt to Pittsburgh at the end of July. Soria posted a 2.02 ERA and 1.96 FIP in 26 2/3 innings for the Pirates.
When you look at Soria's career, that season's worth of games in Detroit really sticks out. Hits allowed, home runs allowed, FIP, ERA: all up. Strikeouts: down. I have no idea why Soria struggled in Detroit; perhaps Soria himself doesn't know. I don't want to cast aspersions on Detroit's coaching staff, but I wonder if perhaps Soria got away from what worked for him before, whether that was planned or simply a mechanical issue. It is interesting that Pittsburgh's Ray Searage is considered one of the best pitching coaches in the game; maybe he was able to spot a flaw in Soria's delivery or game plan. If so, that bodes well for the Royals, as Dave Eiland is also one of the game's best pitching coaches.
In fact, let's examine Soria's pitch frequency in his career. Here are his "hard" pitches (Soria throws a four-seam fastball that is usually around 93) from his dominant period (2008-2010), as a Ranger, as a Tiger, and as a Pirate: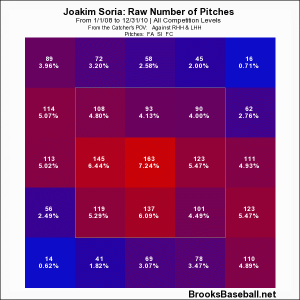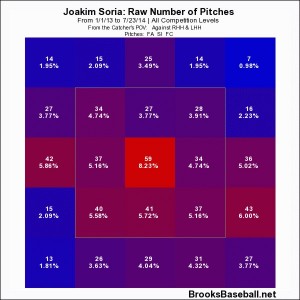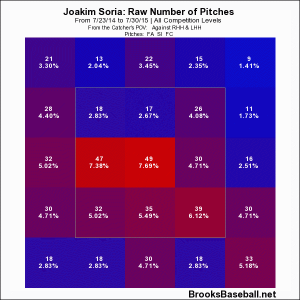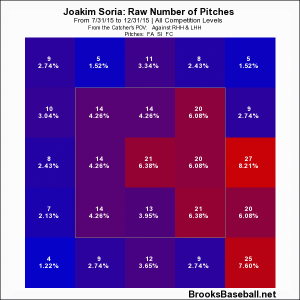 It certainly looks like Soria pitched much differently when he was in Detroit.
The difference is even more pronounced when you look at his breaking pitches (curve and slider), again divided into the 2008-2010 timeframe, then his Ranger, Tiger, and Pirate times: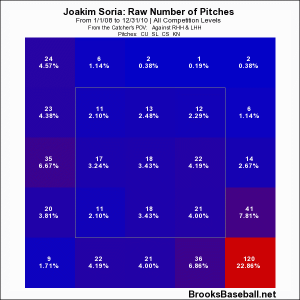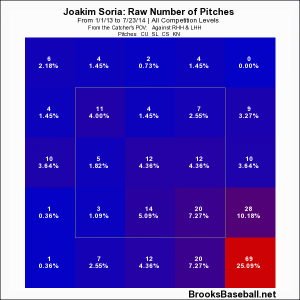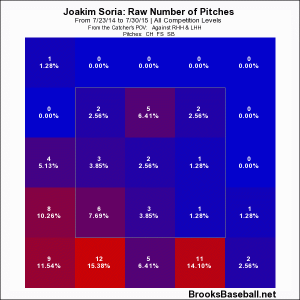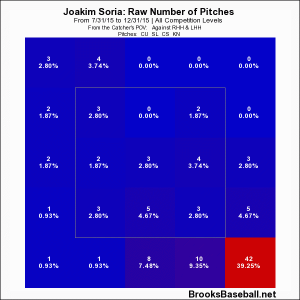 And here are his changeups, again divided into four separate segments: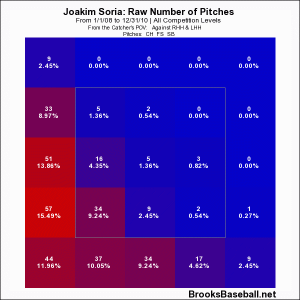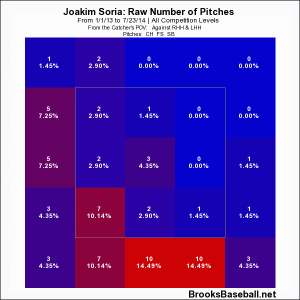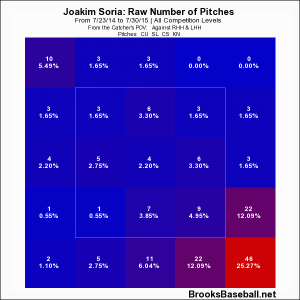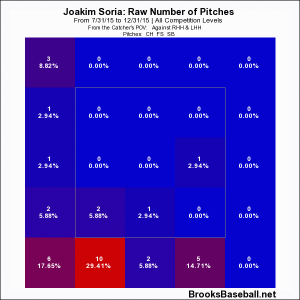 It's pretty obvious that something changed in Detroit, and Soria began pitching differently. Once he went to Pittsburgh, he began pitching like he had before, and was successful.
So what can the Royals expect from Soria in 2016? They obviously felt comfortable with adding him, as they gave him a three-year contract (with a team option for a fourth year) worth $25 million and perhaps a bit more in incentives. Because Soria had success both before and after he left Detroit, I feel comfortable expecting him to be a quality reliever in Kansas City.
He probably won't be the dominant closer we saw from 2008-2010, but should still be a valuable piece in the Royals' plans. He provides insurance for Davis and Herrera; if one is injured or unavailable, Ned Yost can turn to a guy who has pitched in those situations plenty of times. In normal times, Soria will be working the sixth or seventh inning, probably very well.
The PECOTA forecast for Soria has him at 0.5 WARP, with a 3.69 ERA in 62 1/3 innings and 57 strikeouts and 20 walks. I think the WARP forecast is a bit low, the ERA is way too high, and the innings pitched, strikeouts and walks are about right. When the season ends, my guess is Soria will be around 1.0 WARP (for reference, Herrera was at 1.5 last year). That's a very nice piece for a team to have working in the seventh inning.