There is angst in Royals Universe, and we have identified Joakim Soria as the root cause. The latest evidence for the prosecution came on Tuesday in the Royals 8-6 win over the Detroit Tigers. Entrusted with the three-run lead in what is now his customary eighth inning, the right-hander couldn't get his three outs. He left a mess behind with the bases loaded and Miguel Cabrera strolling to the plate. We collectively covered our eyes.
The Royals, thanks to Kelvin Herrera, dodged a bullet. While the team won, Soria's performance did nothing to quiet the critics who want him removed from the eighth inning role. It's still early in the season, but it's not too early to identify trends. Should Soria stay in the eighth inning? Or should the Royals move him to another role in their bullpen?
Soria has already made eight appearances for the Royals. Let's go straight to the game logs.
April 3
0.2 IP, 3 H, 3 ER, 2 BB, 1 SO
This was the one that started everything. The bullpen question heading into the season was basically centered around Soria and Herrera and who would get the eighth inning. Soria entered with a four-run lead and left with runners on first and second and a single run to the good. Luke Hochevar bailed him out with an inning-ending strikeout. The Royals won and panic was diverted. Momentarily.
Average Leverage Index: 1.72
April 5
1 IP, 0 H, 0 ER, 0 BB, 2 SO
A bounce-back performance in the ninth inning of a loss that was, dare I say, vintage Soria
Average Leverage Index: 0.19
April 8
1 IP, 2 H, 1 ER, 0 BB, 3 SO
This one threatened to burn. Tie game and Byung-ho Park crushed one to the left of center. Park is going to run into a bunch of home runs, but there wasn't anything lucky on this pitch. It was a middle-middle slider and Park jumped all over it. Soria did strike out the side, but this is the Twins, they were swinging and missing at virtually everything the first week of the season. Soria was removed from the hook when the Royals scored two in their half of the eighth.
Average Leverage Index: 1.13
1April 12
1 IP, 1 H, 0 ER, 1 BB, 1 SO
Soria was charged with protecting a one-run lead against the heart of the Houston Astros order. He got the first two outs before Colby Rasmus singled. He walked Tyler White on four pitches – two of which were borderline – before Soria recorded the third out.
Average Leverage Index: 2.50
April 13
1 IP, 0 H, 0 ER, 0 BB, 1 SO
With Wade Davis unavailable after throwing 33 pitches the night before, Soria was closer for the night. It was the first time he threw on back-to-back days and Soria retired all three batters he faced on five pitches. Tidy.
Average Leverage Index: 1.04
April 15
1 IP, 1 H, 0 ER, 1 BB, 0 SO
Notable in that this was the first appearance where Soria failed to strikeout a batter. Like his appearance in Houston on the 12th, Soria had a one run lead and got the first two outs before allowing a single and a walk. This time, he retired Khris Davis on a fly ball to get the third out. You shouldn't be surprised the aLI for this game was the same as the Astro appearance.
Average Leverage Index: 2.50
April 17
1 IP, 1 H, 1 ER, 0 BB, 0 SO
This was the game that got away. Billy Burns led off the inning with a triple under the glove of Eric Hosmer. Josh Reddick brought him home with a sacrifice fly and that was the margin of the game.
Average Leverage Index: 1.93
April 19
0.1 IP, 2 H, 1 ER, 1 BB, 1 SO
This rivals Soria's appearance on Opening Day as his worst of the season. The difference is, he didn't have as large of a margin in this one, so Yost came with a quick hook. In fact, you could argue Yost was fortunate the Royals held a large enough lead in the seventh that Kelvin Herrera was available to bail out Soria and the Royals. Both hits though came on ground balls that found holes. (Well, one found the glove of Alcides Escobar, but even he couldn't make the play on a ball deep in the hole at short.) This one was ugly.
Average Leverage Index: 1.14
If you're keeping score at home, we have eight Soria appearances. Two were dominant. Two were good. Two were undone by one big hit. And those six are bookended by a pair of really poor performances. That, my friends, is what we call a mixed bag.
Is there something we can identify as the cause of this inconsistency? Perhaps.
Soria generally gets more swings and misses against right-handed batters. And most of those come on pitches in the upper half of the zone, or on cutters that dive low and out of the zone. Here is a heat map of Soria's swings and misses from 2015.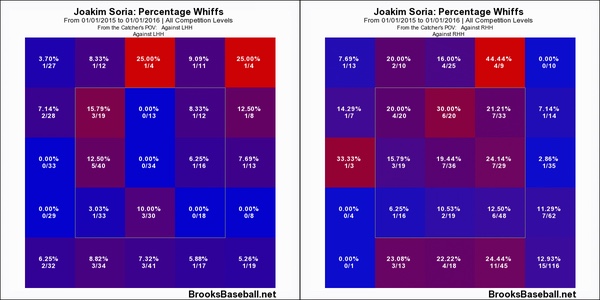 This year? He's not missing bats. At all.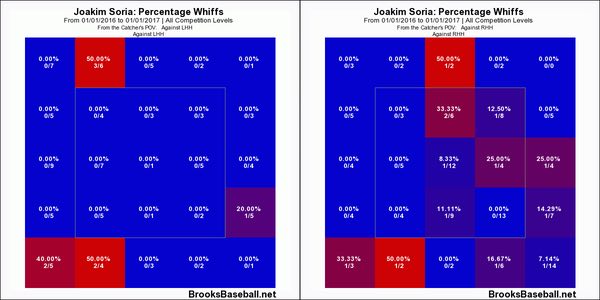 Obviously, the small sample size caveat applies, especially on the left-handed hitters. However, there should be some more positive shading somewhere in the right-handed heat map. Especially up in the zone where he historically has the ability to miss a bat or two.
Which leads to another point. His right-handed heat map from 2015 has him working in the upper half of the zone or down and out of the zone. This year, he's living more middle-middle than anywhere else against right-handed bats. This, as you can imagine, is not good. Also, in his attempt to pitch down and away, which is where he needs to live, is catching too much of the zone. Or, he's working them inside and they're fighting off the pitches he's making there.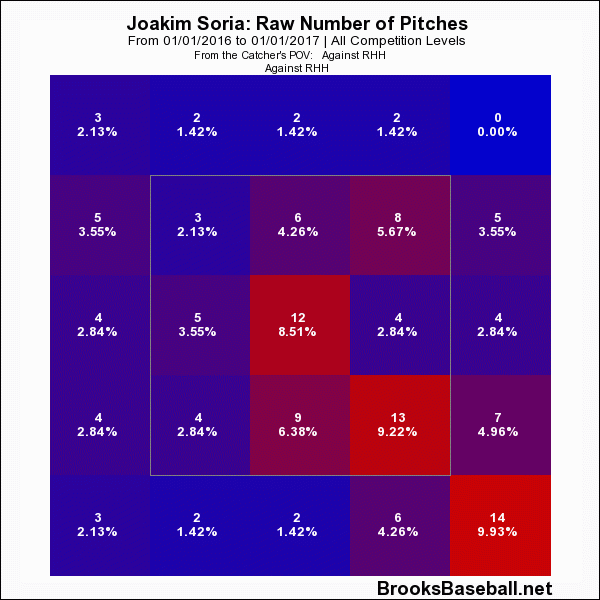 Against righties, Soria needs to work mostly down and away. He's gone there this year, but not with the frequency of his past seasons. This is his heat map against right-handed hitters from last season: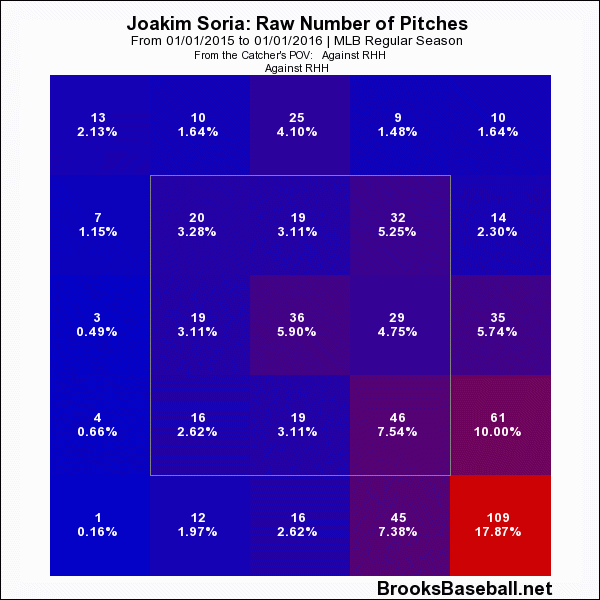 Soria is simply catching too much of the zone and the hitters aren't missing. We do know that there have been a couple of instances in this young season where Soria's command has completely abandoned him. He's issued a couple of four-pitch walks and has, as you can see above, left too many pitches over the heart of the dish.
He's also getting BABIP'd to death. Currently he owns a .429 BABIP, which is insane. Part of that is down to poor location in the zone. Give the hitters a tasty pitch and they will eat. Some of that is unfortunate luck in the early going. We saw that on Tuesday where a couple of ground balls had eyes. That's going to normalize. How quickly that happens depends on Soria's ability to locate better which will in turn lead to him missing more bats.
Something else in Soria's favor is the fact while he's been getting hit, he hasn't been hit hard. His hard contact rate is the lowest on the Royals, by a healthy margin. The only ball I can remember getting mashed is the Park home run. The rest are like what we saw on Tuesday, or the Burns triple on Sunday. The flip side is, he isn't getting soft contact, either. The exit velocity on the ground ball singles he surrendered yesterday were in the 90 mph range. Not enough to be classified as hard contact. Still, good enough to be difficult for the Royals infielders to reach. As fans of the Royals we know that contact is contact. Put the ball in play and things can happen. We're seeing that against Soria.
So what do the Royals do with Soria? Should they do anything? We see from the results that Soria is still capable of turning in a lock-down performance. We also see he's been the victim of some bad luck in the early going. Yet at this point of the season he's too unreliable finding spots with his command and just isn't missing enough bats and shouldn't be throwing in the high-leverage situations in the eighth inning. In the late innings, you want swing and miss stuff and Soria isn't bringing it at the moment. Herrera's addition of his slider adds so much filth to his arsenal that he should be Yost's choice as the final bullpen span in the bridge to get to Wade Davis. Put Soria in the seventh – or even the sixth – where there is a capable reliever behind him, should trouble arise. Kind of like how the scenario played out on Tuesday against the Tigers where Soria struggled and Herrera was ready to go behind him. Yost can continue to use Luke Hochevar as a fireman if he can get six strong from his starters. This seems the ideal situation at present time.
It's too early to throw in the towel on Soria. It's not too early to look at some of the results and shift his role in the Royals bullpen.