With Jarrod Dyson rejoining the Royals' big league roster, the lineup finally looks like the one the organization had in mind before Spring Training began. Neither Paulo Orlando nor Reymond Fuentes did much to wrest the right field job away from Dyson while he was rehabbing, so he strolled right through the clubhouse into the ninth spot in the order on Tuesday night, and he'll likely remain there for almost all games when an opponent puts a right-handed starter on the mound. Through his first two games back, Dyson has reached base three times, stolen a base and scored a run. I'd say that's a strong start.
The season has not gotten off to such a strong start for Alcides Escobar. The team's leadoff hitter is currently sporting a .204 TAv, including an on-base percentage south of .260. In case you weren't already aware, both of those marks are lower than he's posted in any season in his major-league career. Granted, it's very early in the season, and it seems safe to say Escobar won't hit this poorly all season. At some point, he's likely going to see some regression to the mean, bringing him closer to his career numbers. Now that Dyson is back in the fold, that point may be coming sooner rather than later. How can that be? Allow me, and a pair of writers who are both much smarter than me, to explain.
About two years ago, Max Weinstein published a fascinating study at The Hardball Times, on the relationship between pitch locations and caught stealing rates. It's quite in-depth and includes plenty of information, but there was one particular graphic I found the most useful, showing the caught stealing percentages for each area of the zone and the periphery of the zone. Keep that linked chart in mind for later.
A couple of months after that study, Ben Lindbergh dove into the idea that a base-stealing threat could provide some form of protection for the batter. Essentially, Lindbergh found that having an aggressive runner on base tends to result in the batter seeing more fastballs, although that didn't actually result in more production from the batter.
The possible explanations for that finding include: having a runner attempt to steal can be distracting for the batter, the batter may feel like he must take what could be a good pitch to allow a steal, or he might swing at a bad pitch to protect a runner who didn't get a great jump. That last reason could also be related to a call for a hit-and-run, when a batter might not attempt to drive a pitch, opting instead to maximize the chance for contact.
How does this all relate to the Royals speedy combination of Dyson and Escobar? I'm glad you asked! If you hadn't, I would've stopped writing right there, and this would've been a very boring article.
Now that Dyson is back in Kansas City, he'll likely be hitting ninth, which means he'll be batting ahead of Escobar every time the lineup turns over. Obviously Dyson won't reach base in every plate appearance – ideal though it may be – but Escobar should come to the plate many times with Dyson on first or second base. Dyson is one of the most aggressive base stealers in the game, which should mean Escobar will be seeing more fastballs than he would with a lesser runner on base. And, considering the results of Weinstein's study, we can reasonably assume that pitchers will also want to keep their pitches up and on the outer half of the plate when Dyson is on base.
It just so happens that Escobar has hit fastballs better than other pitches in his Royals career, and pitches up in the zone and on the outer half are the pitches Escobar has had plenty of success against in his Royals career. Remember that chart from Weinstein's article? Take another look at it, now with the following heat map next to it.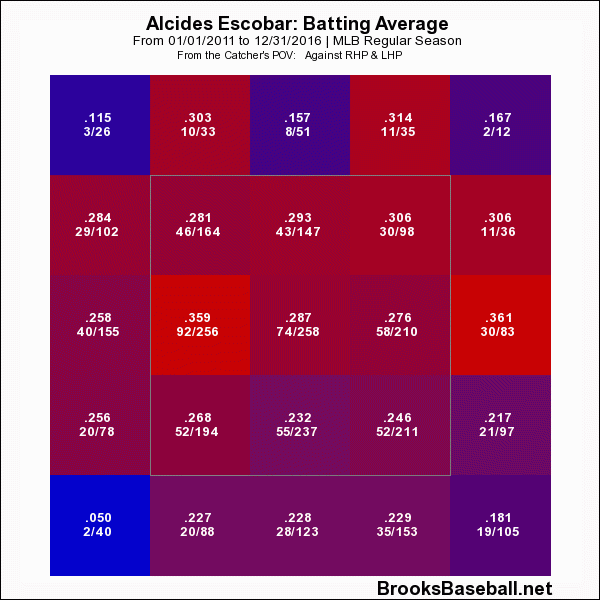 In other words, a defense's best chance at throwing out a would-be base stealer involves pitches in areas of the zone where Escobar can do some positive things. Convenient, right?
There have also been some ways pitchers have altered their approach against Escobar recently. In the last two years, he has seen fewer pitches in the zone than he had ever seen before, likely because pitchers knew he would be willing to chase so often.
| | |
| --- | --- |
| Year | Zone rate |
| 2011 | 52.5% |
| 2012 | 52.1% |
| 2013 | 51.5% |
| 2014 | 50.1% |
| 2015 | 47.4% |
| 2016 | 48.3% |
Thus far in 2016, Escobar is seeing fewer fastballs (four-seamers and sinkers) than he has in any season with the Royals.
| | |
| --- | --- |
| Year | Fastball rate |
| 2011 | 60.6% |
| 2012 | 58.3% |
| 2013 | 57.0% |
| 2014 | 54.5% |
| 2015 | 55.2% |
| 2016 | 51.7% |
It stands to reason that with a base stealer on in front of Escobar, we may begin to see both of those trends reverse themselves. Granted, that doesn't guarantee anything for Escobar's production at the plate, and as Lindbergh showed, it may actually be a detriment to him. However, I think there are some parts of this that could help insulate Escobar from a drop in performance with runners on base, if not help him improve.
The area most impacted by an aggressive runner is the batter's slugging percentage, but that isn't something Escobar relies on to be a productive hitter. His batting line is average-driven, and he doesn't usually tend to muscle-up when runners are on base anyway, so he likely won't be affected as much by Dyson's speed. His contact-focused approach could manifest itself in more hit-and-run situations, which tend to give a boost to the batter, and on a team scale, could provide more run-scoring opportunities for the meat of the lineup.
I'm hesitant to even point this part out, but you have to realize this could result in more sacrifice bunt attempts from the Royals' leadoff man. I don't endorse more sacrifice bunts, especially in the early innings, but we've known Escobar for a few years now. It's going to happen.
I do, on the other hand, endorse a few more attempts for bunt hits from the Royals' leadoff man, and those might also increase with a base stealer like Dyson ahead of him. They may go down as sac bunts if he doesn't reach base, but squaring late and trying to put one down a line could create some havoc for defenses. There are plenty of ways for this pair to put plenty of pressure on their opponents.
Now, there is a potential downside here, in that it's difficult for Dyson to steal on the first pitch every time he reaches base, which means it's going to be beneficial for Escobar to (gasp) take a pitch a bit more often. I'm one of the biggest fans of ambushing first pitches, and there are some cases where there is excessive risk with taking too many pitches, particularly strikes, but for Dyson to make the biggest impact, he'll need the cooperation of the batter behind him. Because Ned Yost is the type of manager to let his players do what they do, this adjustment is likely going to have to come from Escobar himself.
It should also be pointed out that this potential benefit to Escobar can only be fully realized if Dyson is getting on base regularly. PECOTA has him pegged for a .301 OBP, although it's not difficult to see him exceeding that number, particularly if his exposure to left-handed starters is limited. He has a .321 career OBP, which seems very attainable for him. If he does only reach base 30 percent of the time, the Royals will likely look to their multitude of extra outfielders in Omaha, or to the trade market, in which case, Escobar may not see a different approach from opposing pitchers.
And because you can't ever have enough caveats, this analysis may also suggest the advantage for Escobar would be amplified if he has more plate appearances with Dyson on in front of him. Because he currently is guaranteed to have at least one plate appearance with no one on base, one can infer from the above data that moving him down in the order could also increase the potential for improvement. Having Dyson hitting eighth, with Escobar ninth, would seem to be a prudent maneuver to help Escobar more often. But we know this won't be happening any time soon, so feel free to disregard the paragraph you just read. Sorry about that.
The Royals now have the lineup they wanted, and even though there are still some players not performing as well as expected, it's possible that having Dyson healthy once again could have a positive effect on the top of the order. Escobar has been struggling to get things going so far, but with elite speed on the bases in front of him, he may be able to get back on track, which would provide the heart of the order with another opportunity to drive in more runs. It's yet another thing that speed can do.