It was a weekend of comebacks at The K. A lot of comebackery. (I just invented that word.)
Witness:
The Royals trailed 5-1 in the sixth on Friday. They won 7-5.
The Royals trailed 7-1 in the ninth on Saturday. They won 8-7.
The Royals trailed 4-2 in the eighth on Sunday. They won 5-4.
There's demoralizing, and then there's what happened to the White Sox in Kansas City. After the smoke cleared, the Royals passed the White Sox for first place in the AL Central. That slow patch at the end of April and into the start of May? Dead and buried.
Since Saturday afternoon, I've watched the ninth inning the 8-7 victory at least 10 times. There's something mesmerizing and thrilling about watching this team (this team!) claw their way out of a six run hole. Somewhere around the fourth viewing, I decided I needed to deconstruct what we all saw. What follows are plate appearances along with key quotes from both team's broadcasts.
"And here comes White Sox closer David Robertson to get some work."
— Ryan Lefebvre – FSKC
"David Robertson coming on to pick up an inning of work."
— Steve Stone – WGN
Both broadcasts made mention of the Robertson entering the game to get in some "work." This isn't uncommon, especially for a team like the White Sox, who were spiraling even before coming to Kansas City. When a closer hasn't seen a save situation in recent times, the manager will likely use him in a low-leverage situation with the aim of keeping him sharp for use down the road when the game is actually on the line.
Much is made about the closer getting shelled (or at least knocked around) in a non-save situation. As the baserunners piled up against Robertson, both broadcasts mentioned this on Saturday. Yet, like so many old school baseball narratives, this one has been thoroughly debunked. If you prefer facts to narrative, you may have noticed David Robertson had pitched in a game with the exact same score as recently as May 1.
For real. Robertson made a ninth inning appearance less than a month prior against the Baltimore Orioles where his team was leading 7-1. Just like on Saturday! Based on the narrative, you would expect him to have allowed at least a couple of runs to cross the plate. After all, the Leverage Index when Robertson entered the game was practically subterranean. Yet in that contest, Robertson faced five batters, allowed a hit and a walk, and didn't allow a run.
So you can stuff your narratives in a sack, mister.
Let's comeback.
Batter #1:
Paulo Orlando
Royals Win Expectancy at time of his plate appearance: 0%
There was little chatter on both TV broadcasts during the Orlando at bat. It's really kind of strange, very nuts and bolts, "Strike one" kind of announcing. Same could be said for the umpiring behind home plate. Orlando took a fastball for the third strike that was a bit inside.
"Nice job of framing it by Alex Avila."
— Stone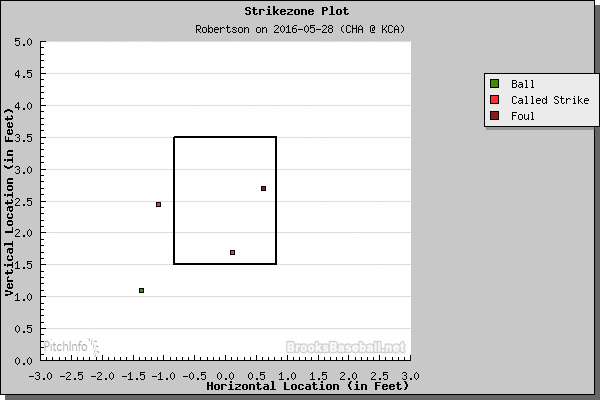 Umpires have dinner reservations, too.
Batter #2:
Cheslor Cuthbert
Royals Win Expectancy at time of his plate appearance: 0%
"Today's copyrighted telecast is presented by authority of the Kansas City Royals. It cannot be reproduced or retransmitted in any form and the accounts and descriptions of this game cannot be disseminated in any way without the express written consent of the Kansas City Royals baseball club."
— Lefebvre
Cuthbert chopped the first pitch he saw back up the middle while the Fox Sports Kansas City crew was taking care of some legal housekeeping.
No one was aware of it at the time, but the comeback was afoot.
Batter #3:
Brett Eibner
Royals Win Expectancy at time of his plate appearance: 1%
"A chance for (Eibner) to get an at bat against a big league closer."
— Lefebvre
It's just not a Kansas City Royals comeback with a little good fortune, and here was the first sign the baseball gods may be smiling on the Royals. In this instance, Eibner drove a 92 mph cut fastball the opposite way. Right fielder Adam Eaton drifted back, but lost the ball in the sun. Defensively, Eaton is having a strong season after shifting over from center field, leading all right fielders with 15 Defensive Runs Saved. The bet here is that ball is caught for the second out of the inning if it doesn't cross in front of the sun.
"A lot of closers pick up an inflated ERA in non-save situations."
— Stone
There's that narrative again.
Batter #4:
Omar Infante
Royals Win Expectancy at time of his plate appearance: 1%
On the first pitch, Infante took a rip at an 82 mph knuckle curve so far off the outer half of the plate that you have to imagine it was something of a tribute to Salvador Perez. Perez had exited the game the half inning prior on another foul ball mishap, this time colliding with Cuthbert.
The most astounding thing about this plate appearance was the fact that after swinging at a pitch that almost killed someone on the Budweiser party deck, Infante looked at four consecutive balls. This was made even more amazing by the fact Infante had already walked once prior in this game. Entering Saturday, Infante owned a 5.1 percent walk rate. After the game, it bumped up to 6.4 percent.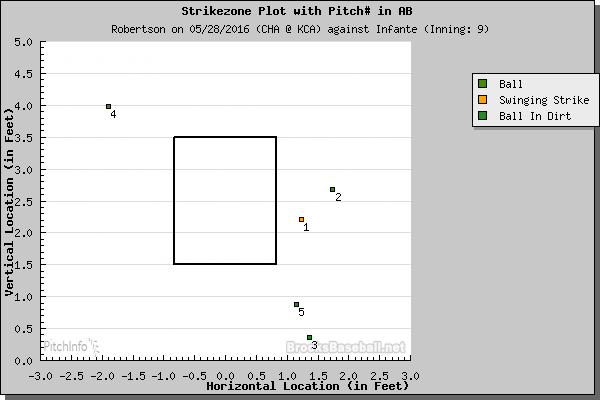 Batter #5:
Alcides Escobar
Royals Win Expectancy at time of his plate appearance: 2%
You think a pair of Infante walks were amazing? How about Escobar, who walks less that four percent of the time, falling behind in the count 1-2, and working a bases-loaded free pass. The first run of the inning is forced home.
Things started turning a bit in the White Sox broadcast booth.
"He wanted to get him an inning of work. He's already got that in. Pitch-wise."
— Hawk Harrelson
Royals 2
White Sox 7
Batter #6:
Whit Merrifield
Royals Win Expectancy at time of his plate appearance: 4%
This is the second instance where the baseball gods smile on the Royals in the ninth. Merrifield knocks a 2-2 cutter back up the box and it's deflected by Robertson. Had the pitcher not gotten a glove on it, it's probably fielded cleanly by second baseman Brett Lawrie, who would've been close enough to the bag to step on it and fire to first to end the game.
Instead, the ball bounces to Lawrie's left and two runs scamper home.
"If he doesn't deflect the ball, it's a double play."
— Stone
Agreed.
Royals 4
White Sox 7
Batter #7:
Lorenzo Cain
Royals Win Expectancy at time of his plate appearance: 11%
With the Royals Win Expectancy finally in double-digits, Robertson spins a tight knuckle curve that splits the plate but dips down and out of the zone. Cain bites, but all he can do is roll it over weakly to the shortstop, Tyler Saladino. Saladino goes to second for the force, but Cain hustles down the line to avoid the game-ending double play. A run scores.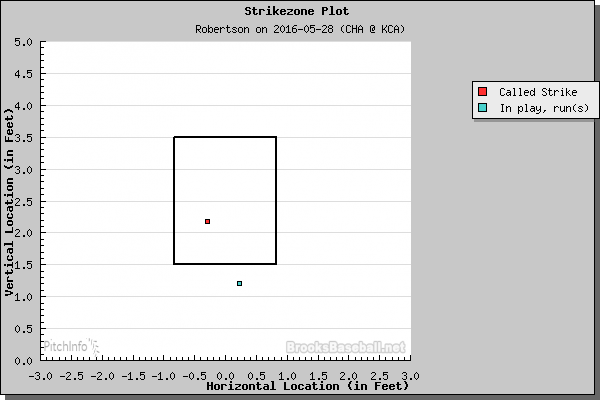 "I thought he was out in real time."
— Harrelson
As much as I hate to admit it, I thought the same. Actually, it was surprising the umpiring crew didn't take the time to look the call over, just to be sure. On replay though, Cain was clearly safe.
Royals 5
White Sox 7
Batter #8:
Eric Hosmer
Royals Win Expectancy at time of his plate appearance: 5%
"The outfield in a no-doubles set. Very deep. Straight up."
— Harrelson
When you're locked in, you're locked in. Outfield defense doesn't matter.
Royals 6
White Sox 7
Batter #9:
Drew Butera
Royals Win Expectancy at time of his plate appearance: 14%
Even with all the destruction already wrought in the inning, the odds still favored the White Sox. The Royals still needed one more run to force extras, while the Sox just needed one more out to send everyone home. At this moment, it was up to Butera, who had all of 20 plate appearances despite being on the roster since Opening Day.
"Joe Buck said it. I don't believe what I'm seeing."
— Harrelson
That makes three of us.
It was a 99 mph fastball from Tommy Kahnle, on in relief of Robertson, and Butera barreled it for his fourth double of the season. The two-bagger brings home Hosmer and bumps the Royals Win Expectancy an incredible 46 percent. This game was tied.
Royals 7
White Sox 7
Batter #10:
Paulo Orlando
Royals Win Expectancy at time of his plate appearance: 61%
White Sox manager Robin Ventura loves the intentional walk. At least that's my impression of him. As much as I abhor putting a runner on base on purpose, I will concede there are some situations where it's not a bad idea. Here, I'm indifferent. Orlando's run doesn't mean anything, and it sets up a force at any base on the infield. C'est la IBB.
But here's the beauty of the situation. The pitcher still has to deliver the pitch. And Kahnle's first one sails up and back, and the catcher Alex Avila can only get a glove on it as it goes to the backstop. Butera moves up 90 feet to third.
"If you're going to walk him, you should have one of the infielders come in to back up Avila."
— Harrelson
Illegal. But funny.
The four pitch intentional walk is going away next season. Pinpointed as a time suck by commissioner Rob Manifred, who is intent on solving baseball's pace of play issue, next season the manager just holds up four fingers and the batter trots down to first. This seems like spitting into the wind. Don't tell me that wasn't an exciting wild pitch. It was.
Batter #11:
Jarrod Dyson
Royals Win Expectancy at time of his plate appearance: 64%
Dyson was up to pinch hit for Cuthbert, who was limping noticeably when he came home with the Royals first run of the inning.
After looking at ball one, Dyson offered at the next pitch. Then, Ventura decided to issue a second consecutive intentional walk.
Keep on, keeping on.
Batter #12:
Brett Eibner
Royals Win Expectancy at time of his plate appearance: 66%
"It has taken him six years to get to the big leagues, and in his second big league game, he has a chance to win it."
— Lefebvre
The big league closer was gone by the time Eibner's second at bat of the inning rolled around. As Lefebvre noted, it was a long journey for Eibner to get to this particular moment. It's inspirational, really. Think about how long it took for him to reach the majors. Think of the setbacks he experienced along the way. Think about the preserverence it took to get to home plate at The K with the game tied in the bottom of the ninth inning.
Then, think about this at bat.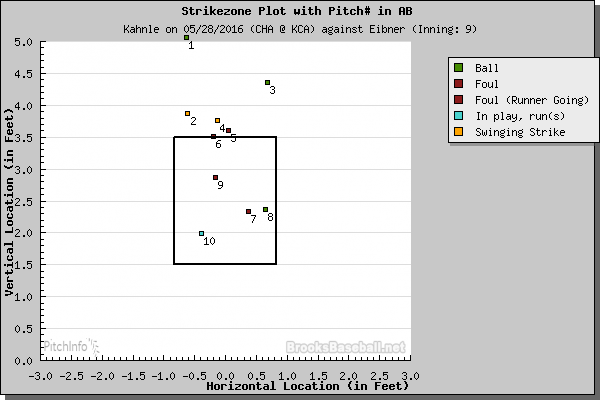 Eibner saw 10 pitches. Kahnle started by working him up in the zone. Eibner looked at two, swung and missed at two up and out of the zone, then fought off the next two that were borderline at the top of the zone. Kahnle then went down. Pitch number eight, Eibner took. It could've been strike three. Instead, it was ball three.
Now here's where Ventura's strategy of walking the bases loaded perhaps wasn't the smartest of managerial moves. With the bases juiced and the count full, there was no margin for error. Kahnle had to make a pitch. He had to, or the game was over. Look at the location of pitch number nine. Middle-middle at 98 mph. Eibner was a bit tardy and fouled it off.
The next pitch was down, Eibner was late again, but he was able to rifle it past first.
Royals 8
White Sox 7
"A stunning… An absolutely stunning, seven run, bottom of the ninth inning."
— Lefebvre
There's nothing else to add.