Let's quickly review some collateral numbers from the Royals 10-4 victory over the Tampa Bay Rays:
— The Royals have now won six consecutive series. The last time they won six in a row was back in 2014.
— They now have a five game winning streak for the first time in 2016.
— The Royals have now won 14 of their last 19. And to think all the way back in 2014, I mocked Dayton Moore for mentioning his team could rip off 15 wins in 20 games. They've done this a couple of times now since then. Here's hoping they can win tomorrow to do it again.
— May has historically been a rough month for the Royals. With the win on Tuesday, they finish the 2016 version of May with 17 wins, their most in the month of May since 1987.
— The Royals are now a season-high seven games over .500.
This has just been a stunning turnaround. Made even more stunning that it's happened with mainstays such as Mike Moustakas, Alex Gordon, and Salvador Perez sidelined with injuries. The pitching is now a thing. The bats are smoking. This is what we were missing back at the end of April. What a difference a month makes.
WPA Play Of The Game
While the Royals have gotten some solid starts in this hot stretch, Dillon Gee scuffled on Tuesday night. Through his five innings of work, he allowed 10 baserunners. Four of them scored. To say his start was a grind, would be kind to Gee.
Gee was staked to a two run lead after the first inning. He squandered that almost immediately, allowing back to back singles to open the frame before Corey Dickerson stepped to the plate. Gee fell behind 3-0. He got a fortunate call for the first strike, fouled off the next, then barreled an 84 mph change-up that was middle-middle. The Royals two-run lead became a one-run deficit.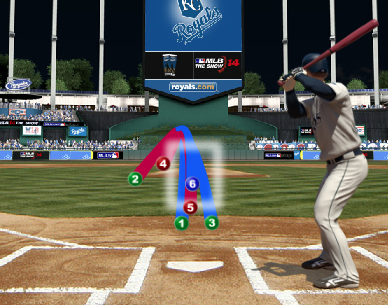 The blast pushed the Rays Win Expectancy 21 percent in their favor. Of course, that wouldn't hold as the Royals chipped away with a run in the third before breaking the game open with a five-run fourth inning.
Share The Offensive Wealth
The Royals had a season-high 18 hits and everyone in the lineup got in the action. Eric Hosmer and Drew Butera each had three knocks. Lorenzo Cain went deep and drove in four on the night. Paulo Orlando extended his hitting streak to 14 games with an eighth inning single. Even Kendrys Morales got in the action, hitting a home run from the left side. What an exciting development.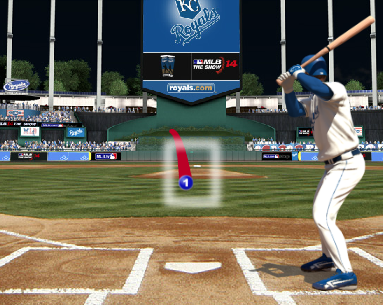 It was a 94 mph fastball that had a little tailing action toward the outer half of the plate. Except it didn't tail enough. Morales hit a 110 mph laser over the fence in right. It was just his fourth extra base hit from the left side this year.
Another Injury
I mentioned in my recap of the epic Saturday comeback how happy I was for Brett Eibner. The Royals second round draft pick in 2010 has persevered in his stops across the minors. He's battled injury and has been overlooked at times by the major league team. It took myriad injuries at the big league level to get him to Kansas City, but he wasn't wasting time one he arrived. Eibner doubled and scored in his major league debut. The next night he doubled and walked off the game with a single as the Royals batted around in the ninth. On Sunday, he collected two more hits and drove in the game-tying run on a bases loaded walk in the eighth. He plays the game with an enthusiasm which is relatable. He's just damn glad to be here. Kind of like those of us whose major league dreams were abandoned so long ago. He's fun to watch.
Which makes what happened in the sixth inning on Tuesday all the more discouraging. Tracking a ball hit to the left-center gap, Eibner collapsed and grabbed his ankle. It was difficult to pick up the injury even on replay. The fear was an Achilles. Initial diagnosis wasn't so bad.
Eibner suffered a left lateral ankle sprain. #Royals

— Jeffrey Flanagan (@FlannyMLB) June 1, 2016
He will be evaluated further tomorrow. That's probably when the Royals find out he's missing all the ligaments in his leg. At this point, Spinal Tap drummer is a safer occupation.
So you hope for the best for Eibner. To have waited so long for the opportunity, only to go down in his fourth game… That's tough.
Wobbly In The Ninth
I was this close to having to hit the delete key on this recap. Scott Alexander, brought in to close out a six run lead, couldn't come up with the outs. Ned Yost, a slave to the save just like every major league manager, decided it was time to burn his closer. In a five run game. All because of a silly, made up statistic. Baseball is a funny game.
Davis needed five pitches to collect the final two outs and send everyone home happy. Except probably Yost, who back in the fifth inning didn't think he would be using his Saveman.
Up Next
The Royals go for their sixth consecutive win and second series sweep in a row on Wednesday night. Danny Duffy makes the start for the Royals.