After a couple solid, yet wobbly starts, Danny Duffy shoved on Monday. The Royals bats jumped on his Cardinal counterpart. And the Royals held on for a 6-2 victory to open a four-game set against their cross-state rival.
Dominant Duffy
I say "wobbly" because the sharpness he exhibited in the starts as his pitch count expanded wasn't there over his previous two starts. That's not a criticism. That's fact. The good thing though, was Duffy was able to keep his team in the game in those instances when he wasn't at his most sharp.
That wasn't the case on Monday.
It wasn't the most optimal of opening frames, but after the Matt Holliday home run three batters into the game, Duffy shook it off and got to work. Oh, he got to work. Let's just skip ahead to the final damage he inflicted upon the Cardinal batters:
8 IP, 6 H, 2 ER, 0 BB, 8 SO
Duffy had completed eight innings only one other time in his career. The only other time he struck out at least eight while not walking a batter was just a couple of weeks ago against Baltimore.
Duffy had it all working. He said his change wasn't really working for him and perhaps it wasn't. Cardinal hitters only swung at two all night. The real star was his fastball/curve combo. According to preliminary data from Brooks Baseball, Duffy threw 46 four-seamers and picked up eight swings and misses. He threw 33 curves and got seven whiffs.
Look at where his strikeouts were located. You just can't spot your pitches better than that.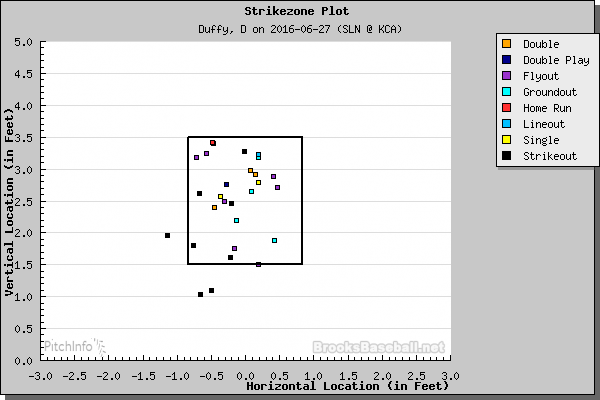 He maintained his velocity and kept his pitch count under control. His efficiency allowed him to be the first Royals starter to complete eight innings this season. The Cardinals didn't stand a chance.
It was just a brilliant outing from a young pitcher who has discovered his confidence. The Royals have been looking all season for someone to step up and front this rotation. At this point, we have to ask: Why not Duffy?
And You Shall TOOTBLAN
You can run on Duffy, but he does such a great job holding runners on base, you will do it without confidence. This year, Duffy has faced 66 stolen base opportunities. That's defined by Baseball-Reference as a runner on first or second with the next base open. Do you know how many times a runner has attempted to steal? Once. And he was caught.
Make that two.
Word is out. You just simply can't get comfortable on the bases against Duffy. That came through in the sixth, after Aldemys Diaz doubled, for some reason he attempted to steal third. Duffy held the ball long enough and was present of mind enough to spin toward second when Diaz broke for third. Dead cardinal. The TOOTBLAN ultimately cost the Cardinals a run as Matt Holiday hit a double of his own. Those are the best TOOTBLANs.
Kendrys Awakening
A night after clubbing a pair of home runs, Kendrys Morales went 4-4. He beat the shift three times, lining two base hits between the short right fielder and the regular right fielder before going oppo in his final at bat.
This is so key to the Royals keeping pace with the red-hot Cleveland Indians.
Up Next
Game two of the series as Yordano Ventura takes the mound. Ventura returns from his suspension. Imagine if both the Royals young guns have found their mojo. Whew… It's getting hot in here.