Blown saves? Yeah, those happen. Despite having the best bullpen in the history of relief pitching (or whatever) even the Royals aren't immune.
Two blown saves in the same game? Yeah, I wasn't sure what we were watching.
The Royals withstand a pair of late Cardinal rallies before they turn to Chien-Ming Wang to close out a 3-2 victory over the Cardinals. Bet you didn't see that coming.
Sequencing
The funny thing about baseball – and this game in particular – is if you score enough runs, you remove the pressure from your bullpen. The Royals certainly had opportunity. They just lacked execution.
The facts will frustrate:
– 19 runners left on base
– Two hits in 14 at bats with runners in scoring position.
– The only time the Royals were retired in order was in the ninth.
Naturally, the Royals first – and only – run-scoring hit came in the 12th on Alcides Escobar's double. The Royals previous two runs came on an Escobar sacrifice fly and when Whit Merrifield lashed a ball up the middle that went for an error when second baseman Matt Carpenter couldn't field it cleanly. That's it.
We've been through this before, but when your offense lacks power, it has to rely on sequencing. And when you can't come up with that third hit in an inning, it can be difficult to score runs.
The Forgotten Man
When a game like this grinds into extras and the storylines evolve into blown saves and missed opportunities, something tends to get overshadowed. In this case, it would be starter Edinson Volquez, who rebounded from the worst start of his career to deliver one of his best as a Royal. Almost seven shutout innings with four strikeouts and just one walk. He wasn't dominant, but he threw strikes and his two-seamer was a weapon.
If a Chris Young start looming, the Royals needed some depth and Volquez provided that. (Of course, that benefit kind of flew out the window once the game rolled into the 12th.) I kind of dig Volquez's velocity chart. You can tell in the first he was kind of finding his footing before getting his swag back in the middle innings.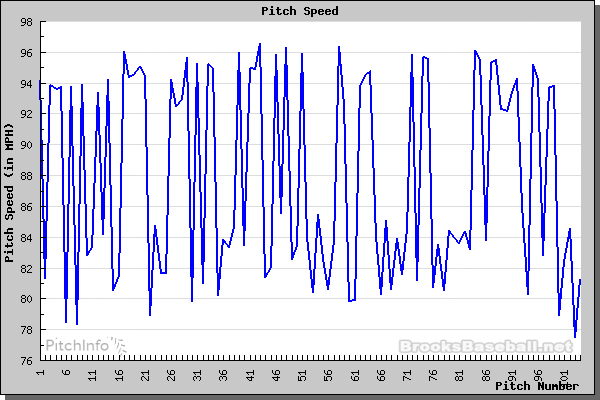 Baseball is a game of trends and it's usually foolish to jump to quick conclusions. How many of you had the shakes just four pitches into Volquez's start?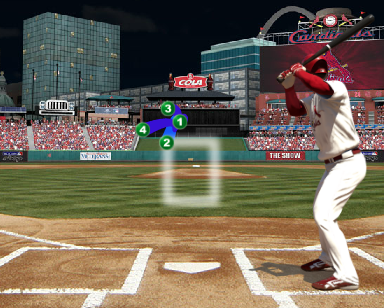 I mean, he wasn't even close. And after last weekend's fiasco, you were probably justified if you had some serious questions.
Thankfully, Volquez was able to find his footing and that was his only walk on the night. After that, it felt like he was in command. Hell, even the hits he allowed weren't hit all that hard. By my count there were three that didn't leave the infield. It wasn't a dominant performance by Volquez, but it was certainly good enough. And one that should certainly wash the taste of last weekend away for good.
The Lineup
Escobar back in leadoff. Kendrys Morales in right field. Ned Yost is never wrong.
Escobar naturally drives in two, including the game-winner in the 12th. And Morales? Stay hot, Big Ken.
Morales on Carpenter catch:

Route efficiency: 96.7%
Distance covered: 90ft
Top speed: 16.7 MPH
First step: 0.43

— Daren Willman (@darenw) June 30, 2016
Don't ever bet against Ned Yost.