Another one of those AL Central nights. The Royals jumped to an early lead against Chris Sale, then put the bats away for middle innings. They fell behind in the fifth and looked good for the loss before they staged a ninth inning rally against David Robertson. They always seem to stage a ninth inning rally against David Robertson. For a moment, it was fun, providing a modicum of hope, until we moved to the tenth.
A three-run Todd Frazier bomb ended this one in a particularly brutal fashion. The old Royals bullpen, it ain't what it used to be.
Offense MIA
After Eric Hosmer staked the Royals to a two run lead with a single in the third, 13 consecutive Royals walked to the plate and 13 consecutive Royals returned to the dugout. Raul Mondesi broke the streak with a walk with two down in the seventh. From that Hosmer single to Kendrys Morales leading off the ninth, that walk was their only base runner.
Who knows? Maybe just a little more offense and we aren't talking ninth inning comeback and 10th inning collapse. That's kind of the story of the entire 2016 Royals lineup. What could have – or should have – been.
The TTO Penalty
It's often very real, except when it isn't. Makes sense, right?
In the case of Edinson Volquez, it doesn't matter so much when opposing batters step in the box. His results are remarkably similar the first, second, and third time through the order.
Except when it doesn't work out the way it should. On Tuesday, Volquez retired the eighth and ninth place White Sox hitters to open the fifth. Then, Chicago hijacked the singles train, stringing together five consecutive base hits to plate three runs. It spoiled what had been, to that point, a sexy outing from Volquez.
He ended up going six innings, allowing two more hits before his night was finished. So the damage the third time through the order looked like this: Nine plate appearances, seven singles, one double play, and three runs.
Tip Of The Cap
I'll just leave this right here.
We've heard for years Raul Mondesi possesses a plus glove and arm. We've seen it on display in our small sample at The K. Make no mistake about it, we're watching the Royals shortstop of the future. When does that future begin? It could be as soon as next season. Alcides Escobar has an option, but looks like he's lost a step on defense and has become an abysmal sinkhole on offense. Soon, my friends. Soon.
Super Strahm
If you're looking for a bright spot in the late innings, how about Matt Strahm. All the rookie did was face seven batters, allowing one single while striking out five. All on swinging strikes. For the evening, Strahm threw 30 pitches and had eight swinging strikes. Five on his fastball and three on his curve. He's touching 98 mph on the heater and chasing that with 78 mph off speed. And he's locating both for strikes.
Three of his strikeouts were on the curve and two on the fastball. See if you can spot them on the pitch plot.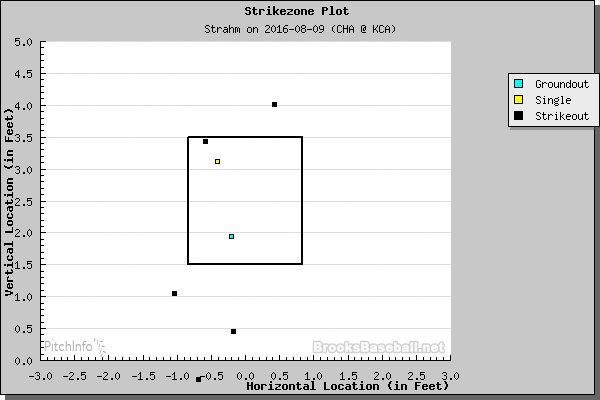 Look low for the fifth strikeout. Really low. Filthy.
Strahm looks like something special. A bright spot in a dreary summer.
Up Next
Game two of this series starts at 7:15. Ian Kennedy takes the mound against Jose Quintana. Read all about the match-up in our series preview.