Back in the day, the annual Royals end of the season press conference could be a maddening exercise. That was when the Royals brass would sit behind the microphones and talk about how they were confident the team could build on a great finish (2009). Or they would extol the virtues of players well past their prime (2011). Remember when it felt like they won the World Series (2013)?
Times change. Thank goodness.
Assessing the 2016 version of the Royals, calmer heads seemed to prevail. Hyperbole was turned down. It felt like a frank discussion of where the team has been and where they are going in the near future.
The nugget that drew the most attention was Moore's discussion of payroll.
"We're living above our means. This payroll was put together with going deep into the postseason in mind. That didn't happen. Again, I'm accountable for that. It's not going to look very good on the spreadsheet when the bill comes due. Again, it was built to go deep in the postseason. Last year's payroll, it was built to go deep in the postseason; that worked out. This year, it didn't. So we'll have to re-evaluate that, probably reorganize, and take some steps back… Right now, I don't expect a significant difference, but we are going to have to regress a little bit, probably."
That's a cold glass of water Moore is throwing out there. And probably, if we're being honest, a tad unrealistic. It's early days of the winter, but it would take a Herculean effort for the Royals to actually trim payroll. It would be impossible while retaining their core. Here are the numbers the Royals have committed to their payroll for 2017. As usual, all numbers are courtesy of Cot's.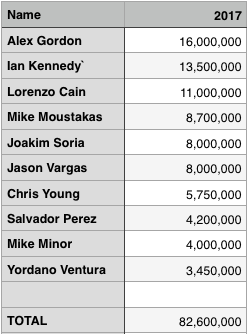 That's $82.6 million committed to 10 players. Scan the names and you see the pressure that is facing the franchise looking for another championship run. Alex Gordon and Joakim Soria have to bounce back from miserable seasons. Lorenzo Cain, Mike Moustakas, and Jason Vargas have to find health on their side. Same for Mike Minor, but that feels like a bit of a longshot. Chris Young is probably dead money. Salvador Perez and Yordano Ventura will provide the opportunity for a bargain.
That's not counting the options the Royals hold on Wade Davis and Alcides Escobar. It's probably safe to assume both will be activated. Then the payroll looks like this.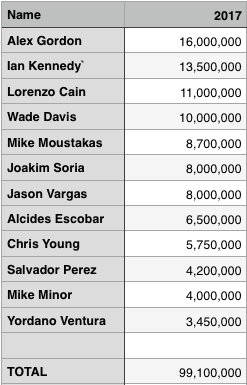 Knocking on that $100M door. For 12 players. Speaking of knocking on that door, what's that I hear? Omar is still comin'. Yep, the Royals owe Omar Infante $8 million to not play baseball in Kansas City next year.
(Actually, I believe the Royals will owe him the difference of the contract and the league minimum salary for 2017, assuming he finds a team. I have no comment on whether that's possible.)
So the Royals are at roughly $107 million for 12 players on their active roster. They have seven players eligible for arbitration. Eric Hosmer and Danny Duffy will get the largest payday here. Say what you will about Hosmer being a league average bat and an overrated glove, but he's going to get paid somewhere around $12 million. Duffy, I'd imagine will get somewhere around $8 million. Because I like round numbers and because I'm not sure I trust my own estimates, let's allocate around $20 million give or take for this pair. Then we can't forget Kelvin Herrera, Jarrod Dyson and even Dillon Gee. All three should be tendered contracts and will receive raises. I'd be that's another $12 million divvied up between this group. That brings the roster to 17 players and the total outlay to $139 million.
And we just blew past the Opening Day 2016 payroll.
For some context, here are the Royals Opening Day payrolls since 2006.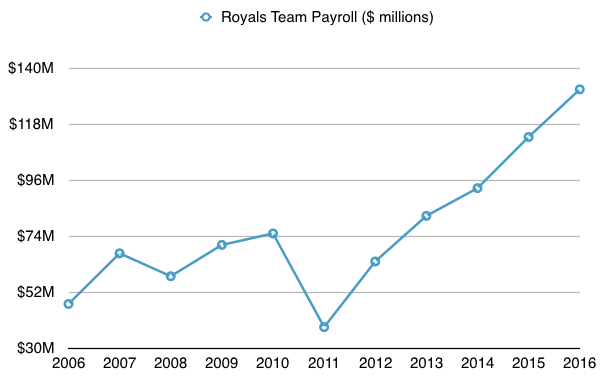 The Royals set a payroll record in 2015 with, as Moore said, an eye on a deep run in the postseason. Considering how just about anything can happen in a short series, that's a helluva gamble to take with the finances. Except like every other roll of the dice for the Royals last year, it came up a winner. In the immediate championship post mortem last November, they talked about high budgets and payroll constraints. Then, they signed Ian Kennedy and brought back Gordon while extending Moustakas and Cain. They doubled down in 2016 and… Well, we know how that worked.
It's a way of saying that plans in October and November evolve as the market plays out in December and January. Opportunity costs shift and so do budgets. Because the Royals are pledging fiscal conservatism today doesn't mean they're slamming the wallet shut for tomorrow.
However, looking at the tables from above, it looks like the Royals do have some difficult decisions ahead. They can ride the current nucleus for another season, pay the bill, and hope they regain the 2015 touch. Or they can begin to sell off some pieces in an effort to reduce the payroll, stock the farm system and reposition for 2018 and beyond. But as you can see, the Royals would have to move several pieces if they were to get below last season's $137 million payroll. I'm just not sure that's possible.
As the Royals head into the offseason they face a ton of questions and have, at the moment, no answers. The only thing certain is the Royals are facing an uncertain future.