As part of their annual offseason exercise, the gang at MLB Trade Rumors published their post containing the arbitration estimates for the upcoming winter. For the uninitiated, the estimates are kind of the gold standard when figuring out payroll ahead of the new year. It's not always perfect, but for the most part they come close enough to the mark they can be used when looking at the larger financial picture of teams like the Royals.
If you recall last week, we took a look at how difficult it was going to be for Dayton Moore and the Royals brain trust to slice payroll. We opened by looking at what we already knew, which was the guaranteed contracts already on the books. For a refresher: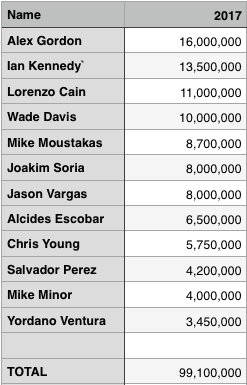 Remember, this assumes the Royals will pick up the options on Wade Davis and Alcides Escobar. That feels like a safe assumption at this point. To this total, we can now add the following estimates, courtesy of MLB Trade Rumors: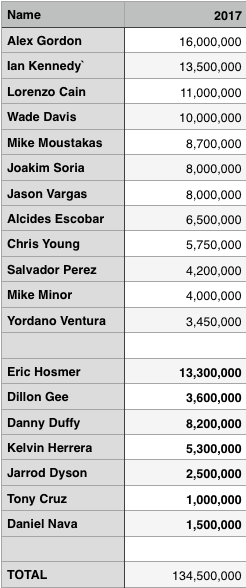 If you'll recall, the Royals 2016 Opening Day payroll was just a little north of $131 million, which was obviously a team record. Based on these estimates, the Royals will blow past that mark with financials in for just 19 out of 25 players.
Obviously, there is room for some savings here. Daniel Nava is a non-tender candidate. You could say the same for Tony Cruz, but with Drew Butera a free agent, they could decide to hang on to Cruz as the backup catcher. Either way, you could probably allocate around $1 million for the second stringer to sit behind Salvador Perez and be safe. I suppose you could non-tender Dillon Gee, but there's some value in the innings he provides as a swingman out of the bullpen. Although further up the list, you see the guaranteed contract of Chris Young at about $2 million more. Depending on how the Royals decide to go with their rotation, Gee could be considered surplus.
Then you have Eric Hosmer. In my article last week, I allocated around $20 million combined for him and Danny Duffy. MLB Trade Rumors has them at $21.5 million. The Hosmer number will undoubtedly be inflated by a 100 RBI season, a career high in home runs (and RBI), his post season heroics (think clutch), and his All-Star Game MVP. Those things don't matter so much to the sabermetric community, but arbitration is not a sabermetric process. It's still a very much by the back of the baseball card sort of thing. Those numbers do matter and in some weird way it illustrates that Hosmer does indeed have a ton of intrinsic value to the Royals. He's going to get paid.
To round out the roster, you can add guys like Whit Merrifield, Christian Colon, Cheslor Cuthbert, Matt Strahm, and Paulo Orlando. Figure around $3.5 million for the guys with less than three years of service time and add that to the total above.
One other thing to note, while buyouts on mutual options don't count toward payroll for the upcoming season, dead contracts do. Come on down, Omar Infante. The Royals are on the hook for the full $8 million of his salary, assuming no team signs him this winter. Remember this contract when you think it's OK for the Royals to overpay in the free agent market in an effort to get their ballplayer. Infante isn't going to pick up a bat or glove for the Royals in 2017 and could be one of their 10 highest paid players. That's a kick in the groin. That's why it's difficult to slash payroll.
That puts payroll at around $146 million.
That's without considering any free agent signings or trade. Again, it seems extremely unlikely if the Royals are harboring any kind of expectations of contention in 2017 that they can trim their payroll. We know they budgeted for 2016 with a "deep postseason run" in mind, but if they believe injuries and misfortune conspired against their plans last year, they could probably bring back most of the same roster for around $10 million more, needing to replace Kendrys Morales and Edinson Volquez with players making the league minimum. Perhaps. The safer bet is that the roster listed above will will look very different by the time camp opens in mid-February. The question remains, which approach will the Royals take? Will they add a couple of pieces in an effort to make another postseason run? Or will they begin the process of selling off valuable parts in order to retool for the long term?
The arbitration estimates from MLB Trade Rumors give us some clarity, but the questions remain.