He is the proverbial face of the franchise. He has a sweet left-handed swing and with his glove can pick balls out of the dirt with ease and grace. By all accounts, he is a great teammate. He will even buy the house drinks when pennants are raised. Eric Hosmer has been front and center as the Royals have returned to baseball relevance.
He was also one of the first pieces of The Process, arriving in Kansas City at 21-years old, just three years removed from his first round selection in the 2008 draft. The 2017 season represented his sixth year in the big leagues (he currently has 5.146 years of service times) which means he will be allowed to shop his wares on the free market next winter.
Earlier this spring, Ken Rosenthal from Fox Sports revealed the Royals and Hosmer are talking extension. That was something of a surprise given that expectations were Hosmer would be looking for a large payday. The column confirmed as much, noting the Royals are expecting Hosmer and his agent Scott Boras will seek a 10-year deal. (An important distinction: The Royals are speculating it will take 10 years. There are no reports that Hosmer or Boras are actually asking for a contract of that length. Although, it is a negotiation. Just because you ask doesn't mean you'll get it.) Boras, as is his modus operandi, was effusive in his praise for his client.
"We all know that Hos is a franchise player, a world champion. He's done all this at a very young age. And I don't know how many people have told me that if a guy hits 25 home runs in Kansas City, he's going to hit 35 somewhere else. Dayton has known Hos since he was 16 years old, as I have. We all know who he is. We all know what he means to a team, his leadership of a club in the now and in the future."
Nothing in the above statement should read as a surprise. Boras is known for positioning his players to mint top dollar once they hit free agency. That happens because it's his job, and he is a tireless advocate for his clients. As such, there's a necessity to separate fact from fiction. The truth is out there, so they say. The challenge for the interested buyers is to cut through the fog and center on the reality. When Hosmer reaches free agency next winter, he will be coming off his age 27 season which means his next team will be betting on his prime. That's a unique opportunity for both player and his new team.
Hosmer and Boras will be looking for a massive contract. The Royals should be looking at their alternatives and prepare for a future without their current first baseman.
---
There is a youth movement afoot at first base. Last year, six of the top eight first basemen as valued by WARP were under the age of 30.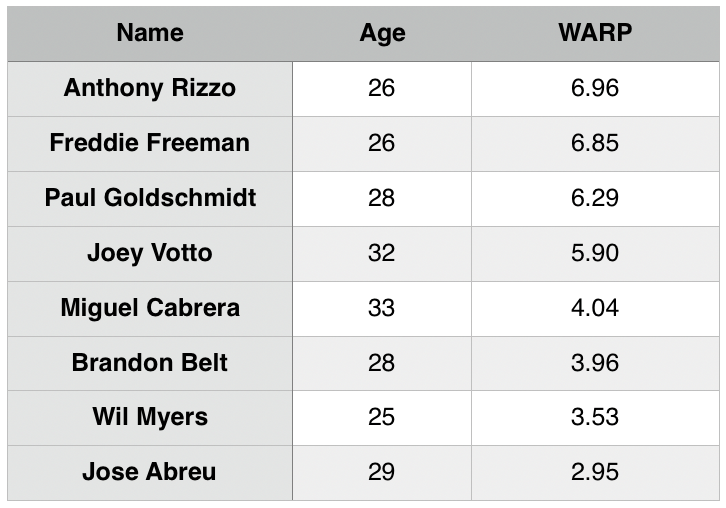 Out of 25 qualified first basemen on the Baseball Prospectus leaderboards, Hosmer's season ranked 18th. He totaled 0.53 WARP, just behind John Jaso (0.55 WARP) and ahead of Yonder Alonso (0.38 WARP). That's not the kind of company he will hope to be keeping if he's looking for a payday in his upcoming free agency.
The table above is notable for a cohort of first basemen who have been in the league since debuting along with Hosmer in 2011: Paul Goldschmidt, Freddie Freeman, Anthony Rizzo, and Brandon Belt. That's a helluva class of players who play the same position that made their debuts at roughly the same time. In fact, it's safe to say that since their arrival, they have shoved their way to the head of the class of the best first basemen in the game.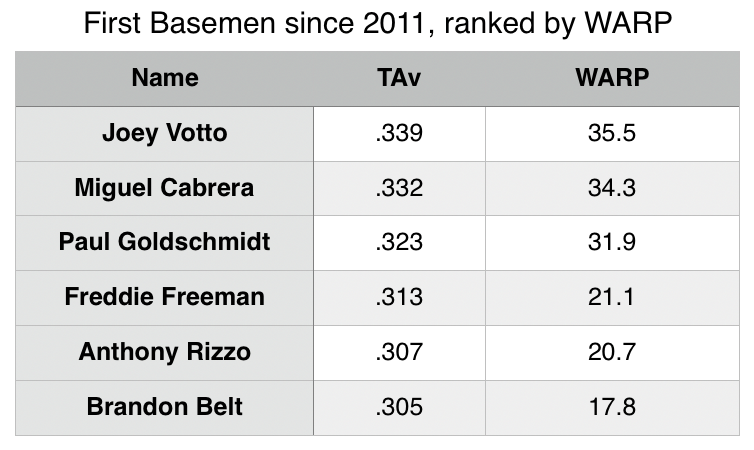 Overall, 27 players have collected over 2,000 plate appearances while playing the majority of the time at first base since 2011. The top six according to WARP are in the table above. Hosmer ranks 13th. His numbers:

The average WARP of a regular first baseman since 2011 is 11.7. It's obviously skewed by the performance of the two veterans at the top of the leaderboard (and Goldschmidt) but in terms of value, Hosmer, since his debut, looks the part of a very average first baseman. Perhaps some of that can be explained away. Maybe it just takes some time to get used to the league. We expect young players to improve, right? Except Homer's not exactly improving with experience. Let's narrow our time frame to just the last three years.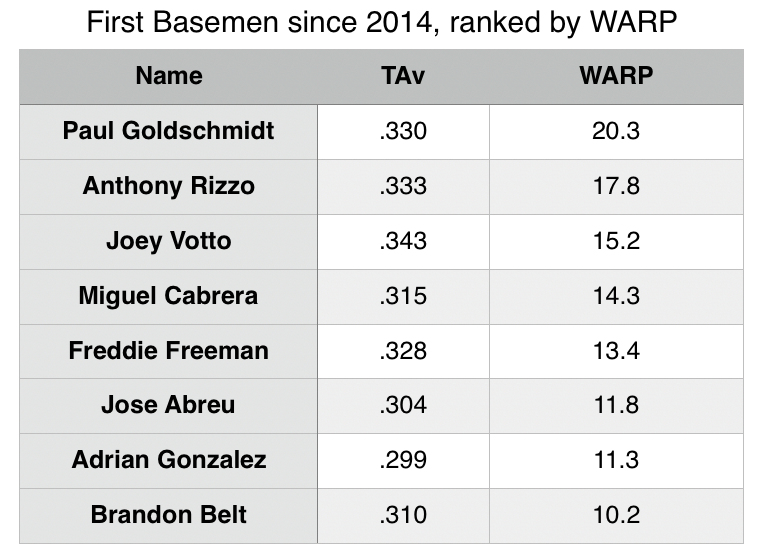 The takeaways here are that our young first basemen are getting better and are now poised to be hailed as the best at their position. All four of them have built upon the first years of their career and are firmly entrenched right now as the cream of the first base crop. Clearly, they are getting better as they approach their primes. Can we say the same about Hosmer?

Hosmer's TAv over the last three years is exactly the same as his career mark. Offensively, he's not making an obvious improvement. His WARP is steady as well. It's not like you can point to the Hosmer we saw in 2016 and definitively make the statement he's improved since his rookie campaign. He shown flashes, but he hasn't improved. He certainly hasn't taken a seat at the table with the prime players at his position. Also of note is the fact Hosmer's WARP and TAv over the last three seasons are again below average for a first basemen. This time, there are 25 regular first basemen who totaled more than 1,200 plate appearances since 2014. Hosmer's WARP ranks him 13th.
Hosmer is clearly not a franchise player. His track record among fellow first basemen says he's treading water in a sea of mediocrity.
With nearly six full seasons of data, we have a decent idea of who Hosmer is as a player. Once noted for his "light tower" power, these days the only way he's approaching the light tower is if they're buried in the infield grass.
The sun rises in the east, Kansas City bar-b-que is the best in the world and Hosmer grounds out to second base. Those are the certainties in our lives.
Nobody in the American League had a higher ground ball rate than Hosmer last year. That's because his swing generates a launch angle that can only charitably called subterranean. From Baseball Savant: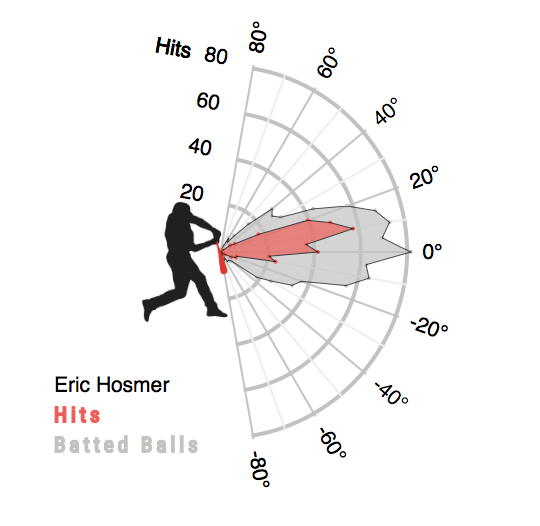 This graphic has been featured in this space before. You can compare Hosmer's launch angle to those of Royals with power potential as a point of reference. And this isn't some sort of statistical anomaly. This is who Hosmer is at the plate. He hits ground balls. A lot of ground balls.

Last year was a bit extreme as it was his highest ground ball rate of his career by a wide margin. Those grounders also came at the expense of his line drive rate. While his ground ball rate was the second highest in baseball, his line drive rate was the fourth lowest. It would seem just a minor adjustment at the plate would see him return a little balance to his balls in play rates. Yet a minor adjustment just won't be enough for him to finally fulfill his power projections that were hung on him as a teenage prospect.
It was crazy impressive he set a career high with 25 home runs last summer. Surely, that will be a selling point with Boras since he mentioned it in the quote pulled at the top of this post. There's a touch of helium to that home run total with a 21.7% HR/FB rate that will be difficult to replicate. With his batted ball profile, 25 home runs feels like his ceiling, no matter where he calls home.
So about the only thing Boras has left to sell are the intangibles. Yes, Hosmer is a World Champion. Yes, he's a respected leader in the clubhouse. We've seen and heard first hand how Hosmer handles himself in Kansas City. Chemistry does count for something, but how much is a team willing to pay a first baseman whose best asset is associated with a test tube?
Something else the four elite first basemen have in common is that all signed contract extensions before they became eligible for free agency. Three (Goldschmidt, Rizzo and Freeman) signed relatively early while under club control and now represent varying degrees of bargains.
The comp you hear often hear for a contract extension for Hosmer is Belt. A super-two player like Hosmer, Belt had one more turn through arbitration to go before he signed an extension last April for five years and $72.8 million. In other words, the Giants bought out his first four years of free agency. The deal was fairly straightforward. Already under contract in 2016 for $6.2 million, according to Cot's Contracts the Giants handed Belt a $6 million signing bonus paid in January of 2017 in addition to a $2.8 million salary for the year. From there – his free agent years – he will make $16 million per year until 2021.
It's an interesting comp, but again, it's a faulty one. Belt has topped 4 WARP three times in his (parts of) six season in the majors. Hosmer has never reached that mark and has topped 3 WARP only twice. Belt has bettered a .300 TAv four times and owns a career .305 TAv. Hosmer, on the other hand, has never posted a TAv above .300. His career best is a .291 TAv reached back in 2013. For his career, Hosmer owns a .271 TAv. Belt brings more value to his lineup.
The Royals may indeed be talking extension with Hosmer and Boras, but they have to be careful. Actually, they have to be prepared to walk away. Hosmer is not a franchise player by any stretch of the imagination and if the Royals chose to buy the myth and pay him commiserate to what a true franchise player at his age would be making, they could cripple themselves financially for years to come. The best deal for the Royals would be a deal Hosmer (and Boras) likely wouldn't even entertain. In fact, it would probably be so insulting to them due to their expectations that they could just cut negotiations altogether.
That probably wouldn't be a bad thing. The Royals need to make plans for their future and those plans shouldn't include Hosmer at his current expected price tag.