The Royals set their Opening Day roster with a flurry of moves that played like a version of connect the dots.
First, they placed newcomer Jorge Soler to the 10-day DL with a strained oblique. The move is retroactive to March 30, so if Soler is ready, the first day he can return would be April 9. Obliques can be a pesky injury, so it's not necessarily a surprise that Soler can't start the season with the team.
The Royals, as they always do, played it close to the vest. Maybe he would land on the DL. Maybe he wouldn't. Longtime Royals watchers couldn't have been surprised at the move. Now the concern is he will miss more than the 10 days. The Royals have a habit of underplaying the severity of their players' injuries. At this point, it's anyone's guess as to when he will return.
With Soler on the DL, that created an opening on the 25-man roster. That spot was taken – briefly – by Hunter Dozier. In a completely procedural move, the Royals then moved Dozier to the 60-day DL. This was kind of a surprise because it doesn't seem like anyone knew Dozier was injured. He had a productive first half of the spring with the big league club and was optioned to the minor league camp on March 17. Out of sight, out of mind. What we do know is that Dozier is sidelined until at least May 30. The good news for him is that he gets to draw a major league salary and his service clock gets to tick.
The Dozier surprise meant that, finally, there was an opening on the 40-man roster. The Royals needed the spot because they were trying to add late minor league free agent addition Peter Moylan to the club. Moylan made 50 appearances for the Royals last year, throwing 44.2 innings with 34 strikeouts and 16 walks on the way to a 3.43 ERA. He has proven himself as a useful bullpen part and as we know, the one area Dayton Moore and his front office seem to thrive is in building the bullpen.
As things stand, the Royals have 18 pitchers on the 40-man roster. In the age of eight-man bullpens, that feels light. Especially considering the Royals used 20 pitchers last summer. (Not counting Drew Butera.) The only pitchers on the 40-man who did not appear in a big league game last year are Andrew Edwards, Kyle Zimmer, and Miguel Almonte. Almonte, of course, made his big league debut in 2015. This is kind of a long way of saying that just because we've reached Opening Day, difficult roster decisions aren't in the rearview mirror. Although, things do have a way of working out in the end. Kind of like Dozier to the 60-day DL now.
What the Royals have done for the moment, is buy themselves some time. There's been talk about trades to move a player off the 40-man, but for the moment the Royals can keep the inventory they covet. And maybe that inventory can be spun into some additional – and even more valuable – inventory going forward.
With the roster finally set, we have clarity on the Royals Opening Day payroll. According to Cot's Contracts, the Royals will begin the 2017 season with a franchise-record payroll of $143 million. That's the fifth consecutive season the Royals have broken their record.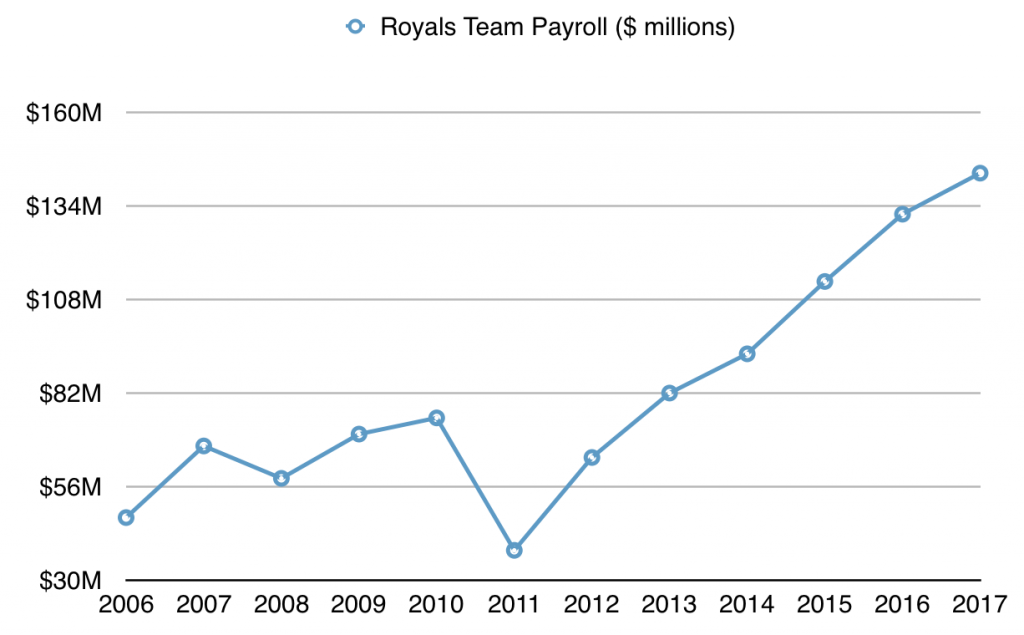 Quite simply, this is an amazing chart. Not necessarily because the records have been continually broken. Rather, the way they've been broken. Shattered, really. It's not like they're barely moving past the last year's payroll. They're blasting their way past. And you can't argue the results. Contention, pennants, World Championships? Remember the old (and inaccurate) saw the Royals needed to overpay to attract free agents? If there was ever a grain of truth to that, it's been buried.
The question is (and should be), could they have spent more? It's doubtful. Budget constraints aside, this winter saw something of a bizarre free agent market. We're not necessarily entering an era of austerity, but teams are getting smarter with how they handle their dollars. The Royals, partially through necessity, partially through good sense, know they can't Diamondback themselves into a corner like Arizona did with a contract to Zack Greinke that represents over 35 percent of their payroll. Like every team, the Royals have X number of dollars to spend and 25 players that get a piece of the pie. They know their best chance for success is to make their dollars to further than their competitors.
That doesn't mean everything is hunky dory on the financial front. The Royals will still pay $8 million to Omar Infante to not play for them this year. Despite finding quality, inexpensive bullpen arms, they decided to pay Joakim Soria $8 million for this season. Chris Young will make $5.75 million and it would be something of a surprise if he was still around by the time the calendar flips to September. That's almost $22 million to three players. (Obviously, Soria could bounce back from his rough 2016. The point is, the Royals with their limited resources should not be spending that kind of money on a free agent reliever.) That's around 15 percent of their payroll.
Finally, in honor of the 25th man, let's consider Terrance Gore for a moment. It's obvious why he's on the roster. Ned Yost loves his pinch runners and with Dyson gone he needed someone to burn on his designated hitter in the late innings. So with Soler on the DL, that opened the spot for Gore. Yes, he has game-changing speed. To actually call his speed "game-changing" undersells his lone tool. Yet, that's the issue. All he does is run. The preference here is for a more well-rounded player to take that final spot on the bench. Someone who could maybe reach base, swipe a bag or play a defensive position. The Royals covet inventory, but they also love their speed-only guys.
But that's just nitpicking. It's the 25th man on a bench Yost rarely uses other than to pinch run.
Enough talk. It's time for baseball. Finally.
Play ball.