Rough day for the affiliates, going 0-4 with Cardinals pitchers dominating the Triple-A and Double-A lineups.
HR Roll Call Frank Schwindel (5), Anderson Miller (3), Chase Vallot (3), Emmanuel Rivera (1)
BPKC Hitter of the Day: Anderson Miller 3-5 HR, 3 RBI
BPKC Pitcher of the Day: Eric Stout 2.1 IP 3 H 0 R 0 ER 0 BB 1 K 2-3 GO-FO 32p/20k

West Virginia Power 12 Lexington Legends 6
The Power name was appropriate as they powered their way through the Lexington pitchers to an easy win in game one of their series on Friday.
Starter Travis Eckert got tagged for nine runs, giving up a pair in the first inning, another run in the third before getting blown up for a six run fifth. In that inning, a bevy of singles preceded a bases loaded triple to push the Power lead to take back a lead they wouldn't relinquish. The Pirates affiliate would follow Eckert by attaching three runs to Ofrediy Gomez with single runs in the following three frames.
The Legends put together a four run fifth and scored with Emmanuel Rivera hitting his first home run of the year prior to a two run ninth inning.
Emmanuel Rivera 2-4 HR, 2 RBI
Chris DeVito 2-4 R, 2b
Meibrys Viloria 1-4 R, 2b
Down East Wood Ducks 8 Wilmington Blue Rocks 7
The Rocks brought their bats again versus Down East but fell short once again in a one run game.
After the Rangers affiliate got after starter Colin Rodgers in the second inning, the Blue Rocks came back in their half of the third inning, putting four runs across. The big blow in that inning for Wilmington was a three-run bomb off the bat of Anderson Miller who extended his on-base streak to 20 games with a three-hit game.
The Rocks failed to the tie the game with multiple opportunities late, leaving 10 runners on base for the night. The loss dropped their record in one run games to 4-12 which accounts for their eight games under .500 as a team.
Chase Vallot 2-4 HR, BB
Jecksson Flores 2-4 2R, 2b
Nicky Lopez 2-4 R, BB, CS (4)
Springfield Cardinals 4 NW Arkansas Naturals 3
The Naturals ran into a Cardinals buzzsaw on Friday night and it didn't go well.
Baseball Prospectus #10 Cards prospect Jack Flaherty brought his full arsenal to the mound and it was just too much for the Naturals lineup to compete with. The right-handed starter who is a former 1st round pick tossed 99 pitches in seven innings, 73 of which found the zone with very little contact coming from his opponent. In those seven innings, he put away 12 hitters via the strikeout, allowed just two hits and walked one in that time while shoving the first place lineup around. The lone blemish in his night came via a Frank Schwindel solo home run in the second that Schwindel ambushed out to left.
While Flaherty was dominant the Naturals starter Zach Lovvorn was solid once again but came up short. The right matched the innings but gave up two runs in the 3rd on a ball that Schwindel probably should have snagged before getting to the outfield. A pair of solo innings followed when extra base hits to lead off both innings came home to score. Despite the four runs on eight hits and a pair of walks Lovvorn set a season high with nine strikeouts.
The Naturals trailing 4-1 into the ninth threatened with a pair of runs and loaded the bases with one out but Logan Moon hit into a 4-6-3 double play to kill the rally.
Frank Schwindel 1-3 2R, HR, BB
Samir Duenez 1-4 R, 3K 10 game hitting streak
Zach Lovvorn 7 iP 8 H 4 R 4 ER 2 BB 9 K 4-3 GO-FO 100/65p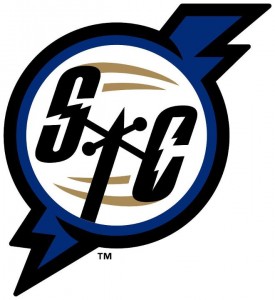 Memphis Redbirds 4 Omaha Storm Chasers 2
The Redbirds finished off a four-game sweep of the home Storm Chasers by once again limiting their offense to just two runs.
In this one, it was Memphis starter, Arturo Reyes who limited the Chasers to just four singles in eight shutout innings while working an efficient 89 pitches. The righty killed plenty of worms, earning 15 ground balls off the bat of Omaha hitters who didn't get a runner to second base off of him after the first inning.
The Chasers gave up two runs in the third inning and ninth, the second of which killed an Omaha rally in their half of the ninth despite run scoring extra base hits off the bat of Peter O'Brien and Bubba Starling. The sweep finished off a 2-6 homestand for Omaha that featured six games of two or fewer runs by the home squad.
Ramon Torres 2-4 R
Raul Mondesi 1-4 2SB (5)
Yender Caramo 5 IP 3 H 2 R 1 ER 1 BB 3 K 5-4 GO-FO 55p/41k