Mercy.
The Royals have showed none in their recent demolition of their AL Central opponents. Remember back earlier in the year when it seemed like the Royals couldn't buy a win within the division? Eight consecutive wins, all against division rivals can chase that problem away.
In their current eight game winning streak, the Royals have outscored the Tigers and the White Sox by a combined 63-23. Yeah, a little +40 run differential will help the old Pythag. Same goes for the Playoff Odds. Baseball Prospectus has the Royals odds at reaching October now at a shade under 42 percent. That's an increase of nearly 30 percent just in the last week.
They've won blowouts. They've won low-scoring squeakers. They've come back late. They've scored early and held on. Every which way you can imagine, the Royals have grabbed at victory in the last week of games.
Buyers, indeed.
Positives abound – as they will in any winning streak – but one things that stands out is how the Royals have finally stepped up to the challenge against inferior competition. The Tigers, with a nucleus of aging players, have seen their window slam shut. Ten games under .500, and after a trade of JD Martinez, they are officially sellers. (Although with some of the contracts on the books, there's virtually no way they can sell some of their more important assets.) After taking the last two games in their series at The K last week, the Royals have now rolled off five consecutive wins against Detroit. Then, there are the White Sox, who have been in a rebuild mode since the Winter Meetings. These are the teams a contender should beat on the regular. Yes, the Royals are a contender.
Wednesday's offensive outburst was just one game, and they had one similar just a week ago against these same Tigers, but it feels like this offense has settled in. A poor April will always hang over this team, especially if they fail to reach the postseason, but what we're seeing now doesn't feel like a positive regression to the mean. As noted previously, this is a team built on power, but that doesn't mean they can't win by other means. In Wednesday's 22-hit attack, they tallied exactly three extra base hits, with Eric Hosmer's grand slam the lone ball that left the yard.
Since bottoming out in Chicago on April 25, all Hosmer has done is hit .340/.398/.550. That's MVP caliber action. The longest he's gone without a hit in this span is two games. (I guess that's how we can identify any kind of Hosmer slump. When he goes three consecutive hitless games, let's sound the panic button.)
When trying to pinpoint how or why Hosmer has turned his season around, it's probably best captured in a tweet from MLB.com's Mike Petriello.
Something's different about Eric Hosmer, but I just can't put my finger on it… pic.twitter.com/osL9MFioIU

— Mike Petriello (@mike_petriello) July 27, 2017
He's improved his launch angle and is driving the ball to center and the opposite field. The power still comes from pulling the ball, like we saw on Wednesday, but he's more than capable of hitting it over the fence to left and left-center. It seems a bit silly we were all in full-blown Hosmer panic mode back in April, but it was justified. He was awful. Baseball Savant has a nice chart of his rolling average exit velocity based on his previous 50 batted balls where you can see the length of his slump that stretched to the previous June.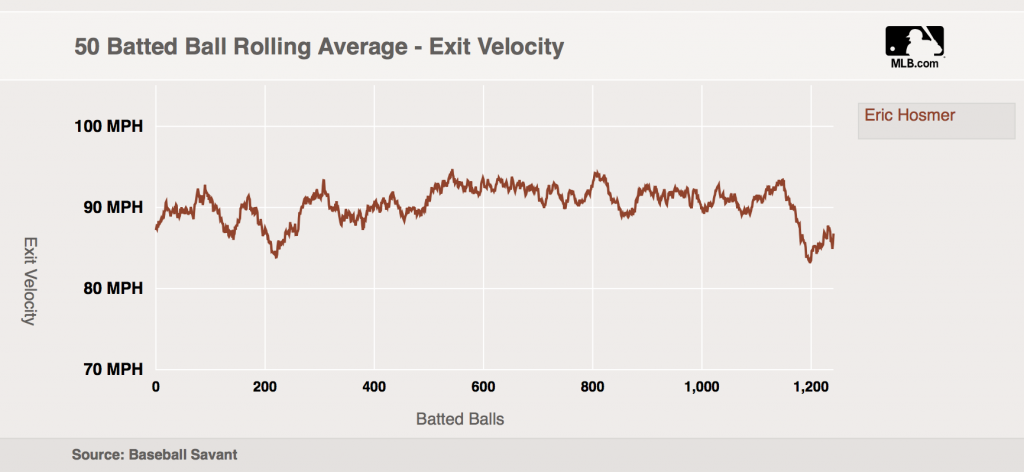 He was hitting the ball so poorly for so long ahead of his recent offensive outburst, he's still not back to where his career average resides.
He is still taking that opposite field approach, especially against fastballs.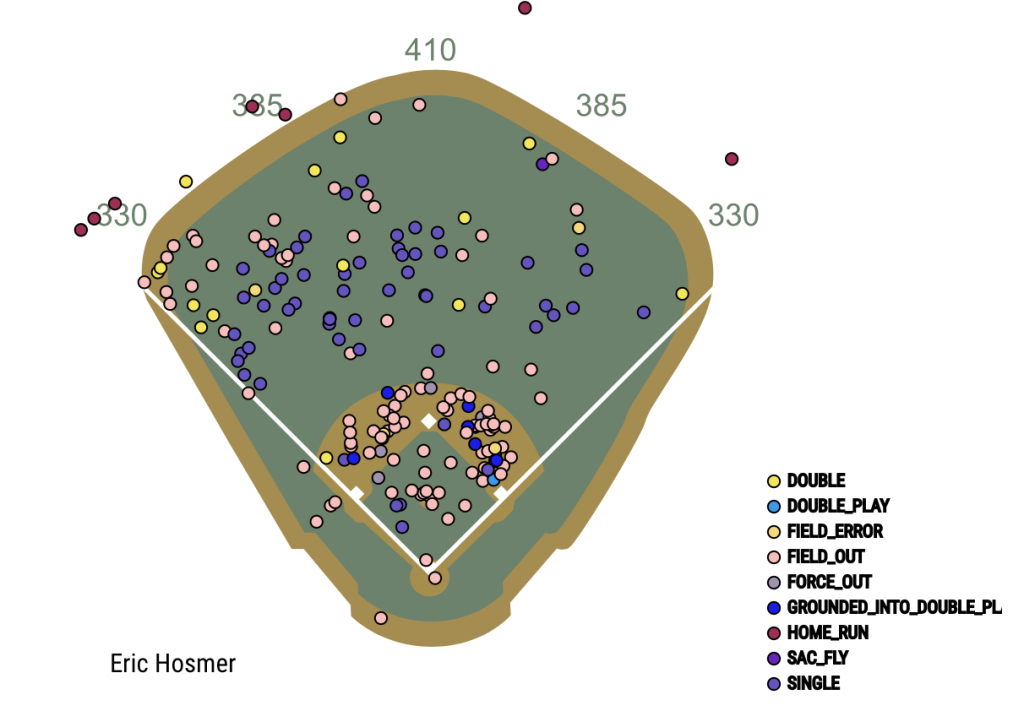 He's largely takes that same approach against off-speed pitches, but this is where his pull power comes in to play. It's interesting how his home runs shift from left to right based on the type of pitch offered.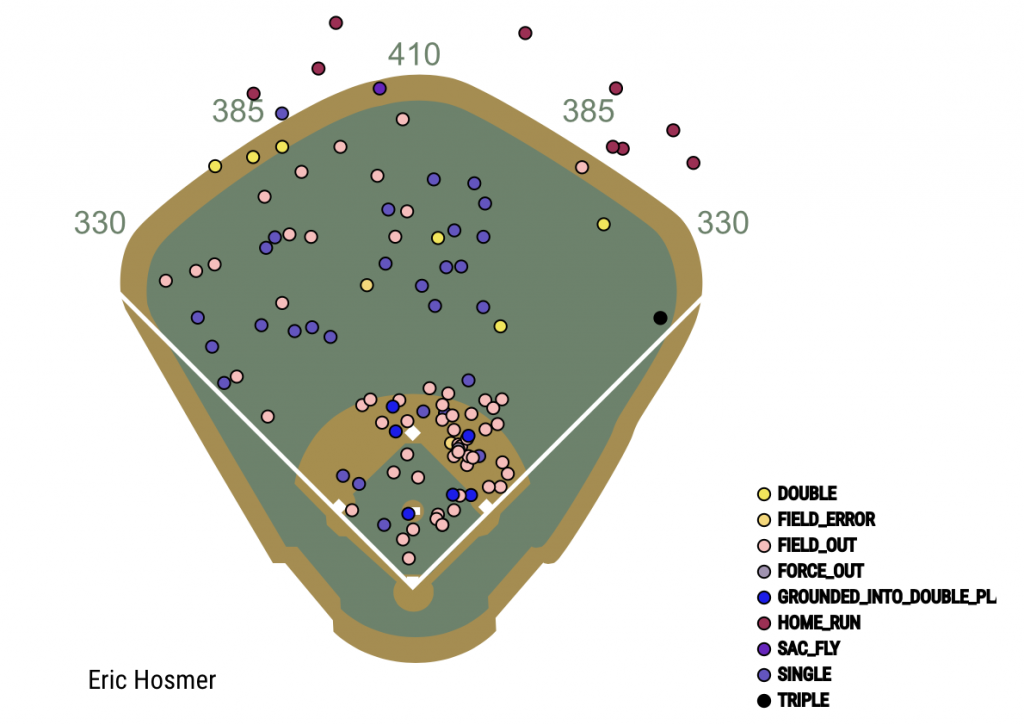 He'll still roll the ball over for the Hosmer special 4-3 putout, but will spray the ball on the ground against the hard stuff, which should ultimately make it difficult to shift against him.
The Royals are a different team when Hosmer is raking. It would be unfair to pin the offensive malaise we saw in April exclusively on his bat, but it certainly makes a world of difference when Hosmer is on one of his patented hot streaks.
The hope now is that it carries through the rest of the regular season and in to October.