Those chairs keep shuffling around on the deck.
In another trade, on Monday night the Royals shipped Brandon Moss and Ryan Buchter to the East Bay in exchange for Jesse Hahn and Heath Fillmyer. The Royals are also sending $3.25 million in cash to offset some of the $8.25 million due to Moss this year and for a buyout coming his way in 2019.
From the Royals perspective, it's both a salary dump and the removal of a piece of the roster that doesn't really fit. As noted in his player profile from earlier this month, Moss's production has cratered and his platoon advantage has disappeared. He'd be a difficult player to roster if the Royals tore the entire franchise down to the foundation. The only upside remaining is to hope he can recover some of his value from his peak, but the trends are not encouraging.
So the Royals net roughly $4 million based off this trade. Hold that thought.
Buchter is a casualty in this move, but useful lefties out of the bullpen usually are. (See Alexander, Scott.) He held the most promise of the three pitchers from the Padres Gang of Three the Royals received last summer near the trade deadline. Plus, Buchter is cost controlled for four years which adds a little allure for the A's. The Royals have always had decent success cobbling together a competent bullpen, but their desire to shed overpaid veterans has come at a price.
Maybe the pair of arms heading to Kansas City will provide some utility.
Hahn is a bit of a baseball nomad, landing on his fourth team in an eight year professional career. Originally drafted by Tampa in 2010, he didn't make his debut until 2012 after undergoing Tommy John surgery. He's been a starter for most of his career, but has never topped more than 116 innings in a season.
According to PitchF/X data, Hahn scrapped his four-seam fastball last year and went exclusively with the two-seamer. He also features a curve and slider that both get a healthy amount of ground balls. This collection of pitches make Hahn a reliable ground ball pitcher, although his sinker doesn't feature a lot of sink and his ground ball numbers on the pitch actually declined last year. Overall in 2017, he induced a grounder 45 percent of the time, below his career average that clocks in at just under 50 percent.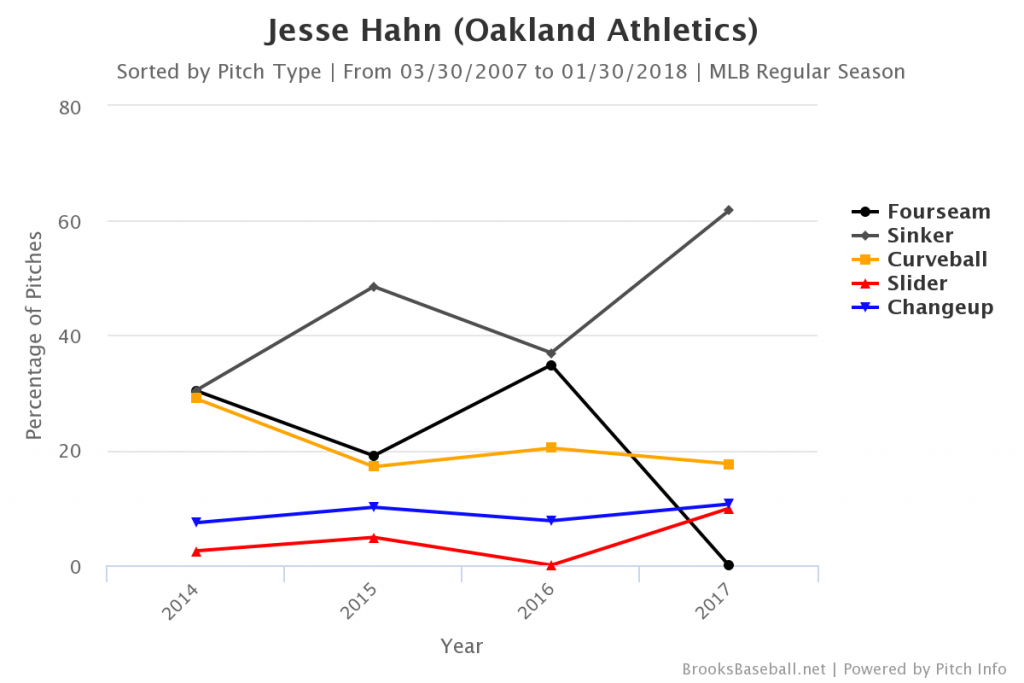 Hahn is out of options, so he will be a guy to watch early in camp. He's also at a little over two years of major league service time, which means he won't be eligible for arbitration until after the upcoming season. If the baseball gods are smiling on Kansas City, they could get four years of production from Hahn. The Royals will look at him for a rotation spot, but the bet is, if he's to compete long-term, it will be out of the bullpen.
Fillmyer was added to Oakland's 40-man roster this winter after posting a 3.49 ERA with a 6.9 SO/9 and 3.1 BB/9 in 149 innings at Double-A Midland in the Texas League. Drafted back in 2014, he was a project, having transitioned from the infield to the mound only the year prior. He struggled a bit early in his pro career, but made some mid-season adjustments in 2015 and got himself on a prospect track.
He ranked number 18 on Oakland Clubhouse's list of top 50 prospects:
Fillmyer has always had plenty of arm strength. His fastball sits in the low-90s but can touch 96 when he reaches back for something extra. He gets run on the pitch, although sometimes he has trouble commanding it. Fillmyer has two solid secondary pitches that he mixes well with his fastball to change speeds. One is a change-up that comes out of his hand looking like a fastball but arrives about five miles per hour slower and with late diving action. The other is a curveball that has swing-and-miss potential.
Fillmyer hasn't yet consistently missed a lot of bats as a pro, but he is effective at inducing soft contact and generating a good number of groundballs. As he continues to refine his fastball command, his strike-out numbers should inch up. He is an excellent athlete and has proven to be good at receiving and implementing instruction. He is also often mentioned as having one of the top work ethics in the system.
If the command comes together, it's not difficult to imagine Fillmyer as an option for the back of the rotation. Cue your "pitching is the currency of baseball" quotes.
I'm generally skeptical that one deal portends another. Transactions simply aren't that simple. However, in this case all signs do point to an aggressive attempt to re-sign Eric Hosmer and for the first baseman to be the cornerstone of the franchise for years to come. For whatever reason, Dayton Moore and the Royals brain trust have decided Hosmer is absolutely the one player they cannot live without. So in building a 65-win team, they are moving tiny bits of salary around so they aren't throwing good money after bad wins. Someone will have to explain what Alcides Escobar is doing on the roster at a $2.5 million base salary and $1.5 million in obtainable plate appearance incentives, but I digress.
The Royals are going to try to rebuild while being what one could call being semi-competitive. It sure sounds like this could be another 10-year plan.