You can look at any major league roster and find mistakes. Errors in judgment are a hazard of working in a front office. Poor drafts, bad contracts, misguided trades…all can be on display. The hope is always that the good outweighs the bad. The positive moves override the mistakes.
Alcides Escobar returning to the Royals is a mistake.
Sure, the axiom is there are no bad one year contracts, but that's a simplistic analysis. Sometimes a one year deal is done by a team that is looking to pare payroll while making an even bigger splash in free agency. Other times a one year deal brings in a veteran with a promise of playing time that blocks the development of a younger player.
It seems in Kansas City, the Royals have dealt themselves the double whammy of a poor one year contract.
Escobar signed for a base salary of $2.5 million. This is notable in that it's highly unlikely in this stagnant market there was anything greater than a minor league deal on the table from any other team. The bonus structure would pay an additional $1.5 million should he reach 600 plate appearances. While that amount seems like a lot, Escobar has failed to reach that milestone only once in his six previous seasons in Kansas City. In 2011 he had 598 plate appearances.
The Royals have a frustrating track record of giving playing time to those who would otherwise find playing time scarce.
There isn't any way to sugarcoat this: Escobar is an awful offensive player.
His TAv has ranked dead last among qualified hitters three times in the last five seasons. Last season, thanks to Roughned Odor, Escobar's .223 TAv was just the second worst in baseball.
This abject offensive awfulness isn't exactly news. Pitchers have routinely attacked Escobar low and away. That's always been the approach. However, last summer for the first time, they began getting more aggressive with Escobar in the strike zone, challenging him.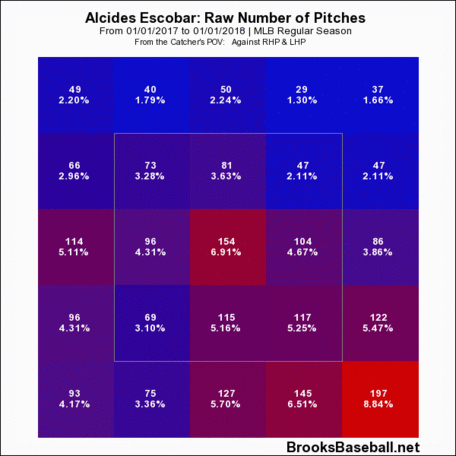 Escobar responded to the challenge by swinging more than ever. League average swing rate usually hovers around 46 percent. Escobar's career swing rate is a tick above 50 percent. We've watched him enough over the last several seasons to know that, yeah it makes perfect sense to learn that he offers at every other pitch. Last year, Escobar's swing rate was at its zenith at 53.1 percent.
Quantity does not always equal quality. This is true just about everywhere in life. Just because you have a piece of lumber in your hand doesn't mean you should drag it through the zone and try to commit violence against a baseball. Sometimes, patience plays. On the other hand, patience may as well be a four letter word to Escobar. His 2.4 percent walk rate was the lowest of his career and the second lowest in baseball in 2017.
His speed, which was once an asset, has seemingly abandoned him. Last summer, Escobar was successful in just four of 11 stolen base attempts. For a guy who has such a difficult time reaching base in the first place, (a .272 OBP in 2017) it seems like he should value the opportunity to actually stand safely on a bag. Or maybe it has become such a rare occurrence that he doesn't really know what to do once he actually reaches. Run? Why not! All is not lost as Escobar can still take the extra base, advancing two bases on a single about half the time. On a traditionally station to station team like the Royals (even though we saw less of that in 2017), that has some value.
Let's face it, we are 500 or so words in about Escobar's baseball ability and we haven't even broached there subject of defense. That's not particularly fair (although I'd argue his offense is so abysmal, 500 words doesn't even scratch the surface of awfulness), but neither is baseball.
Fine. About that defense. Escobar has seen his range decline over the last couple of years. He's still amazing at going to his right. There's something particularly thrilling about watching him dash to the hole between third and short, pick a backhand and rifle a throw across the diamond for the out. According to The Fielding Bible, last year was one of Escobar's best at making plays to his backhand. The numbers aren't so kind on balls hit back up the middle. This is where his decline in range is particularly noticeable.
| | | | |
| --- | --- | --- | --- |
| Year | To His Right | Straight On | To His Left |
| 2014 | +6 | -10 | 0 |
| 2015 | +8 | -2 | -2 |
| 2016 | +7 | -3 | -9 |
| 2017 | +16 | -3 | -15 |
There will be variance from the numbers year to year, but focus on the overall trends. Escobar has always been exceptional at going to his right. He will grade at slightly below average at balls hit up the middle because of a tendency to get lazy with his footwork. The real problem that has emerged the last couple of years is his inability to get to balls hit to his left. Overall, The Fielding Bible credited Escobar with a -4 Defensive Runs Saved. That ranked Escobar 25th out of all shortstops.
Baseball Prospectus and Fielding Runs Above Average disagree to some extent. Last year, Escobar's FRAA was and even 10, behind only Elvis Andrus and Andrelton Simmons at short. That was quite a turnaround from the previous season where Escobar was worth only 0.8 FRAA.
The truth, as usual when it comes to defensive metrics, lies somewhere in between. Escobar is still a decent enough defender at short, with his arm compensating a bit for what he has lost from his range. He can thrill and frustrate in equal measure, but hasn't that always been the case?
So if the Royals are paying Escobar $4 million, what will they need in terms of production for him to be worth that kind of commitment? The offense is what it is at this point. There may be a bit of a BABIP bounce, but it's going to take a lot of luck to get his offense to the point where it moves from absolutely dreadful to simply awful. This is a lost cause. Defensively, he will need to hold on to some of his positive FRAA from 2017. If there is any kind of regression in that particular statistic, Escobar can't afford to lose more than half of his value. Given the volatility of this defensive metric and the fact he's averaged around 5.9 FRAA in the last three seasons, this seems a realistic target for the upcoming season. Should that be where he finishes the season, he could be worth around 1.0 WARP which would actually make him good value for the money.
Good value should come with an asterisk. He's already blocking Raul Mondesi (although with unanswered questions in center field, there is a way to get both on the field at the same time) and there's always the risk Ned Yost will decide to put Escobar's anemic bat at the top of the order. Odds are decent that recent minor league signing Ryan Goins could match Escobar's production at an eighth of the cost.
Dayton Moore has a disturbing track record of sticking with a player for too long or overextending fiscal commitments on an undeserving player. The long term impact of this move isn't going to be disruptive or negative, but it brings up a valid question as to whether the Royals front office learned anything from the first version of The Process. Can we trust them to make the correct decisions – both large and small – when the team is entering another period of rebuilding?
It's not surprising Escobar is back with the Royals. It's frustrating.