Every year ahead of the draft, I highlight a few players who I like or have heard good things about that I believe would make excellent additions to the Royals organization. While in the past I've made multiple selections deeper in the draft, the Royals' glut of picks means I'm focusing on more higher ranked picks than in the past. For the readers of my It's Never Too Early to Discuss the Draft series, some of the names highlighted here I have already profiled. It's not an act of laziness on my part as much as it is to show how much I prefer those players should the Royals have options to choose them.
Some of the players I've highlighted in years past include Archie Bradley, Aaron Nola (HS), Blake Treinen, and Lance McCullers.
18th Pick – Likely have to take these two at this spot if they want them.
The Royals have struggled mightily with the draft and continue to stick to the same formula of up the middle talent and prep arms. While that strategy works on occasion for some teams, it hasn't turned out much reward in Kansas City. What has turned out well for them is college left-handers in the early rounds, even if they turned into tradeable commodities more than on the field talent. In fact, some of their best picks in the Lonnie era – Sean Manaea, Cody Reed, Brandon Finnegan and Matt Strahm – have been college left-handed pitchers. That's why the Royals should take South Florida's Shane McClanahan, should he be available with his tumble down the boards. In terms of raw stuff, there isn't a pitcher available who can match McClanahan's combination of his 70-grade fastball that reaches up to 100 mph, or his changeup that MLB Pipeline, a rather conservative grader, ranks as a 60 pitch. In addition to those two offerings, the lefty also has a slider that profiles as average with a chance to peak up in the future. The major knock on him is obviously the control, which is less than average, and the possible durability concerns after already having Tommy John surgery. However, in today's game of missing bats at high rates, you can't find a better pitcher in this draft. A tweak to the control and command could make him a #1 or 2 starter. Should he not be able to make that change, then you still have a pitcher who can be an 8th inning setup man or light's out closer, which with the constant demand on relievers turns into a trade chip that can bring back high-quality prospects later. Had you told me prior to the start of the season this lefty could be available at 18 I would have told you that you were crazy. Now things just might be and the Royals should take advantage.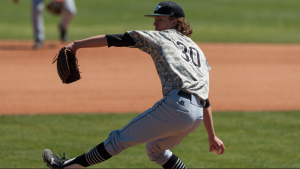 There are plenty of prep pitchers who could go at 18, including names like Hankins, Rocker, Singer or Kowar. But to me, the best of the bunch outside of McClanahan, and the name that I would choose should the lefty not be there, is Stetson's Logan Gilbert. At 6-6 225 lbs, Gilbert was one of the top prospects in the Cape Cod League last year, striking out nearly a hitter per inning while limiting opponents to a sub-1 WHIP. Driving Gilbert's stock down this year has been a velo drop that saw him work more 91-92 while topping at 94 mph this season with Stetson, as opposed to the mid-90s up to 97 that he was at the Cape. Even with that dip, he was still one of the NCAA's highest strikeout pitchers, recording 143 K in 100 innings while leading helping lead his club to a host site of the NCAA regionals for the first time in school history. The fastball velocity showed back up recently and Gilbert shows a supreme feel for a four-pitch mix with a possible future above-average slider and changeup combo to mix with an average curve. The righty countered his only poor start of the year with a dominating performance over Kennesaw State in his last time out. He has shown above average control and ability to repeat despite a large frame, thanks to his smooth movement and athleticism. The big righty was part of former coach Pete Dunn's last recruiting class and if he turns out like former pupils Corey Kluber or Jacob DeGrom, he'll do quite well for his future in pro ball and could anchor a Royals rotation for years to come.
18/33/34 – Possibility of taking one of these players at 18 or lower depending on how much they like them.
It's never easy to devise where right-handed prep pitchers are going to land: PG has Grayson Rodriguez mocked at #21, MLB Pipeline has him at 10 to the Pirates and BA had him outside their Top 35 in their last mock a couple weeks ago. There are plenty of ways to look at it but Rodriguez is a big bodied prep pitcher who works in the upper 90's with a pair of breaking balls that shine enough to dream they could become plus pitches. A major positive here for a Rodriguez selection is the Royals get a chance to show they have progressed in their thinking in terms of pitching development with him being a member of the same pitching group that helped recover Bryan Brickhouse's career.
As Rany pointed out several years ago a younger position player tends to outperform older players in their draft class. Despite this research, it seems like we've seen player's age up in the high school classes as parents tend to hold their kids out of school later and later. With those results, we see more and more players closer to 19 than 18 years of age and in some cases, like Trevor Rodgers last year, some players are just as close to 20. One with the appropriate age who has seen his stock take off this year after previewing a possible breakout on the summer circuit, is Indiana high schooler Nicholas Schnell, who has already started to fill out and show off that potential prior to the end of his senior year. At 6'2 180 lbs, Schnell has some projection to add muscle and strength to his body to add more power as he gets older. Currently, Schnell has a plus arm that throws in the low to mid 90's off the mound while featuring plus speed, clocking at 6.6 in the 60 to keep him in centerfield in the future. A gap to gap hitter currently, I believe he has the feel for the barrel to become a high-level hitter in terms of batting average with the swing and potential strength to hit 15-20 home runs while playing a plus defensive centerfield or corner, should he outgrow the position.

Give me the Griffin's! – No two players would make me more pleased to see the Royals add to the organization than a pair of players with the same first name who played in the same conference in Wake Forest's Griffin Roberts and Duke's Griffin Conine. Starting with Roberts, you won't find a better slider in the draft with late biting movement that is so good it is the only pitch that he needs at times. For Royals fans familiar with Jake Junis and how good his slider is, it isn't an overstatement to say the one Roberts throws with might be better. In addition to the slider in the low to mid 80's, Roberts throws a fastball from the low to upper 90's. As a closer for Wake Forest in 2017, he would top out at 97 mph with a full effort motion and mentality that likely led many to believe he's a bullpen guy longterm. That was until this past season and last summer's Cape Cod season. During the Cape Cod Roberts dominated, putting up a sub-1 WHIP with 35 strikeouts in just 32 innings as a starter. Head to this season and Roberts was dynamic, striking out 130 hitters in 96.2 innings while leaning on the slider early in the season and developing his full repertoire throughout the season. By season's end, Roberts was hitting mid 90's with his fastball late in starts, up to 96 mph in his last start of the ACC tournament while also improving on his changeup. The plus in Roberts game that I don't think you can see in all players, is the movement from the hand and how his fastball shows late run along the same lines you will see in his armside fade on the changeup. There are some control issues but nothing that can't be worked out. To me this is a Top 10 talent in this draft who the Royals might be able to get at 33 or later. Next to Roberts is Conine, who is a Royal legacy as the son of Jeff Conine. He had a fantastic Cape Cod season, hitting 9 home runs to tie for the league lead. Much like Michael Gigliotti from the 2017 draft, Conine succeeded in the Cape and then struggled during his college regular season. While Gig's tools are based around speed, the Duke corner outfield's skills are based around power, leaving him whiffing plenty early in the year. Still, the power came late in a big way, and he finished with 15 home runs while adding 13 doubles to salvage his season with a better than .400 on-base and .585 slug. The Royals haven't selected a true corner power outfielder in the upper rounds during the Lonnie Goldberg era and the closest that they have in the GMDM era was Wil Myers who was selected as a catcher at the time of his draft.

40/58/93 These players will likely be around past 34 and the Royals can push them to either pick based on their draft bonus pool.
While the prep class is loaded with arms who are already looking near max out level, one Texan I like for his projection is Adam Kloffenstein. Also a product of the Elite Level pitching clinic in Texas like Rodriguez and many high-level arms, Kloffenstein currently works his fastball in the low 90s but as he adds muscle to the already large 6-5 220 lbs frame I wouldn't be shocked if it took off in a similar way to that of former Texan Noah Syndergaard. This right-hander already has an excellent feel for spin, shaping a slider and a curve while presenting feel for a changeup. There are higher quality arms that show better stuff currently, but as far as projection goes, Kloffenstein intrigues me as much as any prep arm in the draft.
The ties to Jordyn Adams are obvious for the draft crew, and many outside of the organization believe that is the Royals selection. That said, Joe Gray Jr. makes more sense to me as a player with a similar skillset who is fully committed to baseball. No, Gray isn't an 80 runner, but he's a plus runner at 6.75 in the 60 and he will very likely will improve as he ages and adds some muscle in a similar way to what Jackie Bradley Jr. has done after he ran nearly two-tenths slower at a similar age. In addition to the speed, Gray has excellent instincts defensively, making him one of the best defenders in the class alongside an arm that is likely a 70 on the scouting scale. The bat speed is upper level and Gray has already recognized changes that he needs to make in his bat path, a similar change to what his Evoshield Cane teammate Jordan Addell made heading into his senior season. Those changes help Gray perform quite well at the NHSI despite pitchers working around him. That ability to adjust, his commitment to the game and the defensive acumen makes him an excellent selection in the second round or later.
The Royals have been linked to Jeremiah Jackson and that would be a pick I like quite a bit, but another player with a similar skillset who intrigues me is Osiris Johnson of Alameda, CA. One of the youngest players in the draft, Johnson won't turn 18 years old until October of this year. In addition to that youth, Johnson comes from a family with deep baseball bloodlines with his father playing in the minor leagues and multiple uncles who played in the majors and minors, including former Phillies great Jimmy Rollins. The bloodlines don't stop with the men as Johnson's mother was also a sprinter at Grambling State. On the field, Johnson has a lightning quick bat that shows the ability to leverage the long ball as he adds strength later on. Currently a shortstop, Johnson may have to move to the other side of the bag as he fills out, but his speed and hitting acumen shouldn't make that a problem at all to be an offensive force while playing a plus defense at the keystone spot.
A player somewhat similar to Conine who came out strong to start his college season before struggling late was North Carolina State's Brett Kinneman. He has played with a patient approach since his freshman year, carrying a .389 career on-base percentage. In addition to the patient approach, Kinneman has shown plenty of pop at the college level, slugging 17 home runs this year and 33 during his three-year career. Unfortunately, the power has not converted to wood leagues which plays a part in the fact that Kinneman likely will be around at pick 93, if not later. Not your typical Royals outfielder, he's nearly a bat-only guy and could be considered a poor man's Conine who could present a bargain in the third or fourth rounds.

Remember to check back after the draft for my Royals draft review.