Since a disaster start against the Yankees at The K on May 19 where his ERA reached the nadir of 6.88, Danny Duffy has been slowly chipping away at that number. There have been a few speed bumps along the way, to be sure, but for the most part he's made steady progress. From his following start in May to his first start post All-Star Break, Duffy twirled 69.2 innings with a 2.58 ERA. His strikeout rate in that span was a healthy 8.0 SO/9 and he only allowed five dingers.
If you're the type to look retrospectively for warning signs (hello!) you'll see in those 11 starts an unhealthy 4.0 BB/9 and a .263 BABIP. His career numbers in those categories are a 3.3 BB/9 and .294 BABIP. It could be said Duffy was able to navigate the elevated walk rate because he was getting more than his usual share of outs when batters put balls in play. But without making adjustments with his control to cut the walks, at some point regression would come calling.
That's what we've seen in Duffy's last four starts. He's knocked down the walk rate a bit to 3.2 B B/9, but the BABIP has jumped to .384. After Saturday's start, the Royals announced Duffy was dealing with shoulder tendonitis.
From Rustin Dodd at The Athletic: "It's been like that for four starts, been battling through it," Ned Yost said.
Four starts, you say? What a coincidence. Indeed, in his last four outings, Duffy has thrown three clunkers and had one decent start against the White Sox where he danced around 10 base runners in a little over five scoreless innings. 
His downfall just happens to coincide with a recently elevated pitch count. Duffy has thrown 110 or more pitches in a start 13 times in his career. The most pitches he's thrown in a start since returning from Tommy John surgery is 114. He matched that number in back to back starts in the middle of last month.
Date
# Pitches
July 14
114
July 20
114
July 25
107
July 31
112
Aug 5
103
Aug 11

 

100
What you have is a pitcher who threw an unusually high (for him) number of pitches in back to back starts on normal rest. The very next start, if we are to believe Yost, Duffy started to battle through his shoulder issues. Is there something to this? It's worth investigating.
What alerted viewers to Duffy's struggles on Saturday was his diminished velocity. With his fastball averaging around 94 mph in his earlier starts, the lefty was working between 88 and 92 mph. Clearly, something was amiss.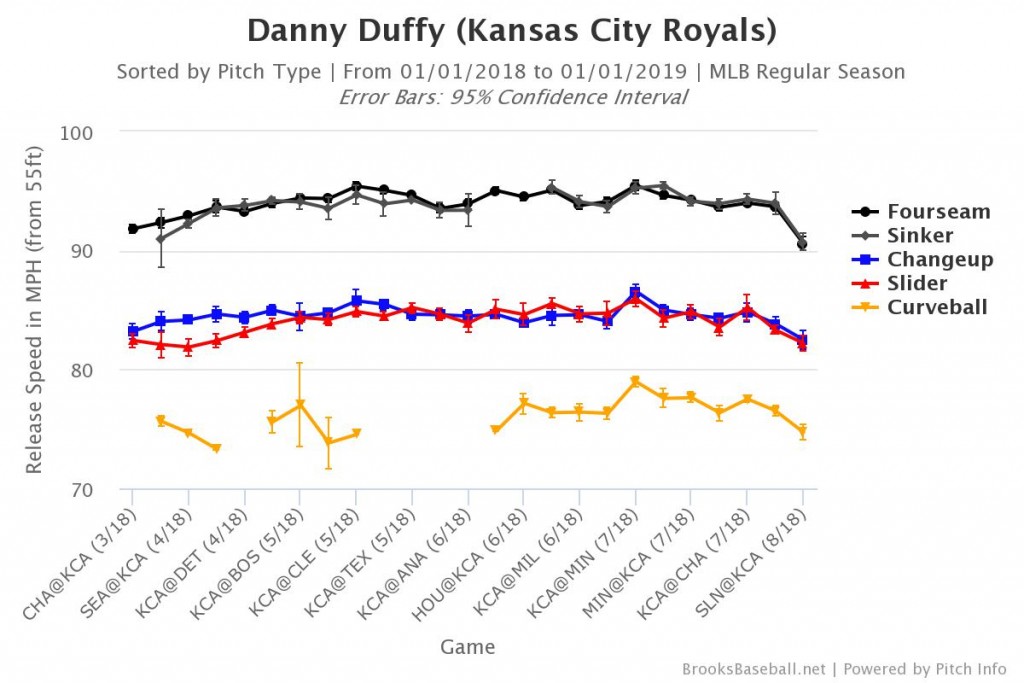 All of his pitches were coming in a tick slower, with the four-seam fastball, as noted earlier, way off in velocity. However, if we are to believe Duffy has been battling through shoulder issues in the three starts prior, it's difficult to see in his release speeds. His fastball has been fairly consistent after a slow start to the season. There are a few minor peaks and valleys, but nothing that would raise a red flag like Saturday's start. He seemed to be coping well with the high pitch counts.
The pitch credited with Duffy's resurgence, the curve, has been pummeled in his three August starts. It's his second most frequently thrown pitch and opposing batters are punishing it to the tune of a .500 batting average and .800 slugging percentage. According to PitchF/X data collected by Brooks Baseball, Duffy's curve is generating a little less movement from July to August on both the horizontal and vertical plane. He's lost at least an inch on both since June. Is that enough to account for the ineffectiveness of the pitch? And if so, is this bout with shoulder impingement the reason he's not able to break off the curve in the same manner as previously in the season?
Duffy received an injection after his ejection (I just like how that sounds) on Saturday, with the thinking that if his shoulder responded well, he wouldn't have to miss a start. That obviously didn't happen. He will now miss at least one turn in the rotation.
In a season where the Royals find themselves plummeting to 110 losses, the rotation is now in shambles. Okay, okay… There's a little hyperbole in that statement. The rotation was in shambles long before April was over. Yet somehow, the starting five improved as the season has progressed. Addition by subtraction, or something like that. When you remove Ian Kennedy and Jason Hammel and replace them with a pair of Rule 5 picks, in theory you shouldn't get better. 
So now the Royals will need to find the innings to cover the spot formerly filled by their Opening Day starter. It's possible Duffy is just out for one start, and the Royals are targeting August 21 as his date of return, but this feels like it will take a little more time. Of course, we can only go on the information the Royals provide, but they're not the most forthcoming when it comes to injuries.
Whoever had Jakob Junis as the last man standing, come forward to collect your winnings.