On Thursday, April 14, the Royals beat the Houston Astros 6-4 at Minute Maid Park. It was their third consecutive win, pushing their overall record to 7-2. A great follow-up to their championship season.
Over their next 16 games, they won just six, scoring a total of 43 runs. Yikes. That's an average of 2.7 runs per game. That's futility.
The offensive malaise has infected nearly the entire bat rack. The Royals, as has been noted, aren't a power hitting club. Their run production is dependent upon sequencing and the stringing together of base hits. The singles train doesn't run if you're not getting the knocks to fall. And right now, the singles train is off the tracks, broken down in some rail yard somewhere.
Here, by batting order, is how your Royals offense is performing over this stretch.
Alcides Escobar
.246/.296/.292 in his last 16 games.
For the season, the Royals leadoff hitter owns a .206 TAv and a -0.2 WARP. We've discussed his approach at the plate and how he's not suited for the role Ned Yost believes he can handle.
Mike Moustakas
.268/.317/.554 in his last 16 games.
New Moustakas continues to blow my mind. Not only has he emerged as a consistent power threat, he's showing some unbelievable plate discipline. During this 16 game stretch, he's walked four times and whiffed four times. And he's hit four home runs. He's not a Three True Outcomes player by any stretch, but that's some nice symmetry.
For the season, Moustakas has a .314 TAv and has been worth 0.8 WARP. He's not the problem. But you already knew that.
Lorenzo Cain
.228/.290/.297 over his last 16 games.
One year after posting a .301 TAv with 6.7 WARP, Cain is driving the struggle bus. Through his first 100 plate appearances, the center fielder has a .225 TAv and has been worth 0.4 WARP. All of that value has come on defense, which has been generally rock solid. Yet we've seen lapses in concentration of late in the field. This is troubling. Cain's last extra base hit was on April 12. That was only his second extra base hit of the season. He has yet to hit a double or a triple. I'm not sure how that happens, but I don't like it.
Eric Hosmer
.333/.385/.600 over his last 16 games
He's fine. His .333 TAv and 0.8 WARP lead the team.
The only thing to note here is the fact that he's hit four home runs over this 16 game stretch and driven in only five. That's what happens when the three hitters in front of you aren't getting on base.
Kendrys Morales
.237/.308/.271 over his last 16 games.
What happened to Morales? Silver Slugger award winner at DH last year, his .224 TAv is the worst on the Royals. (Non-Escobar Division.) Last year, he was an anchor in the middle of the lineup. This year, he's dead weight.
Alex Gordon
.170/.302/.302 over his last 16 games.
His bat is just late. To everything. Take Monday night as an example. As noted in the recap, facing Jonathan Papelbon, Gordon could not square up middle-cut 91 mph fastballs. And when he got a fat pitch middle-middle, he hit a harmless, shallow fly ball.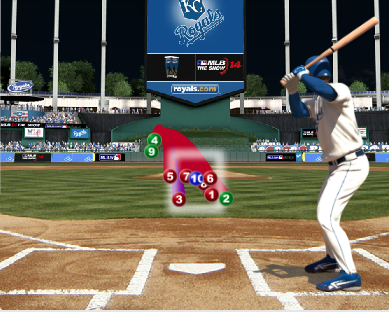 Good Gordon turns on at least four of those and probably drives two more. Bad Gordon makes another out. With a .241 TAv and a meager 0.1 WARP, I miss Good Gordon.
As an addendum to our lineup discussion from last week, if you wanted to make the case for Gordon hitting leadoff, I guess you could use the above line as your basis. He's not hitting at all at the moment, but he's still kind of getting on base. Relatively speaking, of course.
Salvador Perez
.250/.291/.500 over his last 16 games.
As you look at these numbers from the last 16 games, you see plenty of underachievement. And then you see Perez. His slash line above is kind of in line with what we would expect from a full season. PECOTA projects a .272/.302/.424 for the Royals backstop with a .265 TAv. Yep. That's what we have. And we're good with that. The tradeoff in OBP and chasing sliders out of the strike zone is the occasional pop and the arm that cuts down would-be base stealers.
On the plus side, he should be better rested now, considering he's having to forego the nightly Gatorade dump.
Omar Infante
.224/.283/.306 over his last 16 games.
I mean, this is who Infante is, too.
It's pretty clear watching him hit, that the ability to drive the ball has left Infante's bat. Not that there was a lot of juice to start. But it's all gone now. That elbow injury is the gift that keeps giving. Or maybe as the Royals insist, the elbow is fine. He's just old.
Jarrod Dyson
.278/.333/.350 over his last 16 games.
The de facto "second leadoff hitter" is better than the first one. I get the push to move Dyson to the leadoff spot, and it sure seems like unlike some other hitters, he goes up with at least a semblance of a plan. (Well, Escobar has a plan, but we know that's basically to swing at the first pitch.) Dyson has walked three times and whiffed just once in this span, so he's making that contact the Royals value, and with his speed, you know he's a threat to beat out some of those balls in play. Maybe there's something there.
Still, a .247 TAv isn't much to hang your hat on at the top of the order. But considering your options, it may not be so bad.
Slumps happen. They happened last year, but a hot start and a season-long run atop the AL Central masked most struggles. September was a unique animal as they had all but sewn up the division by the start of the month. The bad thing about this one, is it comes at an inopportune time. The pitching is doing quite well, thank you very much, holding opponents to just 3.7 runs per game in this 16 game stretch. Obviously, there's never a good time for bats to hibernate, but you get the point. If the Royals had just mustered a league-average offense, given the pitching, they'd be in a better position. If it's any consolation, the Royals are outplaying their Pythag by about a game.
It's still early. I refuse to believe the offense that performed so well last year at times could be this bad. We have a month's worth of data parsed into a two week nugget. Isolate any player's worst two week stretch during the 162 game season and I suspect it would look like some of the players above.
It will get better.