Eric Hosmer is off to a miserable start at the plate.
At the opening of the season ahead of the waiting treasure chest of free agency, the Royals first baseman chose an inopportune time to struggle. Months away from entering free agency, as part of the Royals core, Hosmer was supposed to help drive the offense. It's not happening.
Through the first two weeks of the season, Hosmer owns the hardest single exit velocity of any batter. On April 5 against the Twins, Hosmer smashed one that was measured at 118.1 mph by Statcast. That's a hard hit baseball. In true Hosmer fashion, it was a groundout.
It is possible to hit ground balls with power. That explains how Hosmer owns an above average exit velocity of just over 90 mph. The other Statcast numbers are downright ugly. The average distance of a Hosmer batted ball is 141 feet. The league average distance travelled is 188 feet. The league average launch angle is 13 degrees. Hosmer's average launch angle so far is just under five degrees. From Baseball Savant: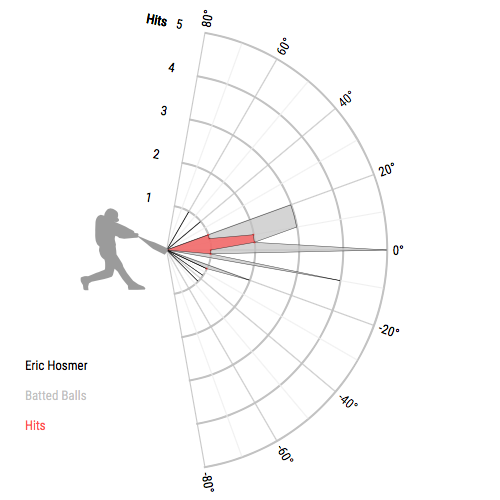 The low launch angle isn't an accident. As we've established, Hosmer has evolved into a ground ball machine. Last year, Hosmer hit a ball on the ground a career-high 58.9 percent of the time. This year, he's killing worms at a rate of 62.2 percent. His current ground ball rate can be dismissed as a small sample size. Batted ball rates such as grounders and fly balls generally normalize around 80 balls in play. We're about halfway there for Hosmer. However, given his trend of an increasing ground ball rate the last couple of seasons and his elevated career rate of over 53 percent, it's fine to look at the small sample of batted ball data and have a bit of a freakout.
Let's go ahead and check on Homer's spray chart through the first two weeks of the season. Warning: It's ugly.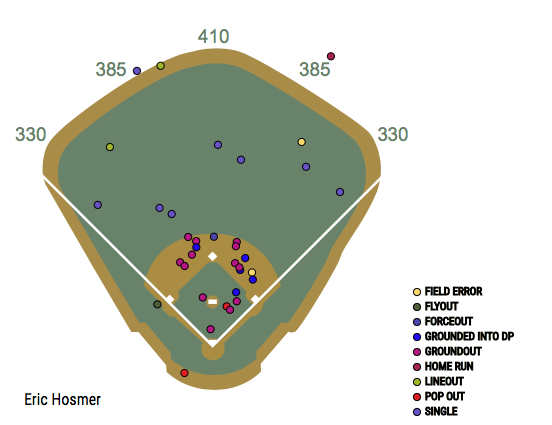 That is a helluva disgusting spray chart for a cleanup hitter. Three batted balls that cleared the outfield defense.
Baseball Savant allows you to change the plots of the spray chart to reflect the batted ball type. Are you ready for a chart even more disgusting than the one above?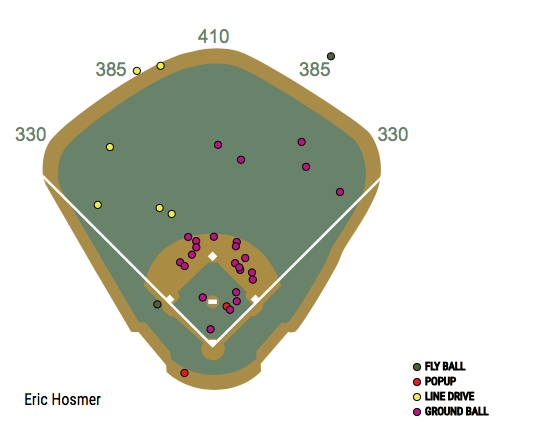 Hosmer pulled the ball in the air once all season. It was a home run. Funny how that works.
Ground balls all around the infield as you would expect, but there's just so many of them. Line drives only to the left side of the field. Hosmer is simply not squaring up the baseball. With current on base machine Lorenzo Cain (he's carrying a .490 OBP in the early days of the season) hitting in front of him, Hosmer has come to the plate with a total of 40 runners on base this year. He's brought home just four of those runners. He's grounded into five double plays.
It's time to worry.
Worry if you're a Royals fan since Hosmer is the alleged pillar of power in the heart of the Royals order. Worry if you're Scott Boras because no binder you compile for your client can explain away the stench of his current offensive production. And finally, worry if you're Eric Hosmer because every game you waste smashing baseballs on the ground, you are literally costing yourself millions of dollars.
While he's always been a ground ball hitter, his current extreme trend started last summer. On June 10, Hosmer crushed a pair of home runs against the Chicago White Sox to push his line to .324/.382/.547. That wasn't his peak, but that was as late in the season where his OPS was that high. From there, it tumbled over the final three and a half months of the season. He would go on mini-hot streaks where he would hit a couple of home runs over the course of a handful of games, but for the most part, his bats remained in cold storage. From June 11 to the end of the year, Hosmer hit an abysmal .232/.297/.366.
Now, though the first two weeks of this season, Hosmer is hitting .196/.245/.261. Will he perform so poorly the entire year? It would be nice to proclaim "definitely not!" Except given the slide from last year, the spray charts above and some trends that will be discussed below, the correct answer is "I'm not so sure Hosmer can completely pull out of this tailspin."
The trouble for Hosmer now starts on the very first pitch of the at bat.
When looking at the splits, batters tend to do very well when putting the first pitch they see of a plate appearance in play. Last year for example, Royals batters hit a collective .381/.385/.619 when seeing just one pitch. Hosmer, in particular, was exceptional when putting the first pitch he saw in play. In 76 plate appearances in 2016 that ended after just one pitch, he hit .411/.408/.740.
In the small sample of the 2017 season, Hosmer has yet to put a first pitch in play. That's right. Two weeks of games. Nearly 50 plate appearances for the Royals' first baseman. And Hosmer has not had a one-pitch at bat. For a dose of perspective, most of the regulars in the Royals lineup have done so somewhere between four to six times. Here is how the first pitch has gone against Hosmer so far this season: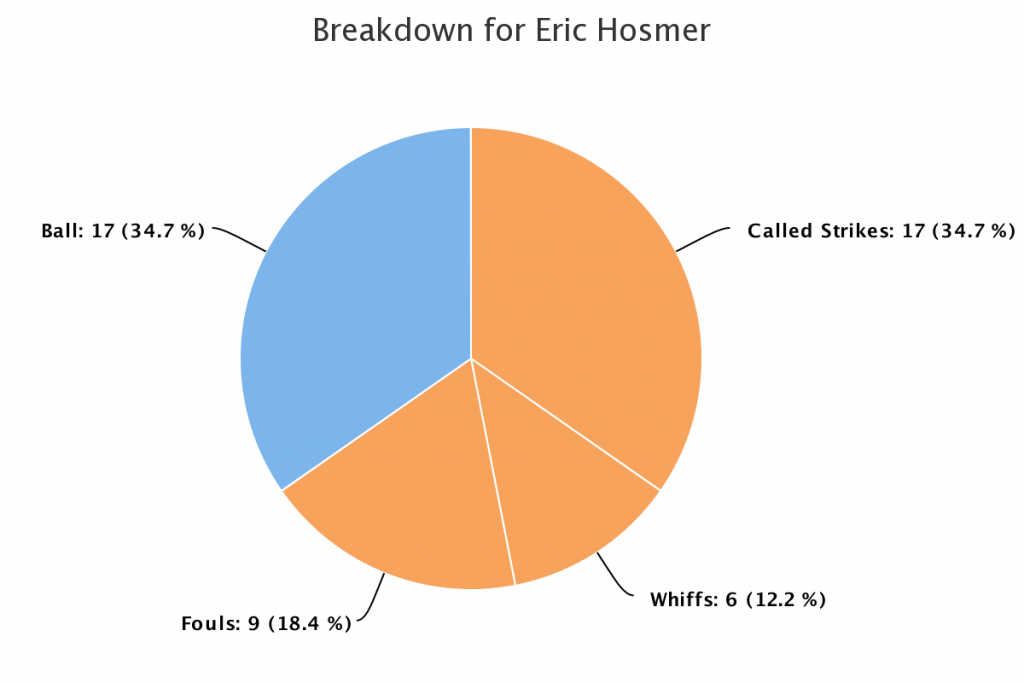 The pie chart allows you to do some easy math. Hosmer is more likely to fall behind in the count than actually do something productive. In fact, he's falling behind in the count over 65 percent of the time. That's deadly.
The first pitch is key to every major league plate appearance. That's cliche, but it's accurate. Hosmer is no different from any other ballplayer in that respect. Put the first ball in play, you'll find success. Jump ahead in the count, and he becomes the hitter Scott Boras will gush about in a binder. Fall behind and he's in Alcides Escobar territory. No one wants to enter Escobar territory at the plate. These are Hosmer's career numbers when putting the first ball in play versus jumping ahead or falling behind in the count.
Count/Balls-Strikes

| I | Split | PA | AB | H | 2B | 3B | HR | RBI | BB | SO | BA | OBP | SLG | OPS | TB | BAbip | tOPS+ |
| --- | --- | --- | --- | --- | --- | --- | --- | --- | --- | --- | --- | --- | --- | --- | --- | --- | --- |
| | First Pitch | 418 | 407 | 152 | 29 | 1 | 25 | 79 | 0 | 0 | .373 | .367 | .634 | 1.001 | 258 | .325 | 159 |
| | After 1-0 | 1663 | 1415 | 408 | 84 | 8 | 45 | 220 | 233 | 212 | .288 | .388 | .454 | .843 | 643 | .311 | 123 |
| | After 0-1 | 1690 | 1612 | 389 | 62 | 6 | 33 | 178 | 64 | 407 | .241 | .272 | .349 | .620 | 562 | .302 | 63 |
One pitch. It's amazing the difference one pitch, particularly one at the start of a plate appearance, can make. Yet Hosmer is no different than any other hitter in the game. That first pitch is so key in setting the tone of the at bat. And right now, Hosmer is decidedly off key.
We've seen this from Hosmer before. He's a notoriously streaky hitter. But as noted, this cold stretch dates to last season. That's a long time. Now the very real fear is his elevated ground ball rate signals a what would be a weak recovery or one that wouldn't be extended. Hosmer's career numbers have been all over the place, yo-yoing from season to season. This may be the year he doesn't rebound from poor offensive performance the season prior.

The overall numbers from last season underscores how miserable the second half (really that timeframe mentioned above that started on June 11 and ran to the end of the year) was for Hosmer. His .261 TAv was barely above league average and he didn't reach 1 WARP for the first time since his first full season in the major leagues. At his age and pedigree, that's a red flag under any circumstances. It's heightened now that Hosmer can't achieve liftoff early in 2017.
It will get better for Hosmer. Repeat that over and over and maybe it will become true. He has too much natural talent to perform this poorly at the plate. Yet this is an extended downward trend and given the trends, at this point it seems like the valleys will be longer than the peaks. And the valleys will be deeper than the peaks will be elevated.
It's a worst case scenario for both the Royals and Hosmer as he approaches his free agency. Hosmer is going to cost the Royals wins and he's going to cost himself some money.