Maybe you've heard this tale before. Monday night saw another late win fueled by back-to-back home runs. It was the sixth consecutive win for the Royals and the third straight game where they've hit two (or more, this is an important caveat) dingers in a row.
The Royals. Yes, the Royals. They are mashing.
This time, it was the guys you would expect to provide the electricity. Salvador Perez yanked one down the line in left that just held fair to break the tie. Mike Moustakas deposited one just over the fence in right-center to provide the insurance. And let's not forget the Jorge Bonifacio blast in the sixth. Wham, bam, how do you like those homers?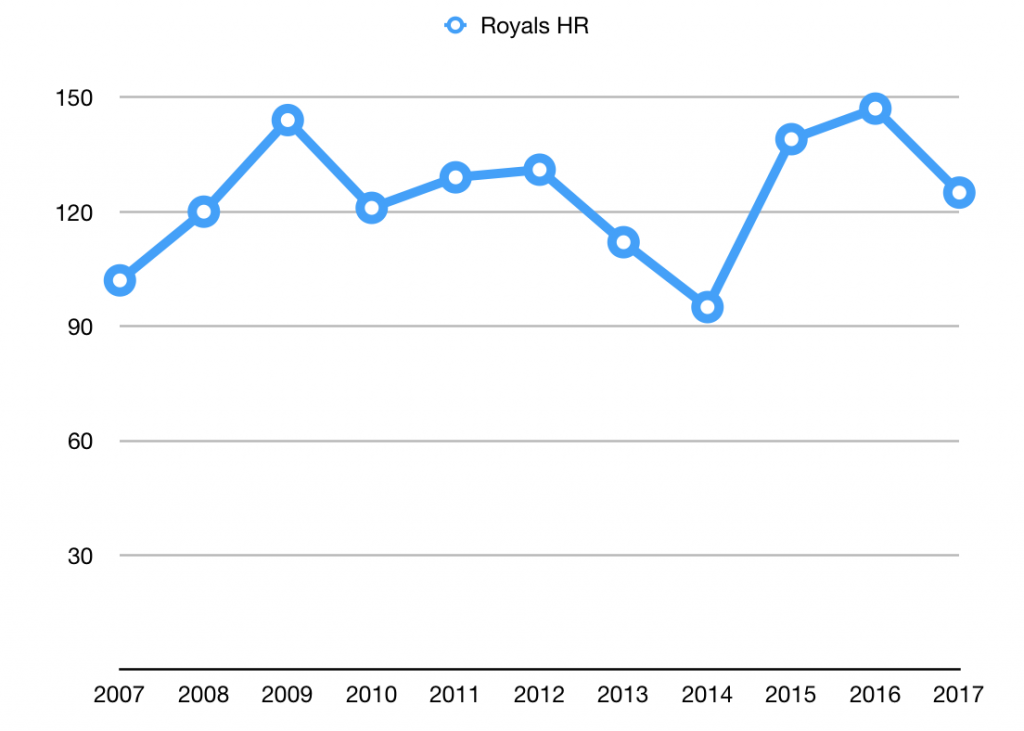 Look at the Royals home runs over the last decade and realize the Royals still have more than 60 games to play this season. Yeah, there's going to be a spike when we revisit that graph at the end of the year.
The team record for Royals home runs in a season is 168, set 30 years ago in 1987. It's almost as ancient as the Balboni record for an individual. With their three bombs on Monday, the Royals now have 125 dingers on the year. And we have over two full months of games. Barring an absolute shocking collapse, that team home run record is going to be shattered.
In fact, the Royals are on base to blast a cool 206 home runs. That would be something.
As someone who has watched this team through the decades, the idea the Royals have morphed into a power hitting club is something that is difficult to comprehend. Home runs? Royals? What? The record set back in '87 came during a season where it was common to talk about the ball being juiced. At least, that was the first season I can remember where there was such talk. Now, 30 years later, there's talk again about the ball being a little easier to guide over the fence. And again, the Royals are taking advantage. There is nothing wrong with this. Nothing at all.
When it comes to the home run, the Royals are actually a balanced team. Sure, it seems like the majority of their runs are coming via the dinger, but they're not. At least in the perspective of the baseball universe. At Baseball Prospectus, we have a metric called Guillen Number. It's a cute name for a stat that measures the percentage of runs scored by a team that come via the homer. (Guillen Number because the mid-aught White Sox basically lived on the home run.) At this point in the season, the Royals have plated almost 43 percent of their runs thanks to long balls. Among major league teams, they rank 15th.
For a little perspective Toronto and Texas are the only two teams netting over 50 percent of their runs via the home run. The Red Sox possess the lowest Guillen number in the AL at 33 percent while the Giants are last in the NL at 27 percent. The Royals, as it turns out, are in the middle of the pack.
Maybe because we just aren't used to seeing a Royals team hit so many home runs it just feels like they are a little over reliant on the dinger. Maybe it's because so many of their home runs have come at what feels like opportune times. A Royals team that's on pace to hit 200 homers qualifies as strange days in Kansas City, but in reality it's not all that crazy in the grand scheme of baseball in 2017.
Anyway, last time we checked in on the homer barrage, we finished by listing all the Royals players and their runs driven in thanks to the home run. Basically, a modified, individual Guillen Number. Go back and check on last month's post to see where certain players stood at the time. Here's where the top seven Royals are at this moment. The players are listed with total home runs and number of RBI that have come from those home runs. We then get their percentage of RBI that come from dingers.
Mike Moustakas
29 HR, 40 RBI
63% of all RBI
Someone needs to start a pool for the date where Moustakas finally Breaks Balboni. Over his last 162 games, the slugging third baseman has clubbed 45 home runs. Yeah, that old record is going to get obliterated.
Salvador Perez
20 HR, 34 RBI
55% of all RBI
Perez became the second Royal this summer to join the 20 home run club and he did it in style, breaking the tie on Monday in Detroit. When we last checked, he had yet to hit a three-run home run. Since then, he's checked that off his home run bucket list and added a grand slam for good measure. Yet the big RBI big fly well has run dry. Eighteen of his 20 have been solo or of the two-run variety.
Eric Hosmer
15 HR, 26 RBI
55% of all RBI
A month ago, Hosmer had seven home runs which was the fifth-highest total on the team. He's since added eight to his tally which has pushed him to third on the Royals HR leaderboard. Impressive.
Jorge Bonifacio
14 HR, 20 RBI
65% of all RBI
Bonifacio has been a power hitting revelation since his recall in late April. His first major league blast came against Yu Darvish. His most recent was off Justin Verlander on Monday. In between, he's touched up Johnny Cueto and Chris Sale. Impressive. He has yet to hit a home run with multiple runners on base which is probably due to his position in the batting order than anything else.
Brandon Moss
12 HR, 15 RBI
63% of all RBI
Moss, as you know, has scuffled this year. The good news is, after a power outage in June where he didn't leave the yard, he's picking things up a bit in the second half. It's just two home runs, but still…it's progress. Moss has hit 10 solo home runs this year, one two-run blast, and just one three-run homer.
Lorenzo Cain
11 HR, 16 RBI
53% of all RBI
Since his early June power barrage where he hit eight home runs in a two week stretch, Cain has put the thunder back on the shelf, hitting just one out of the yard since.
Whit Merrifield
10 HR, 10 RBI
24% of all RBI
The legend of Merrifield grows with each home run, but is it to much to ask the guy to hit one with a guy on base? Ten home runs, all solo. Add in the two home runs he hit last season and that's a cool dozen he's hit with the bases empty.