What a meltdown. What a mess.
The Royals bullpen lost another one on Tuesday night, a painful outcome for a team on the edge of a Wild Card race. (Let's dispense with the fantasy this team is still in contention for the AL Central. If we've learned anything over these 119 games is that, while they are capable of going on winning streaks, they're not good enough to sustain the run scoring and run prevention they need to scramble past .500. It really doesn't matter that they have 10 games left with Cleveland. Now at six games behind in the standings, they would have to go 8-2 against only the Indians to make up that deficit and just pull even.)
Six runs allowed in the eighth. It was the 10th loss in 15 August games.
While Joakim Soria has been defended here in the past, to say it wasn't a good outing would be an understatement. The first four batters reached on a double and three singles and all the contact was solid. Jed Lowrie and Khris Davis laced their hits at 93 and 92 mph respectively. It was game on at this point.
Ryon Healy's single looked like it was caught by Alex Gordon, but glanced off his glove at 104 mph. (We can certainly have the conversation about whether or not Gordon could have or should have caught the line drive. He was playing deep and, while it looked like he didn't take the most efficient route to the ball, a drive struck like that has plenty of curve. Gordon has certainly made catches like that in the past, but the degree of difficulty is elevated.)
One run.
Matt Olson follows with a single ripped to the right of second base at 106 mph.
The common thread to these hits were all were changeups. Three of them weren't in horrible locations. Only the 3-2 pitch to Lowrie to lead off the frame was center-cut.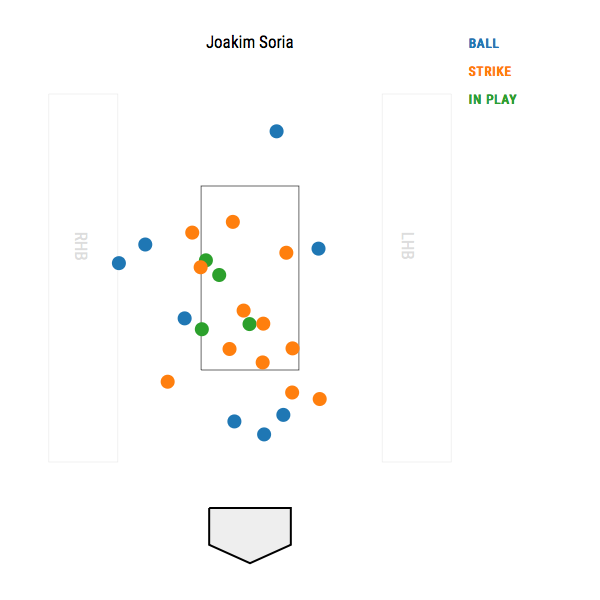 Two runs.
The above isn't to make apologies or excuses for Soria. The change wasn't working for him on Tuesday. The A's hitters weren't technically "barreling" the baseball by definition, but it  doesn't matter. They were smoking the baseball. The only batter who didn't see a change was Matt Chapman who was the recipient of two fastballs and two sliders and went down swinging at one out of the zone.
Soria has now made five August appearances. Three of those have been "clean" with no batters reaching base. Soria is still a good relief pitcher. However, when things go bad, they go really bad. This makes him ordinary. Or maybe above average. After what we saw from the relief corps in the latter half of 2014 and all of 2015, maybe it's time to recalibrate expectations.
Enter Mike Minor. He strikes out the first batter he faces and it looks like the Royals may escape the inning with the lead. After falling behind 2-0 to pinch hitter Rajai Davis, the Royals order the no-pitch intentional walk to load the bases. This may smack of hindsight, but it's really never a good idea to give a free pass to a .236/.296/.358 hitter just because you fell behind in the count. Especially if doing so leaves no margin for error.
Matt Joyce did barrel one. He crushed a 95 mph fastball from Minor that left the bat at 98 mph and a 27 degree launch angle. Those bases? Cleared. The lead? Gone.
Five runs. Ballgame.
It was the second time in a little over two weeks the Royals scored eight runs in a game and lost. These are the ones that hurt.
The bullpen fiasco put a damper on another Kansas City Power Show that saw the Royals rally for five runs in their half of the inning, all coming on home runs. It's happening with such regularity these days, it's not a surprise when Drew Butera gives the Royals a lead with a two-run shot and is followed up by Eric Hosmer and of course Mike Moustakas. That's 35 home runs for Mr. Moose which – as you certainly know – puts him within one of Steve Balboni's single-season franchise record.
It's looking like Moustakas has a great chance of setting the record this weekend against the Central division leading Indians. With the division crown looking further in the distance, this is shaping up as just another series. The Wild Card is certainly still in play, but Balboni Chase can move front and center for a few days.