When Danny Duffy takes the mound on Wednesday against the Seattle Mariners, he will be looking for his mojo.
It's been a rough couple of weeks for the Royals' number one. He sports a 7.45 ERA in 9.2 innings of work. His walks are up and strikeouts are down. Yes, you can call the Small Sample Cops, but this is a performance that raises all kind of red flags. No matter how many starts and innings are in the books. For several reasons.
One area of concern for Duffy is he has been consistently losing velocity since emerging from the bullpen after his first several appearances of the 2016 season.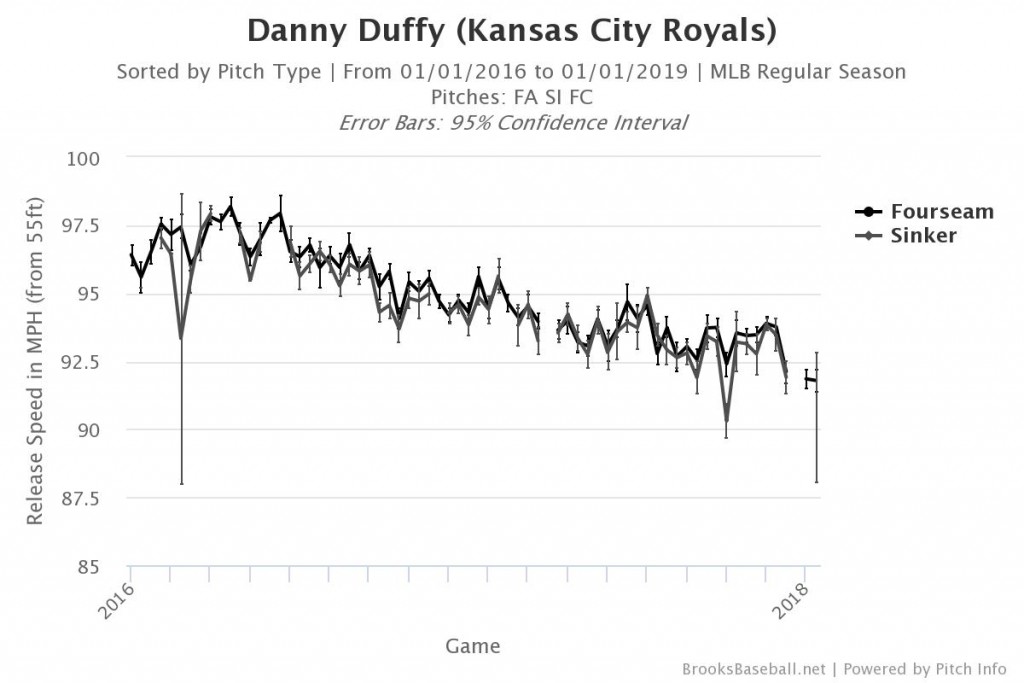 We know that relievers tend to let it all hang out when it comes to velocity. It's not usual that a starter who is moved to the bullpen will experience a spike in speed. Duffy wasn't any different. That accounts for the highest average velocity at the start of 2016. So, it's not surprising that once he moved back to the rotation, he would lose a couple of ticks off his fastball. Having said that, it's not uncommon for a pitcher to learn how to harness his fastball in a relief role. Sometimes, some of that increased velocity sticks. Returning to the graph above, that's what we saw in '16 when Duffy moved back to the rotation. He was routinely above 95 mph in his initial return to his role as a starter.
Yet in this case, it was almost like Duffy flipped the switch on the afterburners and emptied the tank quickly. He just couldn't keep the pace he set in his early starts from 2016. In his final start of the first half against Seattle, Duffy's fastball averaged 95.8 mph. After a nine day layoff over the All-Star Break, the lefty returned to face the Tigers where he averaged just 94.1 mph. He would bounce back to average over 95 mph in his next three starts, but you can see the trend in the graph above. It's a steady – and consistent – decline in average velocity.
Duffy's 2017 season was interrupted by a pair of trips to the disabled list, but the downward trend remained. That has continued – and been really accentuated – in his two starts so far this year.
Going back to his final start of 2017, Duffy's average four-seam fastball has been among the lowest of his career.
| | |
| --- | --- |
| Date | Fourseam |
| 9/28/17 | 92.12 mph |
| 3/29/18 | 91.85 mph |
| 4/6/18 | 91.79 mph |
Prior to his starts this year, the only time his average four seam velocity has been lower was in one start in September of 2014 when he was clocked at 92.02 mph. That was in his return to action after throwing just a single pitch in a game against the Yankees before he was removed with what was termed a tight shoulder. And you'll recall he threw just 4.2 innings that October because of a ribcage injury.
So is Duffy hurt now? As mentioned, he did miss time twice last year, had surgery last October to remove loose bodies from his elbow and experienced shoulder tightness in his last start of the spring. That's quite a few trips to the trainers room in the last 12 months. Pitching, after all, is an occupation of attrition. Of course, Duffy and the Royals insist he's healthy. As long as he takes the ball every fifth day, we sort of have to buy what they're selling. I remain skeptical the Royals would continue to let their lefty take the ball every fifth day without a clean bill of health.
However, that doesn't mean he's not losing effectiveness.
Injuries, like age, take their toll. And sometimes those injuries can accelerate the aging curve. Perhaps what we're seeing at the moment is a pitcher who's just lost some arm strength. The decline in velocity has been gradual and consistent, and with it the potency of his four-seamer. Duffy's velocity has deserted him, and at this point, it's not coming back.
Duffy is the Royals de facto ace. Meaning, he's not an ace in the true sense, rather he's generally thought to be the best pitcher on the Royals staff. Or the one with the most upside. It's probably time we adjust expectations.
Hitters are squaring up to Duffy. In his two starts in 2018, he's been barreled five times. Granted, he's only recorded 29 outs in the young season, it's still worth mentioning. Also worth mentioning is that hitters are generating some serious loft against Duffy.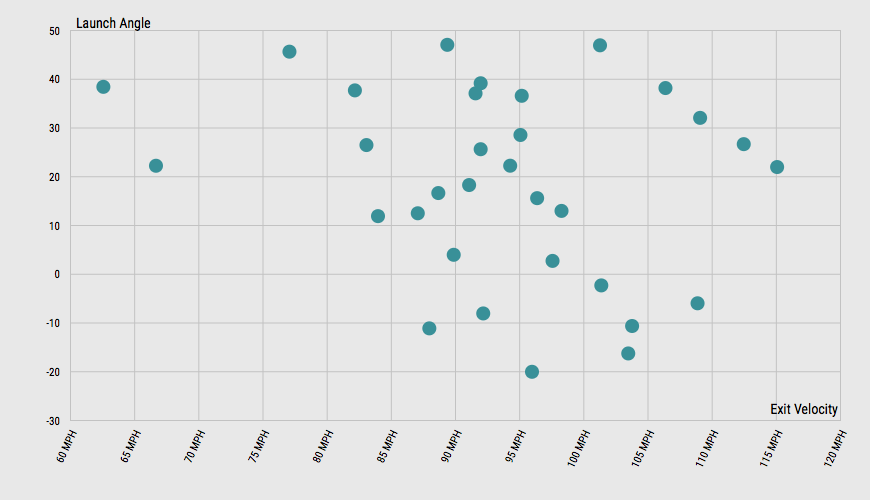 The three plots in the upper right that represent the highest exit velocity and launch angle against Duffy all left the yard. Such is the danger of serving a center-cut fastball that doesn't creep into the mid-90's. Fat City. The plot above reveals a host of fly balls and line drives. Duffy isn't a ground ball pitcher in general, with a 37 percent ground ball rate for his career, but hitters are stinging the ball off of him this season. So far, he has a soft contact rate against of just three percent. Hard contact is close to 35 percent. 
His radial chart from Baseball Savant shows a pitcher who has been abused by opposing hitters.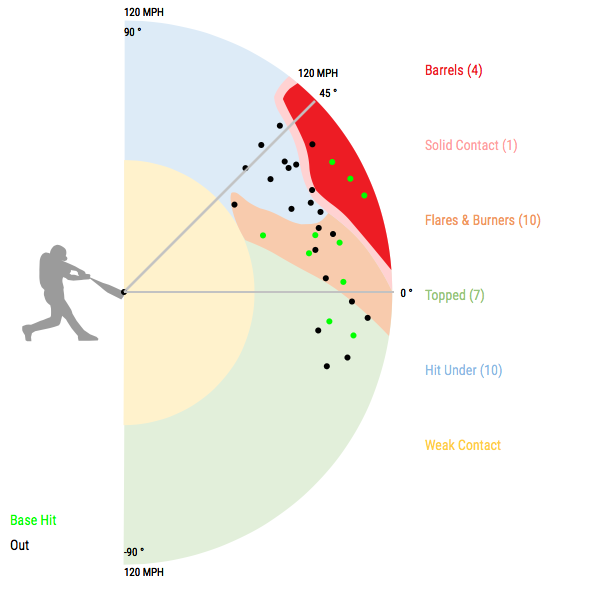 Those numbers will normalize over time, but given the declining velocity, it's appropriate to ask how much normalization will we see? The idea of a dominant Duffy leading the Royals rotation for the next several years seems like a pipe dream, born of a prospect pedigree and potential that will forever remain unfulfilled. Injuries have certainly eroded some of the tantalizing talent, but their impact can't be ignored when assessing Duffy's role in the future for the Royals. His name was floated over the weekend in the Boston Globe where it was said the Royals would listen to offers should the "right package of prospects" be presented. We're still far from the trade deadline when such a deal would be made, but it's not inconceivable that Duffy's value will drop between now and then. The opportunity to sell high has likely passed. Should Duffy find himself still in the Royals rotation in the years ahead, we won't be looking at a number one. Rather, it will be a guy in the back of the rotation, hopeful he can avoid enough bats to navigate through five.
Duffy is Dayton Moore's best success when it comes to developing starting pitching, yet it still feels like so much potential has gone unfulfilled. It's time everyone buy in to the new reality and accept the fact that Duffy no longer has the arsenal at his disposal to be counted on to front the Royals rotation.