In their first contest against their division rival, the Royals emerge with a win. Except it may not feel like a win. The headline perhaps ignores the storyline in that the Royals bullpen did their best Dave Dombrowski era Tiger bullpen impersonation.
Salvador Perez was your offensive star of the game, driving home five runs and blasting a home run. Jarrod Dyson made his 2016 debut. Yordano Ventura pitched well enough, but needed 98 pitches to get through five innings, which assured us another night of mainlining antacid tabs. Let's get to the late inning bullpen carnage.
The Usual Suspects
Danny Duffy entered the game in the seventh, tasked with protecting a six-run lead. I'm not even sure "protecting" is the correct word. It's more like giving the controls of an airplane over to a pretty experienced pilot and instructing said pilot to just keep a steady hand and land the damn plane. Well, Duffy blew a tire and brought the plane to a skidding halt. Or something along those lines.
In many ways, it was the typical Duffy performance. Two quick outs followed by a single and a walk. OK. No damage. And then Jarrod Saltalamacchia crushes a curve ball that lands 423 feet away. Watching live, it didn't seem to be a poor pitch from Duffy. The curve broke down on the lower fringe of the zone, but it did sit in the middle. Perez set the target inside. Duffy just missed his spot.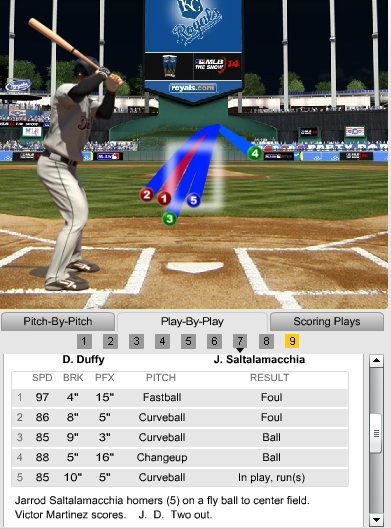 That home run meant that Ned's next call would be for Joakim Soria to handle the eighth inning. That meant Royals fans across this great land could once again unite in panic mode. Soria retired the first batter on strikes, but then gave up a pair of ground ball singles to Jose Iglesias and Ian Kinsler. Soria then walked Justin Upton on four pitches. Only one was close to being a strike. This set up the moment of the game.
The Electric Slider
I wrote about Kelvin Herrera's slider prior to the season. He was slow to break it out in the first week, but has been using it with frequency. That's damn sexy.
With the bases loaded and Miguel Cabrera up to bat, Herrera went with back to back sliders before finishing him off with… A swing and miss hammer curve.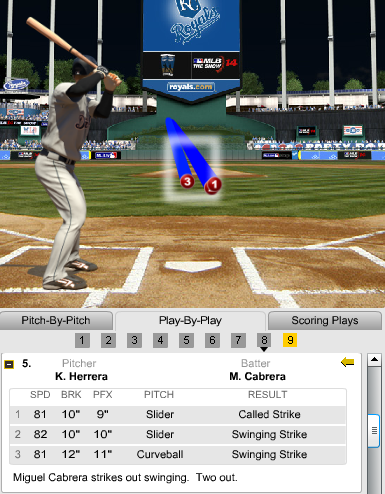 Yeah. I thought that third pitch was a slider, too. I'll defer to PitchF/X for the moment. Whatever. Cabrera was geared for the heat and got the junk. So nice. The FS Kansas City broadcast brought us the Herrera/Cabrera match-up from last May. That one lasted 10 pitches and ended with a punch out. It was one of the highlights of the regular season. This one wasn't as exhausting. But it was overwhelming. Both were sweet.
WPA Play of the Game
Honors tonight go to Alcides Escobar who came through with a two out single to left to plate two runs in the bottom of the third. That pushed the Royals lead to 3-0 and their Win Expectancy by 14 percent. See, the game wasn't so much of a rollercoaster experience.
Roster Moves
As noted above, Dyson was recalled from his rehab assignment and wasted little time getting into the offensive flow, singling home the first run of the game ahead of the previously mentioned Escobar single. He added another hit and played his usual defense. Nice to see him back. To make room, the Royals sent Reymond Fuentes to Triple-A. I'll continue to be puzzled by keeping Terrance Gore on a non-September roster, but the Royals don't do a lot of things that make sense. One thing that does make sense is that Fuentes will be able to get regular time in Omaha, something that wasn't going to happen for him in Kansas City.
Meanwhile, Dillon Gee was placed on the paternity list and Miguel Almonte was recalled to take his spot in the bullpen.
Up Next
The marquee pitching match-up of this three game series as Ian Kennedy tries to keep his flow against Jordan Zimmerman. Another early 6:15 start to allow the kids ample time to watch the game on a school night. Plus, recaps get published earlier. I give this scheduling move a thumbs up.